It's been a while since we got any news about the upcoming reboot of The Craft, intriguingly entitled The Craft Legacy, but our prayers to the Dark Lord have been answered in a big way because now there's a poster to drool over, a trailer to pick apart piece by piece, and a release date to get excited for. Grab your best girlfriends and various spell-casting accoutrements and get ready for this movie to cast its spell.
The Craft Legacy is a joint project from Blumhouse and Columbia. Written and directed by Zoe Lister-Jones, the flick features young stars Cailee Spaeny, Gideon Adlon, Lovie Simone, Zoey Luna, and Nicholas Galitzine, along with old reliables Michelle Monaghan and David Duchovny.
The premise is intriguing:
In Blumhouse's continuation of the cult hit The Craft, an eclectic foursome of aspiring teenage witches get more than they bargained for as they lean into their newfound powers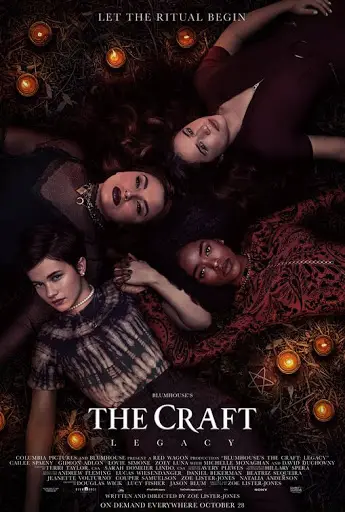 The flick hits PVOD for a 48-hour period this coming Halloween, available from leading digital retailers, for a 48-hour rental period at $19.99 and for purchase at $24.99. Details of the international release will be revealed in the coming weeks.
"I'm thrilled to be able to share The Craft: Legacy with audiences all over the world this Halloween. It's been a true privilege to take on such an iconic title. I can't wait for the world to meet the incredible young women who make up our new coven," gushed Lister-Jones.
Producer Jason Blum promised a "bewitching twist" on the beloved teen horror movie.  The trailer, which you can check out below, doesn't necessarily fulfill that promise, however. It looks like a straight reboot of The Craft, only much more muted and somber. Fairuza Balk's iconic character from the original movie is directly referenced, which is also confusing, while one of the most iconic lines closes the trailer and is totally cringe-worthy.
Still, there's a huge amount of talent involved in the movie and it's entirely possible the trailer under-sells how great The Craft Legacy really is.
Stay tuned to Wicked Horror for our verdict on The Craft Legacy when it drops on October 28.