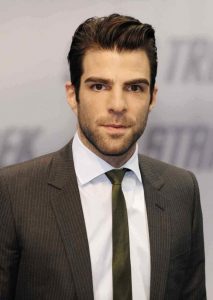 We have learned from
EW
 that 
American Horror Story 
alum Zachary Quinto will be making a guest appearance on the NBC horror drama 
Hannibal. 
The outlet is reporting that the actor will appear in one or possibly multiple episodes of the series. And he will be playing a patient of Bedelia's (Gillian Anderson).
This marks the second time Zachary Quinto will have worked with Hannibal series creator Bryan Fuller. The pair previously worked together on the NBC series Heroes. Fuller was part of the Heroes writing staff and Quinto enjoyed one of his first starring roles on the show.
Little else is known about Quinto's involvement with the third season of Hannibal at this point. But the show is expected to enjoy a season three premiere this summer. So, hopefully all of our burning questions will be answered at that point. Stay tuned to the site in the meantime for more on Hannibal and other news as it breaks. Will you be checking out Hannibal season three this summer? Let us know in the comments box below.
Official Hannibal series synopsis from IMDb: Hannibal explores the early relationship between the renowned psychiatrist and his patient, a young FBI criminal profiler, who is haunted by his ability to empathize with serial killers.