Anthologies are big business right now, with Tales Of Halloween and A Christmas Horror Story both storming the boards last year and a hugely-anticipated Tales From The Crypt TV reboot on the way very soon. Holidays offers up eight shorts from nine directors, all of which are festively-themed. Arranged in chronological order. They take place over Valentine's Day, St. Patrick's Day, Easter, Mother's Day, Father's Day, New Year's Eve and, naturally, Halloween and Christmas.
With a wealth of horror talent involved, including Adam Egypt Mortimer (Some Kind Of Hate), Nicholas McCarthy (The Pact) and Kevin Smith (Tusk, Red State). The project stars Seth Green, Lorenza Izzo (The Green Inferno) and Ruth Bradley (Grabbers), among others. With a pedigree like that, one would expect the flick to go off without a hitch.
The good news is, for the most part, it does. Holidays isn't the best anthology of all time, it might not even be the best we get this year (see: Southbound), but it's a well-constructed, fun and relatively fast exercise. It may not be terribly memorable, but it's no slog, either.
Review: Southbound is a Strange and Thrilling Anthology
Each short clocks in at under fifteen minutes, and slots into a cohesive whole. The stories are all unique, entertaining and different–both from each other and from what we've seen before–and there are enough scares and laughs to keep the pace hurtling along from holiday to holiday.
A contemporary score gives each short its own, distinct flavour, while simultaneously tying them all together, and the nifty card design that signals the end of each one also, handily, introduces the writers and directors so we know whose work we were just watching. Considering most time spent watching anthologies is wondering who did what, this is an inspired choice.

Of the shorts, there are perhaps two duds,
Mother's Day
and
Father's Day,
that unhelpfully follow each other in the running order. Neither is dreadful, but given the strength and ingenuity of everything else on show, these two are very run of the mill, one dealing with a cult and the other a paranormal entity. They're very samey, and both recall several other films, which isn't great for an anthology.
On the other hand, the entries for Easter and St. Patrick's Day are unlike anything I've seen in a lifetime of watching horror movies. The former, Mc Carthy's offering, has the most fantastically disturbing money shot while the latter, an Irish production (rightfully so) takes the myth of St. Patrick ridding Ireland of snakes and turns it on its head in a big way. Without spoiling anything, there's a throwaway line about "Rosemary's Reptile" that is both hilarious and horrifying in equal measure.
Elsewhere, the flick kicks off in reasonably fun fashion with Kevin Kolsch's (Starry Eyes) sweet tale of a bullied teenager with an unrequited crush. It ends in spectacularly bloody fashion and boasts some hilariously eighties music cues that are spot-on for the subject matter. A couple of pitchy performances aside, it does the job without resorting to clichés.
Halloween sees that Kevin Smith envisioning a world in which a pimp-like figure (played here by Epic Meal Time's Harley Morenstein, complete with epic douche-braids) presiding over a gaggle of cam-girls, tasked with doing his horrid bidding. Whether such a situation exists in the real world is of little consequence to the notoriously divisive director, whose kid (also named Harley) does a fine, pre-Yoga Hosers job of showing off her burgeoning acting prowess here.
The idea is a tad overdone, with an over-abundance of thumping score and far too many attempts at shocking lines, but the small cast are totally committed to the madness and the payoff is brilliant. If nothing else, this is yet another example of Smith's completely unique take on horror. And, strangely, it's also an argument for no-show torture cinema that delivers in a big way.
Christmas sees Holidays take a turn for the surreal as desperate father Seth Green tries to secure a pair of UVU virtual reality goggles for his son in time for the big day. Naturally, it transpires that the toy shows Dad a little too much once he puts it on, himself, resulting in some pretty wild scenes of torture and sexual exploits. Scott Stewart's Dark Skies was a disappointingly flaccid paranormal entry, but this speaks to his greater strengths as a director.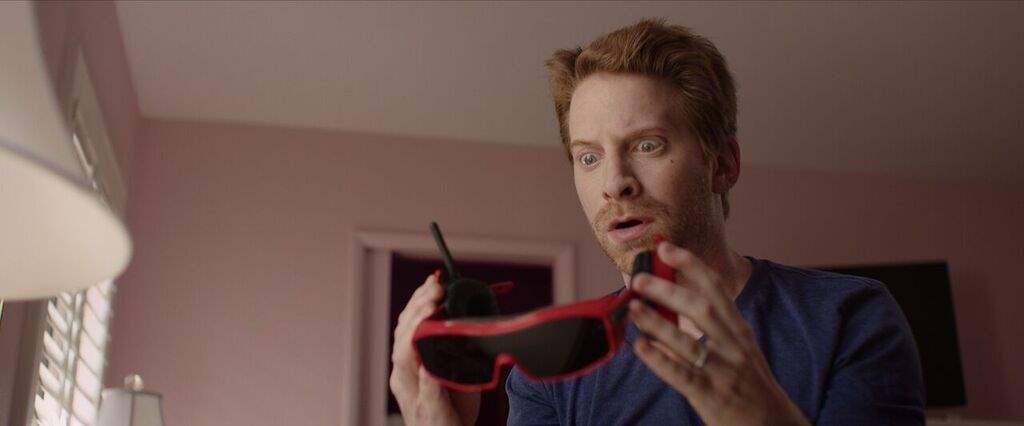 Rounding the whole enterprise off is Egypt Mortimer's New Year's Eve, which sees a serial killer trying to find someone to kiss when the ball drops on the biggest night of the year. Unfortunately, it transpires that Lorenza Izzo's blind date may not be the best match. Recalling some of the wild-eyed madness she brought to the fore in Knock Knock last year, Izzo is hilariously unhinged here. And Egypt Mortimer ends Holidays on a high note by giving her the last laugh.
Given how popular A Christmas Horror Story and Tales Of Halloween were, it's pretty brave of an anthology feature to take on both of those holidays again. It's clear those behind Holidays gave considerable thought to these two installments, to ensure they were standouts, but they're not the strongest shorts here. This speaks more to the general quality of the enterprise as a whole, though, even if it doesn't necessarily reach the heights of those films.
There's an awful lot to be impressed by in Holidays; the performances are strong across the board, the visuals are terrific, the gore is brilliantly-conceived and wonderfully gooey, and each installment, regardless of individual quality, makes a case for itself both in its own right and as a part of the movie as a whole.
It's unclear whether it will stand the test of time as one of the best anthologies, particularly considering there's so much choice in this sub-genre right now, but as it stands, Holidays is a fun, funny and frequently scary little addition that more than justifies its existence.
WICKED RATING: 6/10

Director(s): Anthony Scott Burns, Kevin Kolsch, Nicholas McCarthy, Adam Egypt Mortimer, Gary Shore, Kevin Smith, Sarah Adina Smith, Scott Stewart,Dennis Widmyer
Writer(s): Anthony Scott Burns, Matt Johnson, Kevin Kolsch, Nicholas McCarthy, Gary Shore, Kevin Smith, Sarah Adina Smith, Scott Stewart, Dennis Widmyer
Stars: Lorenza Izzo, Seth Green, Harley Morenstein, Ruth Bradley, Harley Quinn Smith, Clare Grant
Studio/ Production Co: Artcastle Productions
Release: April 28th, 2016
Language: English
Length: 105 mins.
Sub-Genre: Anthology