Ash vs. Evil Dead is a show that I don't think any fan of the franchise actually thought they would live to see. Bruce Campbell would never shy away from trying to let fans down easy at conventions, saying that he simply didn't see how another Evil Dead could work now that he and Sam Raimi were so much older. It always made sense to me that as much as we wanted to see more of Ash, more of the Delta and of course more of the Deadites, they were physically demanding films that couldn't be done the same way they'd been made thirty years ago. When the remake was released, it seemed to dash all hopes for Ash's eventual return.
And then we got Ash vs. Evil Dead. Not only is it Bruce Campbell back in the role, but he's back with the help of Sam Raimi and Rob Tapert and Joseph LoDuca and so many other returning members from the crew that made the original trilogy so great to begin with. What's better than more Ash? Hours more Ash. After two years, this show is still too good to be true.
We never thought it would happen and it's still insane to think it ever happened, but Ash vs. Evil Dead is back with its second season now on Blu-ray and it continues to be the best possible kind of fan-service. It gives you everything you love about the movies. But it succeeds maybe even more than the first season in doing the number one thing a show based on an existing franchise should do: expanding the mythology.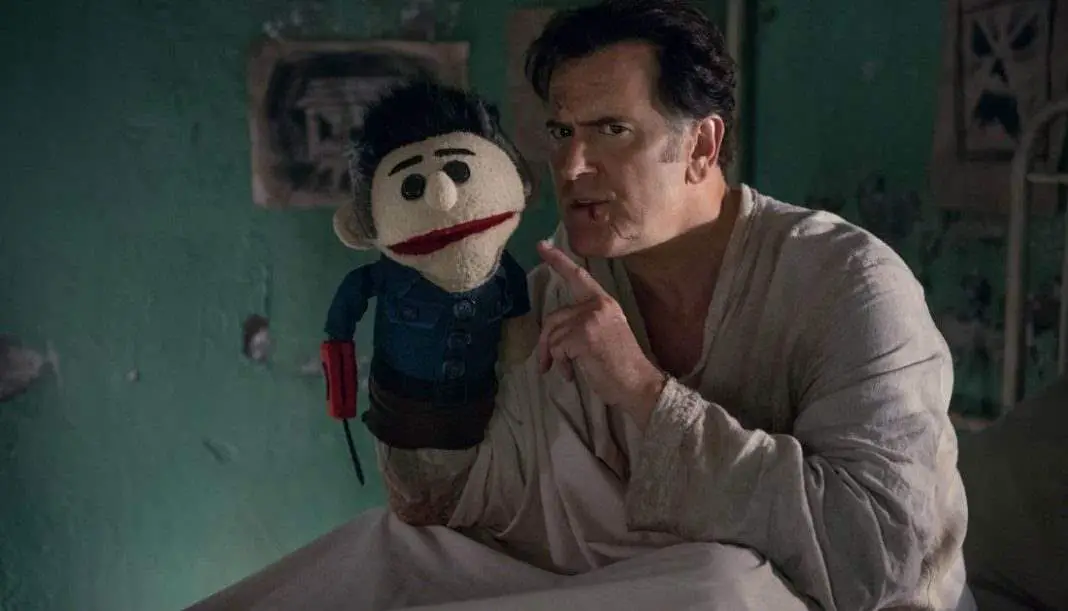 Season two doesn't just move the characters forward, it goes back and answers a lot of questions leftover from the fallout of the first three films, which all happened in a relatively short amount of time, even if they were released several years apart. If Ash was the only survivor from that cabin, how did he get away with it? Well, it turns out that back in his home town, he's a bit of a local legend. The addition of the "Ashy Slashy" lore is nothing short of genius when it comes to bringing this franchise back to its roots. On top of that, we've got the brilliant casting of Lee Majors as Ash's dad, Ted Raimi as his childhood best friend Chet, and the return of characters like Cheryl and Henrietta.
But the mythology only gets bigger, even as it gets more intimate, and I can't commend the show enough for that. And the fact that we get that on top of bigger, zanier, dumber (in a good way) gags—that's so great. It's a comedy show first and foremost and the humor lands. Some of it feels like it's trying to outdo the original stuff, I'll admit, but the huge bulk of it is good-natured, gross fun. Ash is a character who never really grows that much, but the second season does a great job of exploring why he is that way and where that comes from.
The Blu-ray set is impressively loaded with special features, which is becoming a rarity, so it gets major points for that. The commentaries are almost as funny as the Bruce/Sam etc. commentaries on Evil Dead 1 & 2—believe me, that's high praise. I think those are two of the best commentaries ever recorded. They're absolutely hilarious self-deprecating fun and these Blu-rays are doing their part at recapturing that.
All of the featurettes are fun as hell. Some of them are informative and take you behind the scenes, which is awesome for something that still has this much practical FX work going into it. But then there are some things in there just for fun, like a fatality mashup and a "How to Kill a Deadite" featurette.
If you're a fan of the Evil Dead franchise, I can't imagine you aren't watching this already. But if you're like me and don't get Starz, you'll at least be considering picking it up on Blu-ray. TV shows especially have shied away from physical media almost entirely at this point. Things get slapped on DVD & Blu-ray without giving you a reason to want to pick this up. But let me assure you, not only do the episodes look and sound great, there are a wealth of fun and funny features to make the purchase worth it.
Ash vs. Evil Dead: Season Two is now available on DVD and Blu-ray.
WICKED RATING: 8/10