Issue sixteen of Angel & Faith kicks off the short arc "Those Who Can't Teach, Teach Gym" in which Faith goes undercover as a gym teacher of all things. It works, though. It's a good balance, though, given that Faith didn't appear much in the last issue. Now she gets to take over the title briefly while Angel continues his crossover with Buffy.
One of the highlights here is that Faith and Fred get to spend a whole issue together, which we'll probably see more of next issue. This is a rarity in the Buffyverse at this point: two characters who have never really spent time alone together. They're very different women, but I think a friendship between them could be very interesting and the book definitely seems to be moving in that direction.
Faith in general is developing extremely well. When we left her at the end of the TV show, she was still on a long road to redemption. Over the course of season eight, she continued to grow more than maybe any other character. Now she's a strong and capable adult, very different from Buffy but no less concerned with helping others. Someone who still has much guilt, but is primarily looking forward.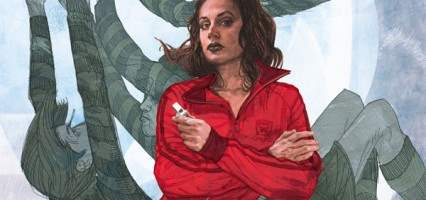 In season eight of
Angel & Faith
, Faith was becoming a sort of social worker for troubled slayers and this idea was abandoned shortly thereafter. It's nice to see her return to that somewhat here. Even if it's undercover as a gym teacher, she's still using that to talk to girls who are clearly in trouble. And there is one girl who is relentlessly picked on by her peers. Faith picks up on that.
With Fred also taking up so much of the spotlight in this issue, it's a bit strange that there's barely a mention of Illyria. It makes me wonder what's going on with that character dichotomy and how it works, which still has yet to be totally cleared up. However, at the same time, it's nice to see Fred develop on her own without being solely defined by her Jekyll & Hyde connection to Illyria. She was one of the best characters on Angel and we haven't had much chance to see her just be herself since she came back.
Artist Cliff Richards has been a part of the Buffy comics since long before season eight, and I've always been a fan. There's something streamlined and almost effortless about his style. He does great work here, being very faithful to the actors' likenesses without distracting from the storyline.
I'm very curious to see how things develop from here. The shorter story arcs are actually working out for Season 10. If anything, they make the issues feel closer in structure to the episodes of the show.
WICKED RATING: 7/10