Mortuary follows Jonathan Doyle, a teenager with a pissy attitude who moves half way across the country to a new town with his mother Leslie and little sister Jamie. Leslie purchased an ugly, old, rundown house that is attached to a funeral home she plans to take over. The property is a complete wreck. There's a sewage overflow in the yard, brown water streaming from their faucets and fungus growing just about everywhere. Gross! One night, Jonathan is exploring his new front yard, which just so happens to be a graveyard, and sees creepy dark figures. From there on out, he suspects something is definitely up with their not so brand new home.
Right away Jonathan tries to make the most of his new domicile, so he engages in typical teen behavior. He gets a job at a local diner where he's completely smitten with his boss' niece Liz. He also becomes friends with Liz's friend Grady. He also gets into with the local bad dude and his army of skanks. Soon, Jonathan learns the disturbing truth about the Fowler family, the previous inhabitant of his new home. The local lore suggests that when the Fowler family moved to the house, there was something awful in the soil. They would try to raise cattle but all of their livestock ended up dead. So, as a result they decided to make their land into a graveyard.
Young Bobby Fowler was horribly disfigured, so his family abused him. Until one day Bobby went missing without a trace. Ten years passed and everyone believed Bobby was dead until his parents were found murdered in their home. Local legend has it that was Bobby came back to seek revenge against his parents. And today, it's believed that Bobby is still alive and resides in a tomb on Jonathan's mother's property. After learning the tale of Bobby Fowler there's plenty of eerie occurrences that occur around Jonathan, his mother Leslie and his sister Jamie. The mold is growing out of control and something or someone is eating Jamie's candy and hiding in her closet. Pure insanity!
Related: Disaster/Artist: The Mind-Boggling Career of Tobe Hooper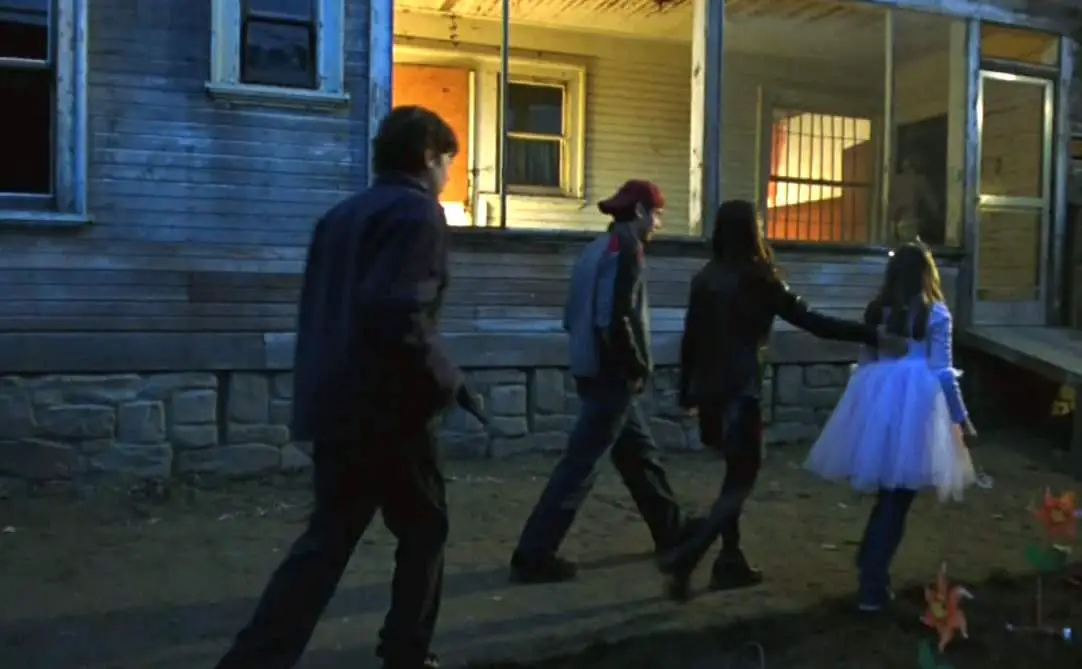 The cast all do a great job in
Mortuary
, especially Dan Byrd who played Jonathan Doyle. I felt connected to him as well as sympathetic for him. I would love to see him appear more horror films. He was also in the excellent remake of 
The Hills Have Eyes
. Denise Crosby who played in 
Pet Sematary
also does an excellent job. She plays a desperate widow who is determined to make a brand new life for her and her children.
Mortuary is an awesome film with great characters. The atmosphere is naturally creepy and the plot is original. I absolutely loved that the picture wasn't loaded with buckets of blood or over the top special effects. It still has it's bloody moments and is certain to appeal to honor fans but it's not over the top. Mortuary accomplishes what many horror films cannot: It made me want to re-watch it over and over. It brought the characters to life in a believable and meaningful way. So many horror movies pay little to no attention to character development and that's a shame.
Mortuary is not terribly scare but it's so much fun and beyond entertaining. I would wholeheartedly recommend checking it out if you haven't already!
WICKED RATING: 7/10
Title: Mortuary
Director: Tobe Hooper
Writer(s): Jace Anderson, Adam Gierasch
Stars:  Dan Byrd, Denise Crosby
Year: 2005
Studio/ Production Co: Echo Bridge Entertainment
Budget:  Unknown
Language: English
Length: 94 Minutes
Sub-Genre: Horror, Mystery, Thriller