No, we're not talking about the John Hughes comedy although that was a loose adaptation of the comic of the same name, but none of the stories included in this volume. Instead, this is a collection of some of the greatest and strangest pieces from the least famous of the 1950's EC comics. Weird Science never had the readership that books like Tales from the Crypt and Vault of Horror had and was in fact only kept alive through the sales of those and similar titles. This was a place for the creators at EC to tell more science fiction and fantasy-based stories. The stories of Weird Science also featured as the basis for the short-lived, little-known spinoff of HBO's Tales from the Crypt titled Perversions of Science.
The real winner when it comes to this volume containing the original comics is the presentation. These stories have never looked better! The amount of detail that has resurfaced, the restoration of the colors… these comics have never appeared in such high quality, even when they were first released. It's amazing to look at them and it almost feels like time travel to be able to read them in all their original glory (only better). Even though it's a comic book, the only thing I can really compare it to is a Blu-Ray release.
It also helps that the volume contains both a great introduction and a great introduction by Grant Geissman as well as a very sincere foreword by Paul Tobin, both of whom wear their love for the material on their sleeve.
Related: How Creepshow Perfectly Recaptures the EC Comics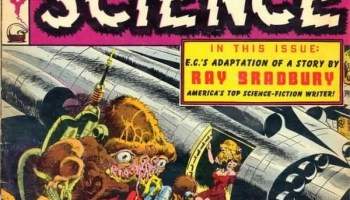 As far as the stories go, not all of them are winners—as is the case with any complete collection—but there are still some gems. The one that stands out most to me is an adaptation of Ray Bradbury's "Punishment Without Crime." It features art by Jack Kamen, famous for his gruesome creations on EC's more horrific titles that serves as a great compliment to Bradbury's story. And the story in question is very interesting, centering on a man who is sentenced to death for murdering a robot copy of his adulterous wife.
It's not the most well-known of Bradbury's fiction–although it was turned into an episode of the Ray Bradbury Theatre in 1988–but even still, this comic version remains one of the most quietly unsettling in what is an extremely well-presented collection. It's definitely worth a look for fans of the material. Even for those who only read Tales from the Crypt, Vault of Horror and the like, Weird Science is a cornerstone of the EC legacy and something that all fans of those old comics would do well to check out. While not every single story in this volume is a remembered classic, each of them is a part of that legacy and a part of history. Creative content aside, they truly couldn't look better. For something like this, presentation is so important and Dark Horse continues to truly nail it with these hardcover collections.
WICKED RATING: 6/10