Introducing his movie Landmine Goes Click, to a curious Frightfest audience, Georgian writer-director Levan Bakhia offered just one sentence as a precursor for what we were about to watch: "A guy steps on a landmine, that's it".
As it turns out, this was the perfect introduction to a movie that needs to be seen as cold as humanly possible. The flick is set for a US theatrical release in November, so if you can, try not to spoil it in the meantime. It really is worth the wait.
As its title suggests, Landmine Goes Click is predominantly concerned with the trajectory of a poor fellow who steps on an armed landmine while hiking in the wilds of Georgia with his two friends.
This young lad is Chris (Sterling Knight), who is third-wheeling with his newly-engaged buddies Daniel (Dean Geyer) and Alicia (Spencer Locke) when they stumble upon the titular device while trying to take a photo.
What follows is 100-or-so minutes of sustained, toe-curling tension as they try to figure out what to do, trapped and alone in the wilderness.
Add to this mix the opportunistic Ilya (Kote Tolordava), a wandering local who may or may not be friendly, and the stage is set for a thrilling, nail-bitingly tense premise that is almost play-like in its structure.
Landmine Goes Click is likely one of the most disturbing horror movies you'll see this year. The setup is so simple that it almost seems laughable anything real can be derived from it–he either steps off it or he doesn't, so what's the big deal?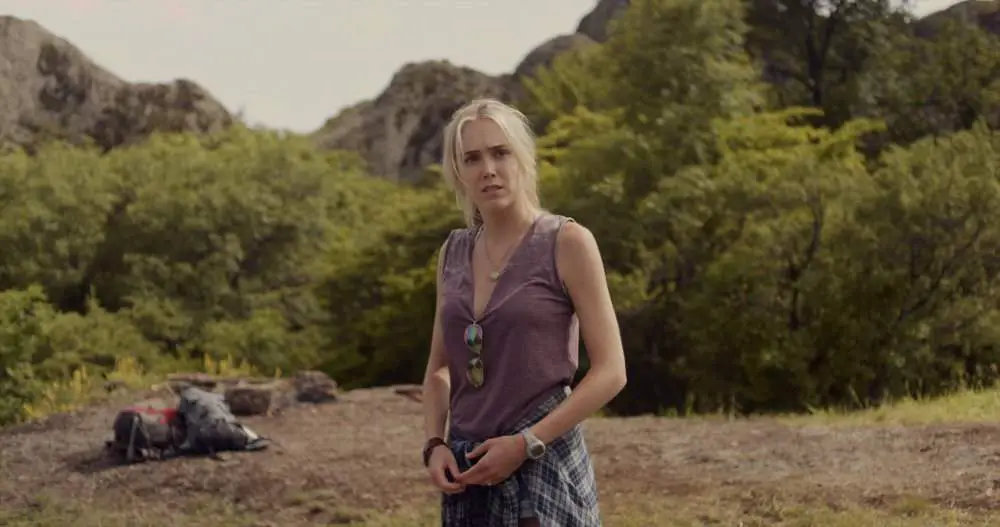 The real fear comes from what happens to everyone else besides Chris, how tensions arise between supposedly close friends and scores are settled as a result, all while he can't move from where he's standing, or even react too much lest he set off the landmine.
The hugely talented young cast is headed up by Sterling Knight as Chris. Most well-known to date for playing the super-sweet Zander on ABC Family's Melissa & Joey, he's playing bravely against type here.
This is the kind of role that, on paper, screams "take me seriously as a grown-up actor" but Knight is more than up to the challenge, giving an astonishing performance that requires him to communicate myriad emotions at once, mostly while stuck in the one position.
Knight is ably-supported by fellow kids show alum Spencer Locke, who starred in two major Nickelodeon shows, Big Time Rush and the sadly short-lived Ned's Declassified School Survival Guide.
Much like Knight, Locke is out to prove she's moved on from her fluffy past and, as with her co-star, she does a remarkably good job here. In a lot of ways, although she isn't as confined as he is, she has a much tougher role to play.
Without giving anything away, Locke's Alicia is involved in the most disturbing, heart-wrenching sequence of the entire movie, a sequence which could be used both to warn viewers off the movie and also to recommend it.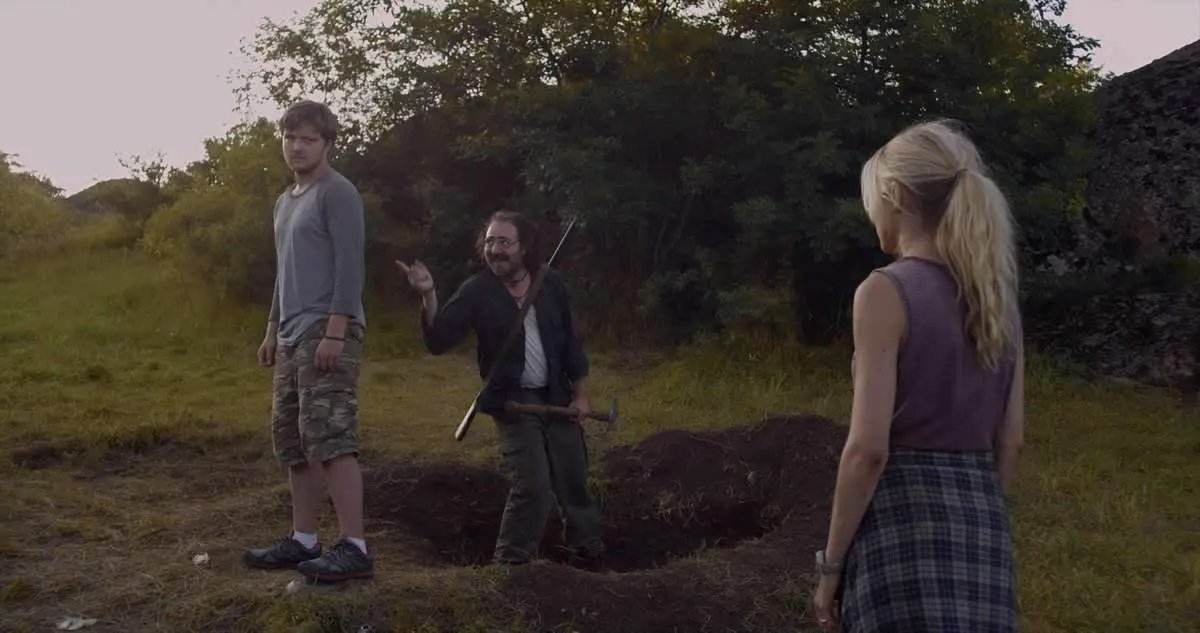 In a world of Hostels, Saws and Human Centipedes, Landmine Goes Click manages to be genuinely disturbing. It's not shock for shock value, it's actually shocking, and it's unlikely you'll stop thinking about it any time soon (I haven't yet).
The film holds up its central conceit for an admirably long time, but it loses points when it comes time to wrap things up at the end. An overly long denouement ratchets up the tension even further, but goes a bit too far with it, overstaying its welcome as a result.
There's a sense of over-explanation on the part of the filmmakers. It would've been better to leave things on a more vague note, allowing the audience to make up their own minds about what happened. Given the power of what's come before, the ending is a little bit too much.
However, this is a minor quibble of an incredibly strong film. Landmine Goes Click is an extraordinary piece of work, unsettling to the point of nausea, deviously clever and so unpredictable you simultaneously hope it never ends while desperately wishing it will.
It really is one of the most fascinating, intense horror movies of the year and Bakhia was right to under-sell it the way he did. Landmine Goes Click is the kind of movie that stays with you, and that you're better off seeing without any prior knowledge. Even the IMDb description gives too much away.
Like a more clever, slightly less implausible, Saw, Landmine Goes Click is a tough but rewarding watch. And, if it isn't one of the surprise hits of the year, it'll be a damn shame.
WICKED RATING: 8/10
Director(s): Levan Bakhia
Writer(s): Levan Bakhia, Adrian Colussi, Lloyd S. Wagner
Stars: Spencer Locke, Sterling Knight, Dean Geyer, Kote Tolordava
Year: 2015
Studio/ Production Co: Sarke Studio
Language: English
Length: 110 minutes
Sub-Genre: Revenge