Anthologies have enjoyed a bit of a revival as of late, from the V/H/S series to The ABCs Of Death. Into the fray is thrust Tales Of Halloween, a collection of ten shorts about the titular holiday that comes to us courtesy of the October Society, a group of L.A-based film talents all of whom are life-long horror obsessives.
Projects such as this often work better on paper. Just take ABCs' messy, hurried jumble of 26 shorts, not even half of which are any good in spite of the variety of talent attached. Hell, even V/H/S: Viral stumbled when it came time to wrap things up. With well-known genre favourites such as Neil Marshall (The Descent), Lucky Mc Kee (The Woman) and Darren Lynn Bousmann (Repo! The Genetic Opera) involved, and an army of legends lining up for cameo duties, what could possibly go wrong?
The most exciting thing about Tales Of Halloween, right off the bat, is just how bloody good it is. Perhaps the film's quality shouldn't be too surprising, considering it was dreamed up by a group of friends who love and care about horror movies and produced by Shaked Berenson's Epic Pictures (who had no less than four movies screening at Frightfest, one of which was Turbo Kid). 
The flick features ten shorts, each of which clocks in at at under ten minutes, creating a sprightly pace that ensures no story hangs around long enough to become dull. The only rules for inclusion were: The shorts had to be Halloween-themed, and there was absolutely no found footage allowed. Considering this is the gimmick of the V/H/S trilogy, it's a smart move–never mind the fact we're all a bit sick of the format at this stage.
Related: Fright Fest 2015 Interview: Neil Marshall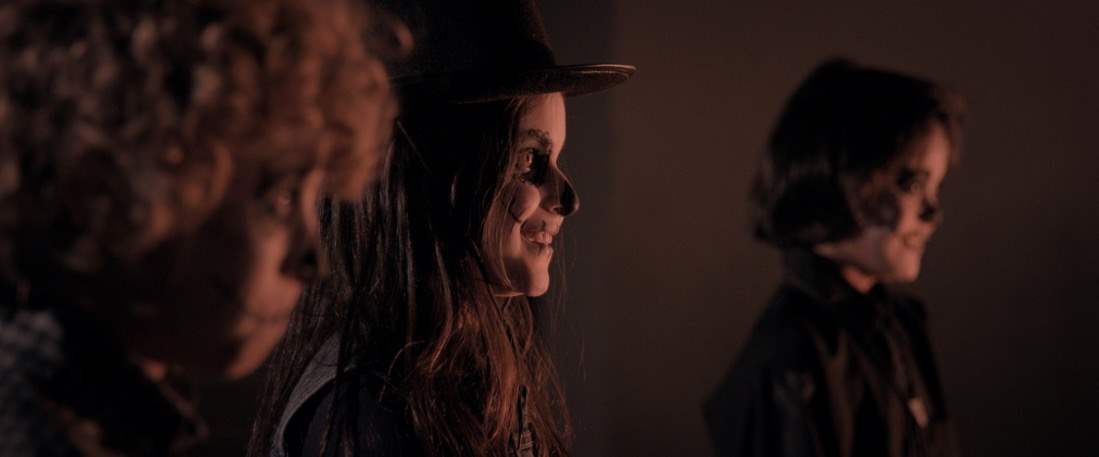 Every single short is strong, there isn't a dud in the bunch. From the hilarious "The Night Billy Raised Hell" (starring 
Rocky Horror
's Barry Bostwick, clearly having the time of his life) to the super-creepy "Grimm Grinning Ghost", the quality is remarkably high. And, as cheesy as it sounds, there really is something for everyone. Every segment is funny, with most packed with frights, too. But, more importantly, each short possesses a festive, Halloween spirit that hasn't been captured so well on-screen since
Trick 'r' Treat
(truthfully, it's actually done better here).
Tales Of Halloween kicks off in killer style with "Sweet Tooth", Dave Parker's contribution. A creepy, odd and very bloody little entry that introduces some cool new Halloween mythology, surrounding a trick 'r' treating urban legend, it's an entertaining beginning. And, happily, the movie ends on a high note, too with Neil Marshall's "Bad Seed", a thrilling, uproariously funny and surprisingly spooky tale of a bloodthirsty pumpkin on the rampage that the director himself described as "Jaws with a pumpkin".
Every segment is unique, each one upping the ante. It just keeps getting better and better, with bucket-loads of gore, well-judged moments of humour, nods and cameos from Horror Icons such as Barbara Crampton, Lin Shaye, Pat Healy and John Landis (there is a drinking game in there somewhere), alongside creative turns from up-and-coming young talent like Booboo Stewart, Grace Phipps and Keir Gilchrist.
Considering this is one of the most anticipated horror releases of the year, it's a massive relief that it is as good as it is. The early reviews are already great, so there will undoubtedly be those who turn against it, in much the same way they did with It Follows earlier in the year. Naysayers will probably take issue with the significant amount of cameos included, the on-the-nose references and the lack of genuine scares (there are some good frights, but nothing nightmare-inducing).
However, regardless of whether you find Tales Of Halloween's central conceit a bit smug (it isn't, we just wish we were part of The October Society is all), it should be applauded for doing something a horror movie rarely does nowadays: appealing to both fans and non-fans alike. This isn't just a nasty anthology, like V/H/S, or a failed attempt to show off what a bunch of people can do with a few minutes each, like The ABCs Of Death.
It's a celebration of Halloween and, like the best festive candy, it's tough with a gooey, warm centre. If it doesn't become an annual tradition, it'll be a real shame because Tales Of Halloween is meant to be enjoyed with a crowd. To put it into perspective just how much fun the movie is, my entire screening stayed to coo over the credits.
Borne out of love and created by artists, and friends, at the top of their game it's irresistibly charming and sweet, even when its entrails are spilling out. Boasting terrific production values and a wicked score by Mr. Mission Impossible himself, Lalo Schifrin, it's slick, well-acted, sharply-edited and entertainingly colourful and different.
Tales Of Halloween was the most anticipated film of Frightfest 2015, and for good reason. Not only was this the first year in what felt like forever that an actual horror movie would be closing the fest, instead of a sci-fi picture or a thriller, we knew this was a labour of love created by our own kind. Carolyn even sweetened the deal by dedicating the movie to the dearly-departed Wes Craven.
Thankfully, it more than lived up to the hype and is set to blow up when it hits theatres later this year. Tales Of Halloween isn't just the best anthology film in years, it's one of the best horror movies of the year in its own right.
WICKED RATING: (8/10)
Director(s): Darren Lynn Bousman, Axelle Carolyn, Neil Marshall, Lucky Mc Kee, Adam Gierasch, Andrew Kasch, Mike Mendez, Dave Parker, Ryan Schifrin, John Skipp, Paul Solet
Writer(s): Axelle Carolyn, Neil Marshall, Clint Sears, Lucky Mc Kee, Mike Mendez, Dave Parker, Ryan Schifrin, Andrew Kasch, John Skipp
Stars: Booboo Stewart, Grace Phipps, Keir Gilchrest, Lin Shaye, Barbara Crampton, Joe Dante, Barry Bostwick
Year: 2015
Studio/ Production Co: Epic Pictures
Language: English
Length: 92 minutes
Sub-Genre: Anthology