19Kane Hodder is a bonafide Horror Icon who also just so happens to be a complete gent. A documentary charting his rise from bullied kid to Jason Voorhees to genre actor in his own right is a no-brainer. But it's unlikely anybody expected To Hell And Back: The Kane Hodder Story to be this much fun, this captivating or this bloody inspirational.
The debut feature from director Derek Dennis Herbert trots out a who's who of horror faves, including Robert Englund, Bruce Campbell, Adam Green and even Elvira herself, Cassandra Peterson, to wax lyrical on what makes Hodder so special ("people like to be choked by Kane…I don't get it" Danielle Harris chuckles) and to provide context for his fascinating career trajectory.
Somewhat surprisingly, for the tank of a man, Hodder was badly bullied at school and turned to stunts as a way to make his friends laugh and gasp in equal measure. Playing Jason came very naturally to him, and colleagues are emphatic about how careful Hodder is onset, thinking hard about each stunt  (the man is, understandably, hugely proud of never having broken a bone).
Also See: FrightFest 2017 Interview: Horror Icon Kane Hodder

The big draw, for horror fans and newcomers alike, is the infamous story of a stunt gone wrong which left Hodder badly burnt all over his body. That story is recounted with tear-filled eyes, the details of which–including some shockingly terrible hospital treatment–leading to the bravest and most truthful moments in
To Hell And Back.
Hodder explains, matter-of-factly, how, on the brink of death following the accident, he contemplated suicide. Later, he opens up about how difficult he found the whole Freddy Vs. Jason debacle, and that making fun of the situation on Green's TV show Holliston helped him regain a sense of control. As for Victor Crowley, Green reveals Hodder was his choice from day one.
Elsewhere, we learn that Wes Craven considered Hodder for Freddy Krueger, the infamous Friday VII fire stunt took place after the actor's own real-life stunt went wrong, and that Hodder's tattoo artist suggested the flame tattoos on his upper arm to commemorate all he's been through. He also has a fascinating process for keeping other actors on-set afraid of him that I won't spoil here.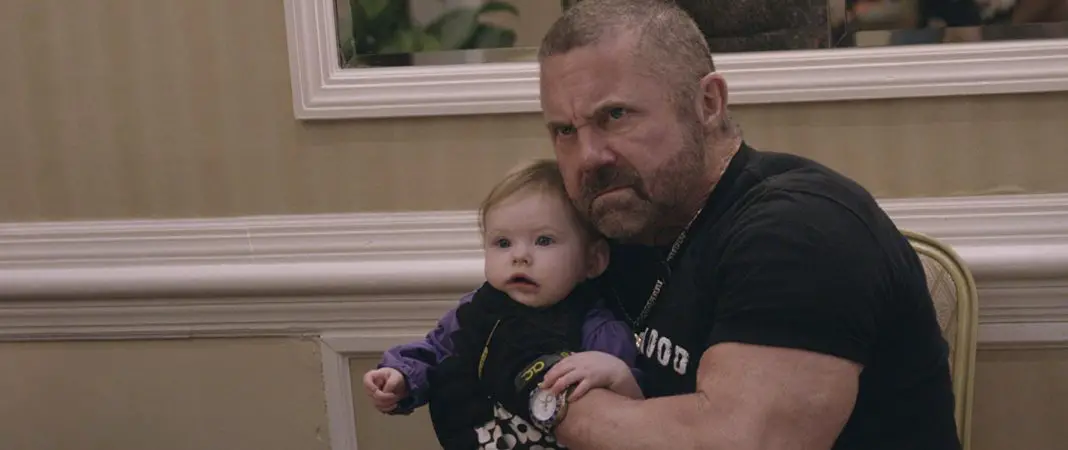 Suffice to say, To Hell And Back is a must-watch for horror fans, and Jason devotees in particular. But it's also a hugely moving, fascinating glimpse into the life of a very private, otherwise normal person with some great stories to tell. The amount of goodwill Hodder has inspired over the years is clear from fan and contemporary accounts alike. It's no surprise people like Englund and Campbell were lining up to take part.
Herbert utilises a standard, but very fitting, metal score for his doc that chimes with Hodder's aesthetic. The result is a moving, captivating and truly brave documentary with an important message about mental health that, with any luck, will find the massive audience to which it's entitled. As for Herbert's next super-personal project (reportedly starring Adam Green and detailing the rise of Holliston, if his Frightfest announcement is anything to go by), I can't wait.
WICKED RATING: 9/10
Director(s): Derek Dennis Herbert
Writer(s): N/A
Stars: Kane Hodder, Robert Englund, Bruce Campbell, Adam Green
Release: TBC
Studio/ Production Co: Masterfully Macabre Entertainment
Language: English
Length: 108 minutes
Sub-Genre: Documentary