The Lady Killer comic series, by Joelle Jones, was originally released in 2015 and revolved around Josie Schuller, a 1960s domestic homemaker and perfect wife and mother. However, while Mr. Schuller thinks that his dearly beloved enjoys her days scrubbing floors and baking to her heart's content, she is really a vicious killer for hire–one of the best in the business, in fact. And yet, the initial series of Lady Killer left our female anti-hero in a tough spot, fighting for revenge.
Lady Killer 2 #5 takes place directly after the events of the first series. Josie starts the comic fighting off the constant flow of other assassins trying to kill her. But Josie finds an unlikely ally in her suspicious mother-in-law and together they fight to protect the sacred home shared by them as well as the Schuller children and Mr. Schuller.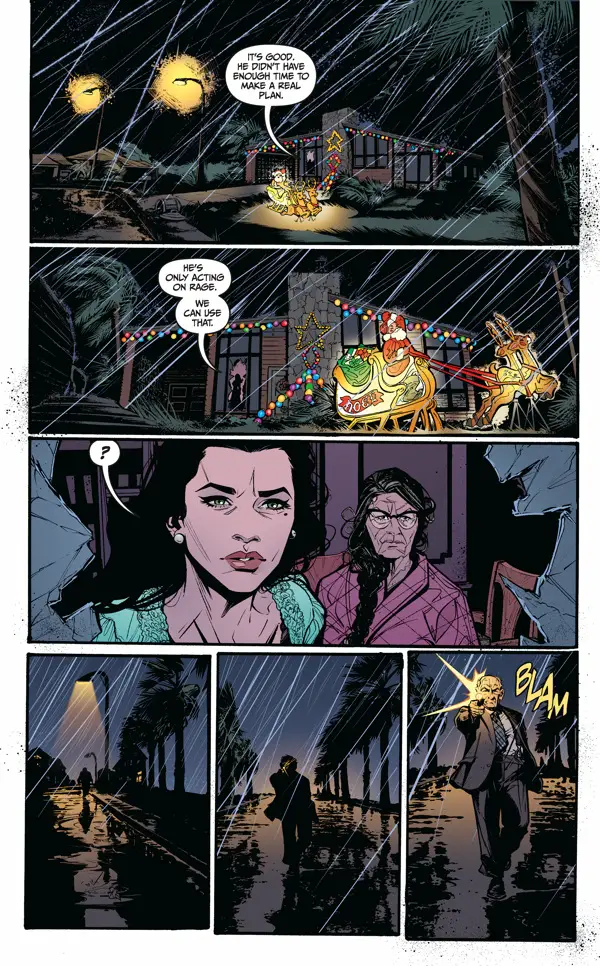 As a fan of the initial Lady Killer series, I was not disappointed by Lady Killer 2 #5. I was initially interested in Lady Killer when the advertisement revealed lovely 1960s bright colors and designs juxtaposed with blood, murder, and violence that often shared the same page.
For instance, the cover of Lady Killer issue one shows Josie standing in her kitchen holding a mop dripping with fresh blood and it is apparent she is trying to clean the pools of blood from her kitchen floor. The series provides this artistic, unsettling feeling throughout the series, one of a housewife that is torn between the care of her family and her violent, sociopathic tendencies.
Overall, Lady Killer 2 #5 will not disappoint readers and if you want to meet Lady Killer, presented as Betty Draper meets Hannibal, feel free to start the series with Lady Killer 2 #5 to get a taste or begin at the first issue.
Lady Killer 2 #5 is out now from Dark Horse Comics.