First, before I say anything, hats off to Dark Horse Comics for putting so many women together on a project like Spell on Wheels. Kate Leth, Jen Bartel, and Ming Doyle are powerhouses who I already loved, but add witches and a modern, tattoo-covered coven, and you have the makings of greatness.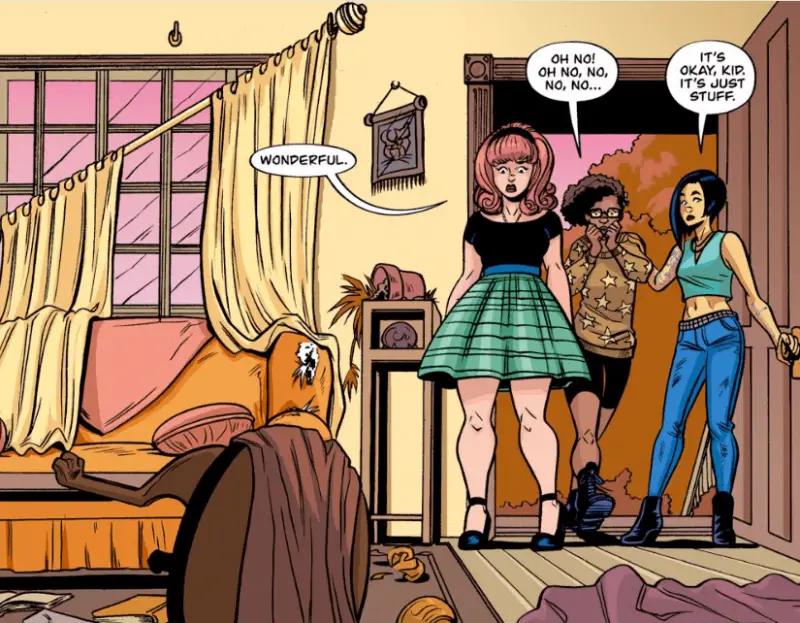 The artwork in this trade is exceptional. Megan Levens captures emotion and humanity in every panel and brings the supernatural to life. She and colorist Marissa Louise made ghosts and other powerful beings look truly unique. (You won't find any milky-white, translucent apparitions, here!) There are no doubts in my mind that the future issues will be just as satisfying.
Catching sight of Jen Bartel's cover for the trade is what made me pause and give the series more than a cursory glance. Her style is one I adore, though I would not have anticipated seeing her work in or on a horror/supernaturally themed project. I love witches as a trope and as a concept, but there is a great deal of noise out there and Bartel's illustration made me take a deeper look.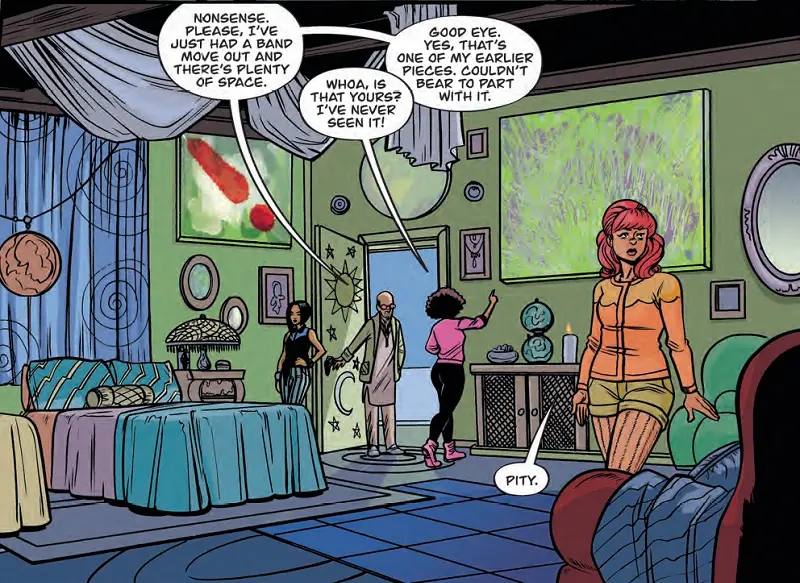 The story Kate Leth weaves gets progressively more intricate as time goes on. New characters are introduced as the Sister Witches (their phrasing, not mine) continue on their journey to reclaim their stolen, magical belongings. Leth really uses the surreal nature of her subject matter to her advantage–relying on ghosts and monsters to further drive the plot and retain reader interest. I will mention that there is not a great deal of blood and gore in this series, however the suspense and nature of the story make it just as compelling as Buffy or Supernatural.
One thing the book does exceptionally well is tap into timely events and experiences women face daily. Leth addresses several sociopolitical topics in a way that is authentic rather than either cheesy or preachy. (E.g., there are queer characters and a creepy old man gets called out for being a sexist pervert.) The book can of course be enjoyed at face value, but for more politically minded persons like myself, there are numerous metaphors and comparisons to greater issues. It's not often that a book can tell a story about entitlement which doesn't read like a witch hunt. (Though, in this case, it literally was. …Sort of.)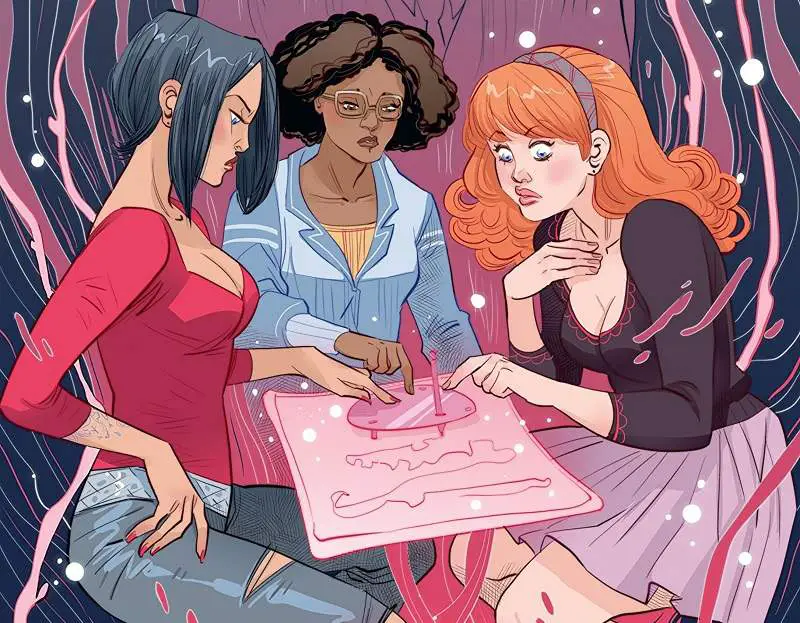 Overall, I loved this trade and can't wait to read future issues of Spell on Wheels. The 5 issue trade paperback will be available for purchase June 7, 2017. The trade isn't listed on third party sellers like Amazon if you search, but you can pre-order it by clicking the links to private listings directly through Dark Horse Comics' website.
WICKED RATING: 8.5/10