During the total 25 issue run of Puppet Master at Action Lab Danger Zone, there were also several miniseries expanding the corners of the larger Full Moon universe, the most recent of them being Cullen Bunn's inventive new take on Subspecies. Ultimately, in the limited time they had to work with, it was obvious that not every great idea nor every Full Moon property could be fully realized. That's why the newly launched Full Moon Comix is such a terrific idea. From the beginning, from the introduction to the behind-the-scenes Video Zone to Puppet Master II, Charles Band has said that he has always considered his characters to be like comic book characters who go on continuing adventures and cross over with other characters from time to time.
Now Full Moon finally has its own comic book imprint, of which Dollman Kills the Full Moon Universe is the first title. Judging from the structure of the first issue, it seems that each issue in this first miniseries from Full Moon Comix will contain two stories centering around Dollman Brick Bardo going up against various Full Moon icons. In this issue, we see him step in for a second round against the Demonic Toys as well as taking on the cast of Head of the Family.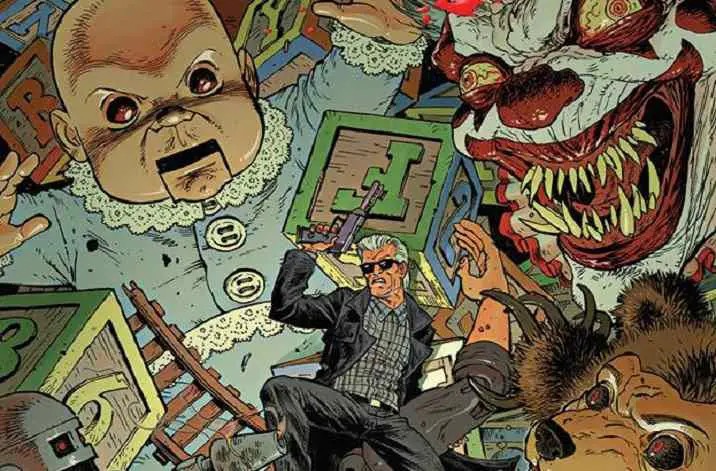 Part of the excitement here is that none of the three properties presented here made it into the Action Lab comics. Two of them, however, are not without comic book precedent. When Full Moon made its deal with Eternity Comics in the early '90s, both
Dollman
and
Demonic Toys
received miniseries. Still, it's great to catch up with these characters again after so long.
Head of the Family, meanwhile, has never had a comic book series of any kind, though in recent years it's become one of the Full Moon films to gain a huge cult following thanks to how insanely bizarre it is. More than that, Full Moon has been promising a sequel for over twenty years now. This is the first story to feature these characters since the original film. But, as the title suggests, don't get too attached.
The two stories are split into smart ways. Demonic Toys is a smart group to lead us off with, as it's a crossover that Full Moon fans will be familiar with thanks to the Dollman vs. Demonic Toys film. This also means that they're the only characters that won't have an accompanying sense of crossover novelty simply because they've been seen before, so in that respect, it makes perfect sense to introduce them first. There are also clever twists and turns surrounding the characters in this half of the issue, as it focuses on a group of friends who want to summon the Toys' demonic master on purpose in exchange for wealth and power.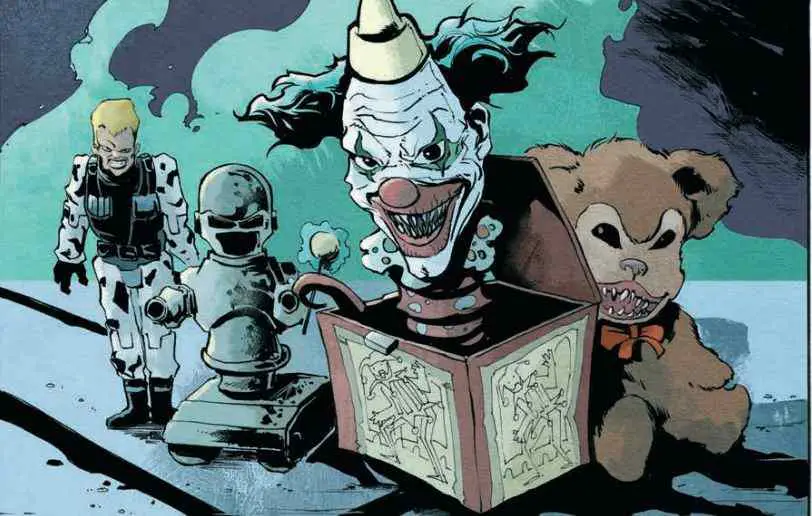 The second half of the issue goes much more quickly. While the first segment by Shawn Gabborin essentially sees Dollman navigate his way through a short Demonic Toys story, the second half by Brockton McKinney sets up a Head of the Family sequel and then immediately squanders it. Dollman's fight with the Toys is much more evenly matched. They've faced each other before and know what to expect, plus the Demonic Toys each have their own unique skills.
When it comes to Head of the Family, the fight goes much, much quicker. Part of this is because the family suffered a defeat in the film and there's some exposition to explain what they've been up to since. For fans of the movie, that's wonderful, but it doesn't set up too much because the characters get wiped out very quickly. This is actually intriguing, though . It makes a lot of sense. The Head of the Family characters show us right in the first issue that not every fight in this miniseries is going to be evenly matched. Some Full Moon characters aren't going to be a match for the heavily armed Dollman, especially if they're in a weakened state.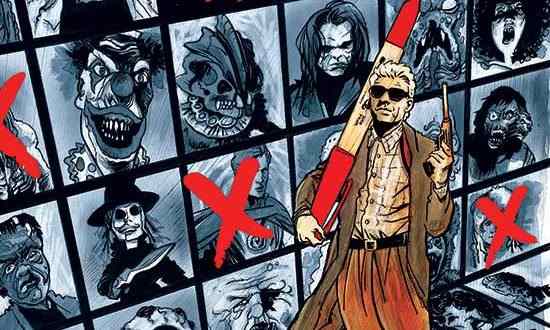 Dollman manages to take this family out without breaking a sweat, which has to make one wonder how some of these other fights are going to go. The Toulon puppets are tactical and certainly well armed, but someone like Castle Freak? Shrieker? These are characters that could potentially barely have time to react before Bardo blasts them away. If anything, these two very different fights prove that we don't really have any idea what to expect when it comes to where this series is going or what it means for the larger Full Moon mythology as a whole. As a fan, that's incredibly exciting.
WICKED RATING: 8/10