The Dark Horse Book of Horror is a massive collection of four, previously published horror anthologies; The Dark Horse Book of Monsters, The Dark Horse Book of Witchcraft, The Dark Horse Book of Hauntings and The Dark Horse Book of the Dead.
Each of these books revolves around the applicable theme and includes comic shorts, interviews, illustrations, and short stories from a variety of authors in a plethora of styles. While they have all won awards on their own, individual merits, the combination of four works to make The Dark Horse Book of Horror a breathtaking, impossible to put down, must-have tome for horror and comic fans alike.
When reading The Dark Horse Book of Horror, I thoroughly enjoyed the celebration of individuality throughout the pages, the way that each author interpreted the themes in their own manner. Not only does this add an authenticity to the pieces, but the stark contrast between the stories keeps the collection compelling enough for readers to yearn to read cover to cover in one sitting. Featured authors include Mike Mignola, Evan Dorkin, Kelley Jones, and Kurt Busiek.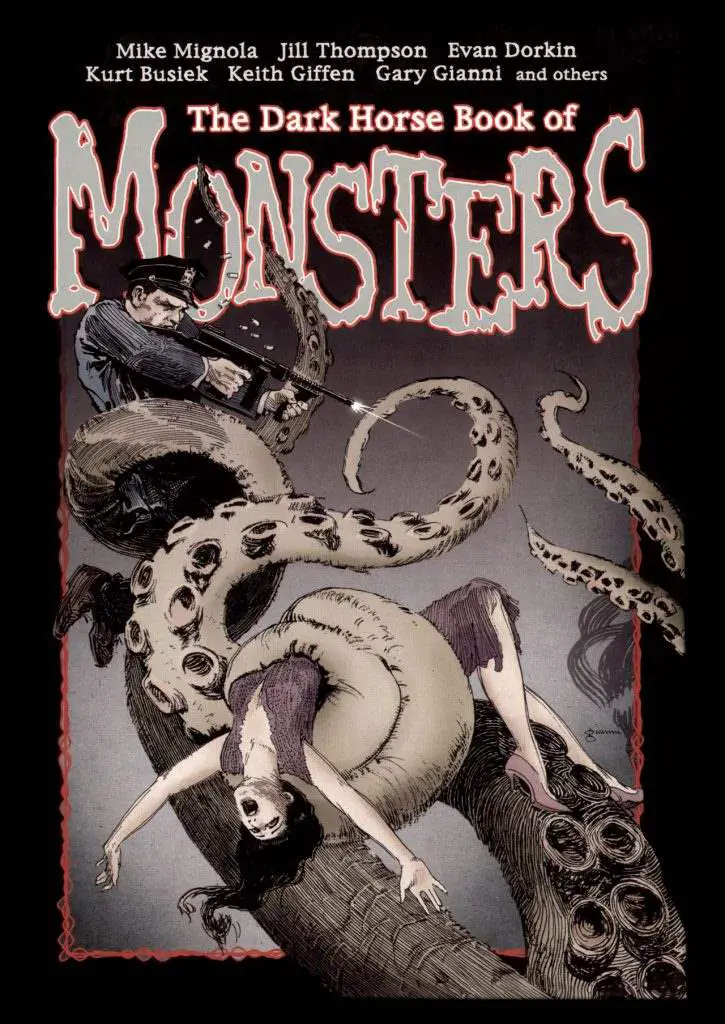 Although the actual content of The Dark Horse Book of Horror varies significantly throughout, the eclectic nature holds its own order in the context of the work. The universe hopping from one story to the next gives The Dark Horse Book of Horror an almost Twilight Zone vibe in that you may not know where the story is going, but each individual tale provides a gripping narrative and satisfying ending.
Most of the stories are quite memorable in their own right, but some of my personal favorites revolved around a group of man's best friends being plagued by paranormal occurrences in their neighborhood, snapshot Hellboy adventures, and short stories reminiscent of Scary Stories to Tell in the Dark.
Overall, The Dark Horse Book of Horror provides a wide variety of content that can be easily enjoyed by hardcore and casual horror fans alike, as well as being a fantastic addition to any comic anthology collection. The Dark Horse Book of Horror would equally serve as an outstanding coffee table or conversational piece in the fall, especially in October.
Pick up your copy from Dark Horse Books August 23, 2017