When a new television show emerges from Netflix or Hulu, oftentimes there is a certain amount of risk involved when committing to it. While the show may be just fine and everything you want it to be, sometimes you can be left with buyer's remorse. In this feature, Wicked Horror's April Bennett checked out the first episode of Santa Clarita Diet, (a Netflix original) to give you a taste (no pun intended) before you settle in and binge-watch the entire season. 
Santa Clarita Diet features as its protagonists a married relator couple, Sheila (Drew Barrymore, of Scream and nineties idol fame) and Joel (Timothy Olyphant, Justified) living in Santa Clarita, California in a painfully suburban neighborhood. As viewers are first introduced to the couple, they are nothing special, maybe even two, dull people who just seem to check the box off every middle-class stereotype.
They have steady jobs, a clean house, live in a cramped neighborhood, and have an angsty daughter constantly demanding a car. As their day progresses, we again see how ordinary and uninspiring the two are, until Sheila begins to have odd symptoms indicative of her transformation into a zombie. Things quickly go from dull to extraordinary as the effects of Sheila's newfound situation change the couple's dynamic entirely.
Prior to viewing I was wary of the show and how it would present the zombie aspect in a different light. The popularity of zombies has skyrocketed recently, so it is hard to expect a movie, let alone a T.V. show, to come up with original enough material to make a twist on such well-trodden material. However, I-Zombie, for example, managed to give a different outlook on a zombie's place in society, so it can be done. From all the promotional material I figured that Sheila's transformation was either into a zombie or maybe she decided to be a cannibal amidst her midlife crisis.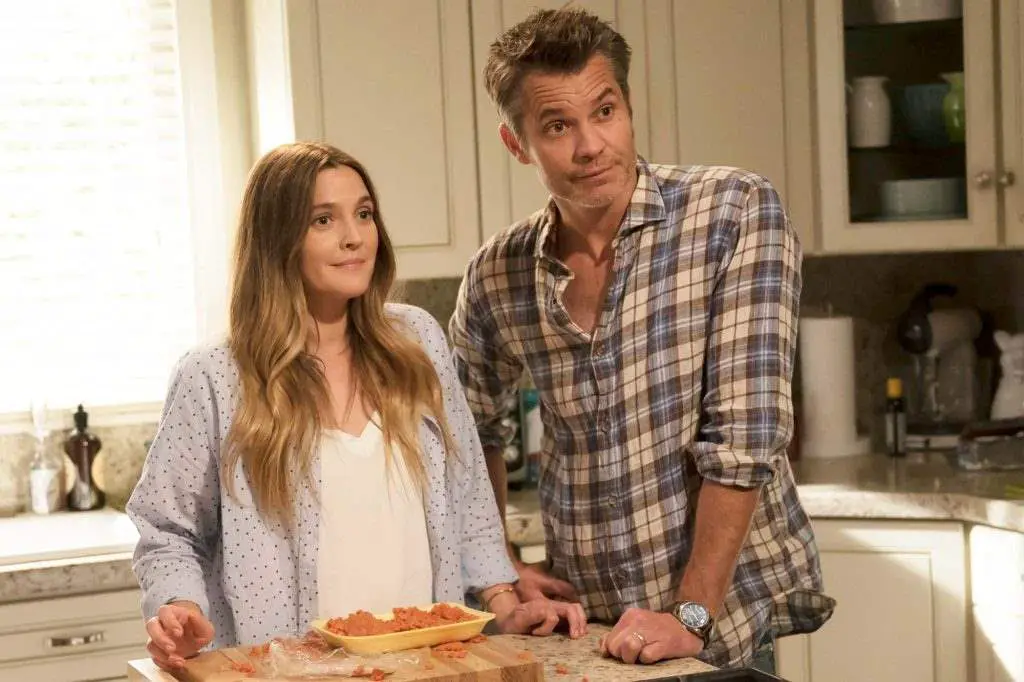 However, my assumptions aside, I was pleasantly surprised at the result.
Santa Clarita Diet
has the perfect amount of realism that allows for belief in Sheila's transformation and the reactions of her family. It is also surprisingly funny despite the dark theme, with expertly-crafted dialogue that is both witty and smart.
This, combined with some of the situational comedy, makes the show easier to swallow for audiences that may not normally watch an entire series based on a zombie. Furthermore, the choice to not include the word "zombie" in the title, or the obvious depiction of one overtly in the promotional material, can pique the interest of any viewer, regardless if they love horror or not.
That being said, this show is also unequivocally for horror fans, both zombie and otherwise. There are amazing special effects within that will suck the lightheartedness out of the show as it reminds you that Sheila always needs to eat. These darker undertones mixed with the comedy will please horror fans as well since it feeds into our darker senses of humor.
Overall, I am excited to view the rest of Santa Clarita Diet and I hope that you found this mini-review helpful in deciding whether or not you want to give it a chance. Stay tuned for a full review very shortly.
Catch Santa Clarita Diet in its entirety on Netflix now