The Answer, a sci-fi thriller from High Octane Pictures, revolves primarily around Bridd Cole (played by Austin Heibert, Jack Reacher: Never Go Back, Above Suspicion) a man who leads a depressingly boring life in his parents' house (themselves dead for 20 years). However, Bridd's life becomes complicated when he receives a package from his dead mother and it subsequently becomes apparent that he possesses superhuman abilities. After going on a date with a mysterious coworker named Charlotte (Alexis Carra, Mixology, Recovery Road), the pair are attacked and are forced to solve the mystery of Bridd's origins in order to survive.
The Answer is sure to appeal to all sci-fi fans, from hardcore Trekkies to more casual movie watchers. It provides a sci-fi story that is interesting and driving, but is not bogged down in how complicated it is. This is not to bash anyone who loves to be immersed in a galaxy far, far away or on a spaceship exploring the final frontier, but sometimes, especially for the casual viewer, an impractical amount of super-specific terms can lose a prospective audience.
The Answer alternatively does a fantastic job of staying in its lane and not trying to place more inside the film than there should be. For example, the bad guys in this movie speak another language, but rather than put subtitles on the screen or excessively have scenes where they talk incessantly, these interactions visually express what the viewer needs to know. These details make the sci-fi elements more easily accessible, to be enjoyed by everyone.
Because The Answer does not rely heavily on fictional sciency terms or the sci-fi aspect to carry this movie, the mystery of Bridd's origin and character development of he and Charlotte take precedent over these aspects. This not only makes The Answer more accessible, but also shows that the film was willing to put the work in the story rather than hide plot holes with emphasizing a new reality parallel to our own.
The two protagonists are enjoyable characters in their own right, and authentic too, as they attempt to follow the clues left behind by Bridd's parents. Charlotte isn't a damsel in distress and is in fact on the run from a dark past of her own, but she provides comic relief and balance to the often unpredictable and emotional Bridd. While Charlotte ensures that the two eat and are constantly on the move as well as providing services such as hot wiring and lock picking, Bridd is struggling with his identity and the realization of who he is.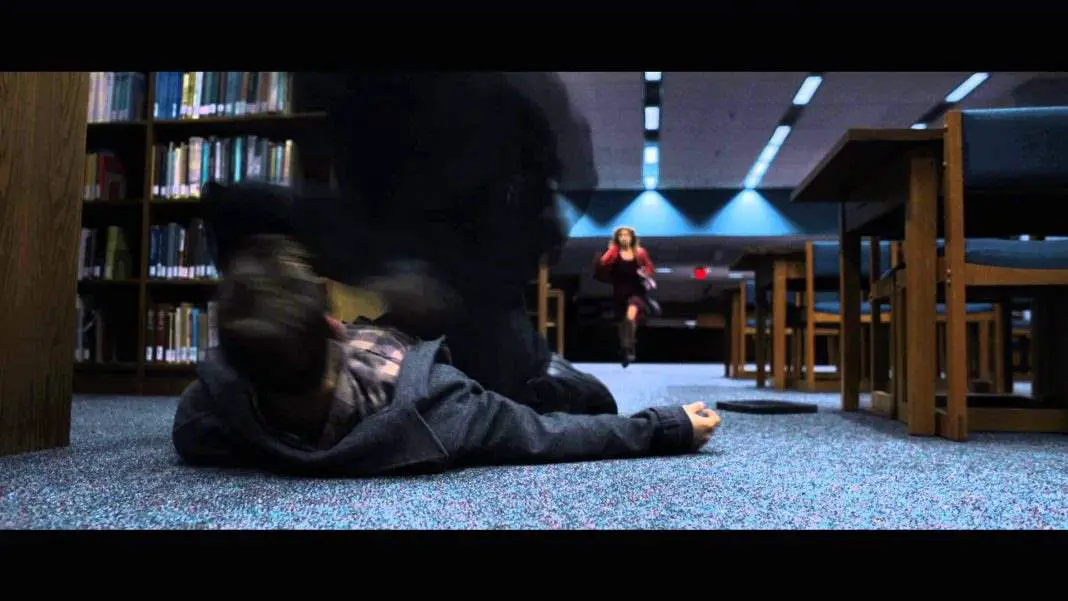 There are several times throughout The Answer that Bridd breaks down and becomes irrational, which is perfectly reasonable for the situation he is in, but it was insanely refreshing. Seeing a male lead in a film being emotionally vulnerable, scared, upset, and angry while his female companion provides the strength is a dynamic that sadly too few films offer. As audience members, we typically see male leads as strong, impenetrable, and refusing to rely on someone else, but Bridd can work through his anxieties and struggle with Charlotte, who according to movie tropes, shouldn't be the rock in this relationship. This may seem like a small detail, but it's quietly advanced.
While I thoroughly enjoyed this movie because of the outstanding plot, characters, and set designs, it's by no means perfect. When Bridd finally discovers the big secret he is after, only one parent's story is told rather than both so it leaves an entire side of the past out of the equation. This would be acceptable if there were clues or even hints so that the viewer can interpret for themselves what happened, but there are maybe a couple scenes and sentences that would help us to understand what happened to the other parent. And, considering the entire movie focuses on breaking tropes and cliches, the ending seems to not escape this and ends unsatisfactorily. It didn't anger me or make me feel like I was cheated, but after the work and love poured into the rest of the film I thought that they could have done better in giving a more satisfying conclusion. Â
Overall, if you are looking for a casual movie night or something a little different than typical sci-fi I recommend giving The Answer a try.
The Answer is now available on VOD for viewing!
WICKED RATING 5/10
Director(s): Iqbal Ahmed
Writer(s): Iqbal Ahmed
Stars: Austin Hebert, Alexis Carra, David S. Lee
Studio/ Production Co: High Octane Pictures
Release date: July 11, 2017
Language: English
Length: 83 min