2012's No One Lives was the fun, gory surprise featuring an ex-WWE Superstar nobody saw coming. All eyes were on Japanese filmmaker Ryûhei Kitamura to see whether he'd top it. Although there's been a movie and a TV episode in between, it's safe to say the brutal Downrange is its true follow-up.
A Shudder exclusive, meaning its horror bonafides are already a given even before watching, the flick is the standard-issue stranded in the middle of nowhere deal but man does it build upon that premise to an impressive degree. It's completely nuts but, much like No One Lives, Kitamura is fully  in control of the escalating madness.
A group of bland young people types — one dude, in blue, looks like a darker haired Greg Sestero, only with far less personality — are stranded roadside in the heat when their car suffers a flat tire. Next thing they know, shots are being fired as an unseen gunman picks them off one by one in gloriously bloody fashion.
Interesting camera movements let us know right off the bat this is something different, something special. First, it rises up with one girl's cellphone as she strains to take a selfie. Next, it swivels around with the twist of a tire iron. Finally, it goes right through an open wound in the first of many instances of knockout gore.
True, there isn't anything here to rival that Brodus Clay reveal in No One Lives. But even so, the gore is on another level, genuinely jaw-dropping stuff, particularly given the entirely road-set, and mostly daylight-soaked setting. The deaths are slow and meticulous, the last, jittery moments of life drawn sickeningly out for each one.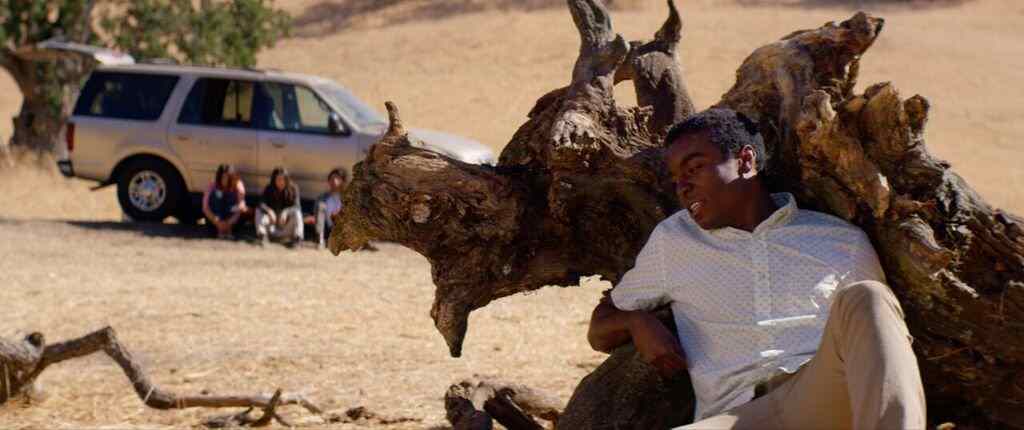 The makeup and SFX go above and beyond to ensure each grungy moment is played exactly right. The killer's weapon of choice being a gun should ensure quick, lame deaths, the same we've become accustomed to in bloodless action movies, but here the bullets just allow for more splatter.
It's a deviously simple premise, similar but better employed than the recent Carnage Park (though, sadly, the great Pat Healy isn't on the other end of the gun). There are no flashbacks to give us a break from the tension, and very little exposition. Downrange simply lays its card on the table and builds and builds and builds. It's ruthless, efficient, and endlessly clever.
The state of the chosen victims, stuck in the oppressive midday heat with no cover and no water, is juxtaposed against the killer, who is shown eating, covered up, and staying hydrated. It makes it so much more of an act of cruelty, and one far more horrifyingly random than The Strangers debunked true-life premise.
The killer himself is never fully revealed, ensuring the film doesn't get bogged down in Victorious-esque "wait, who is that?" rubbish. Rather, super-creepy glimpses are given throughout of his hands, eyes., etc. Keeping his identity a secret is a bold move, but Kitamura isn't interested in easy answers. He wants to keep us guessing.
In a twist on a well-established horror conceit, the characters are arguably slightly safer at night. Likewise, technology, which usually fails at the best of times, plays a big part here, and rightfully so. Never before has a selfie stick been used so well.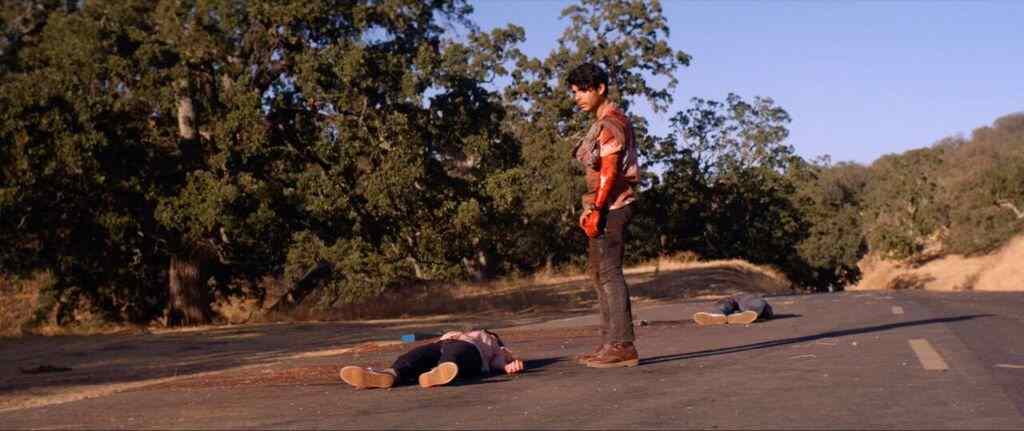 The actors are mostly unknowns, but their commitment to the carnage is impressive, particularly as their numbers dwindle. The biggest name on the cast-list is probably Graham Skipper, who thrilled in last year's Beyond The Gates before breaking out on his own with his gooey body horror directorial debut Sequence Break.
Skipper plays a cop again here, as he did opposite Adam Green in the super fun anthology flick Tales of Halloween. He doesn't show up until the end, but his presence is always welcome. Skipper has that old-school quality of a horror every-man whose face you never get sick of seeing. Even amidst the madness, he remains grounded.
Kitamura gives us a gut-punch of an ending in keeping with the bad-ass, rough, gory, and totally unpredictable 90 minutes that came before it. He's not subtle, but when the action is this good, and the gore this well-executed, he doesn't have to be. Downrange signals the Japanese filmmaker has even higher, crazier heights to scale. Between this and No One Lives, I can't wait to see where he goes next.
WICKED RATING: 8/10
Director(s): Ryûhei Kitamura
Writer(s): Ryûhei Kitamura, Joey O'Bryan
Stars: Kelly Connaire, Stephanie Pearson, Rod Hernandez, Graham Skipper
Release date: April 26, 2018 (Shudder exclusive)
Studio/ Production Co: Genco
Language: English
Length: 90 minutes
Subgenre: Thriller