Rayburn Swanson's life has been shaped by the disappearance of his daughter. Once a hunter, he now runs a remote wildlife sanctuary at the edge of an expansive wilderness. It's penance, something his daughter might have wanted. He numbs his pain with whiskey, keeps up a search with "Missing" fliers and refuses his ex-wife's petition for a death declaration. It's been five years. She'd like to start over, but he's not giving up.
Nikolaj Coster-Waldau in an engaging turn as the broken Swanson is a key selling point for The Silencing, a new variation on the familiar territory of the classic story "The Most Dangerous Game." It may channel a dash of serial killer Robert Hansen as well. He forced victims into a hunter-prey situations in remote Alaskan wilderness and inspired films such as Naked Fear(2007) and the docudrama The Frozen Ground (2013).
He's as charismatic as he was as Jaime Lannister but showing a lot more anxiety and bitter anger, if not looking any less handsome.
Annabelle Wallis (The Tudors) as Alice Gustafson is another check in the plus column for this film. She has a few problems and demons of her own as the poverty-stricken locale's first female sheriff. Her near-destitute brother is one of them. Like Coster-Waldau, Wallis also looks pretty smooth for the hardscrabble surroundings.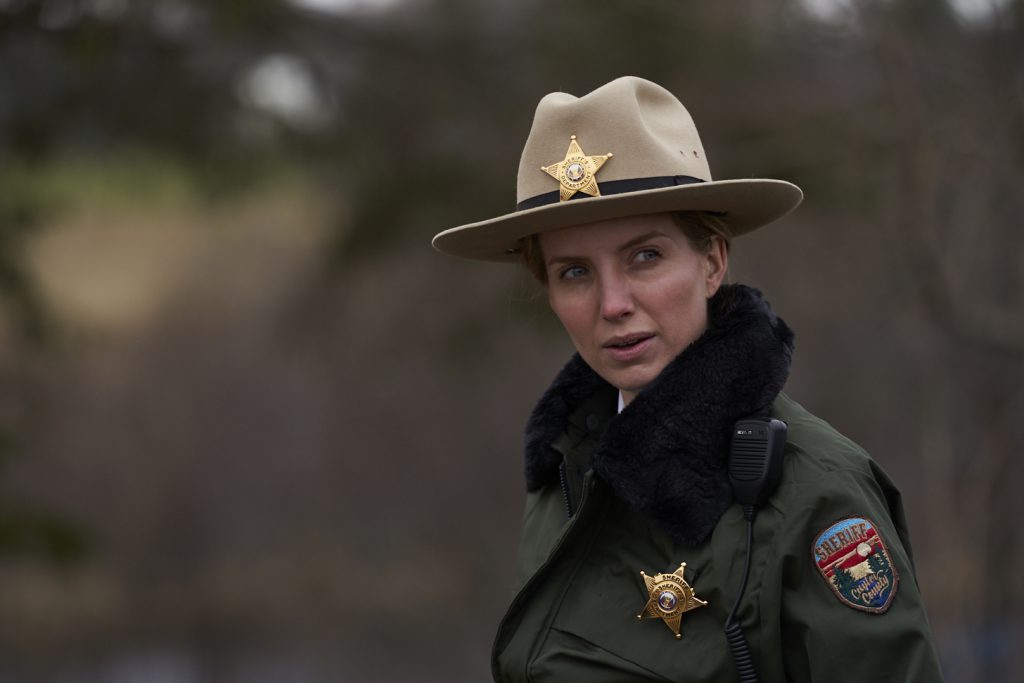 When Swanson discovers an intruder via sanctuary security cameras—carefully monitored for unusual movement by his dog Thor—he's plunged into a hunted vs. hunter situation. That turns into a struggle to survive and a race to rescue the mute girl he discovers. Someone has precisely sliced her vocal cords. Is she an abductee as his daughter was? The action and tension are just beginning.
Swanson and Gustafson are soon in a search for an adept killer who dons an eerie black ghillie suit and looks as bestial as a movie monster. He's especially lethal due to his weapon of choice, a primitive atlatl that will hurl a spear at vicious velocity.
A few twists seem forced for shock value, but the story moves with alternating uneasiness and high tension as a whodunit winds forward as the tale builds to a brutal showdown.
Penned by Micah Ranum who hails from Viking, Minnesota, which might be a template fro the film's locale, and directed by Belgium's Robin Pront (The Ardennes), The Silencing is a dark thriller that entertains and is a tad reminiscent of Taylor Sheridan's gritty style.
WICKED RATING: 7/10
Director(s): Robin Pront
Writer(s): Micah Ranum
Stars: Nikolaj Coster-Waldau, Annabelle Wallis, Hero Fiennes-Tiffin, Zahn Mcclarnon,
Release date: August 14, 2020 (Theaters, Digital and On Demand)
Studio/Production Company: Saban
Language: English
Run Time: 97 minutes