Fans who were disappointed by Netflix's recent Texas Chainsaw Massacre requel can relax, because X, Ti West's latest, is a TCM movie in all but name. It's also got a gator, so could reasonably be interpreted as an ode to Tobe Hooper in a greater context too, if you take Eaten Alive into account. There's been plenty of discussion about how making a Texas Chainsaw movie like the original is virtually impossible these days, but West's sweaty, grisly and often uncomfortable film proves there's still plenty of dark matter to excavate – you just have to know where to look for it.
The prolific filmmaker wisely narrows his focus to the low budget adult entertainment industry, with a group of plucky wannabe porn-stars heading into the backwoods of, yes, Texas to make a movie they hope will catapult them to mega-fame. In a weird way, X would make for a fine double bill with Sean Baker's latest, the near-perfect Red Rocket, another tale of a doomed adult performer who's made more than a few bad choices in his life. Of course, in the case of Baker's film, nobody is going to be killed for their actions (though Mikey Saber pushes his luck many times).
Mia Goth leads the way as Maxine, a coke-snorting ingenue who's sleeping with the film's oily director, many years her senior, on the side. A terrific, fully committed Martin Henderson does an enjoyable kind of low-rent Matthew McConaughey impression as Wayne, the captain of the ship whose moral compass is more than a little skewed (though his feminist credentials are arguable, particularly given his reasoning for allowing the new girl to participate in the movie). Brittany Snow gamely plays against type as the perpetually horny Bobby-Lynne, while rapper Kid Cudi is the sweet-natured Jackson, Owen Campbell is nerdy camera operator RJ, and Jenna Ortega, fresh from her impressive turn in Scream (2022) and fully on her way to becoming a bonafide Scream Queen, is Lorraine, whom Wayne refers to as "Church Mouse" due to her quiet, unassuming Christian nature.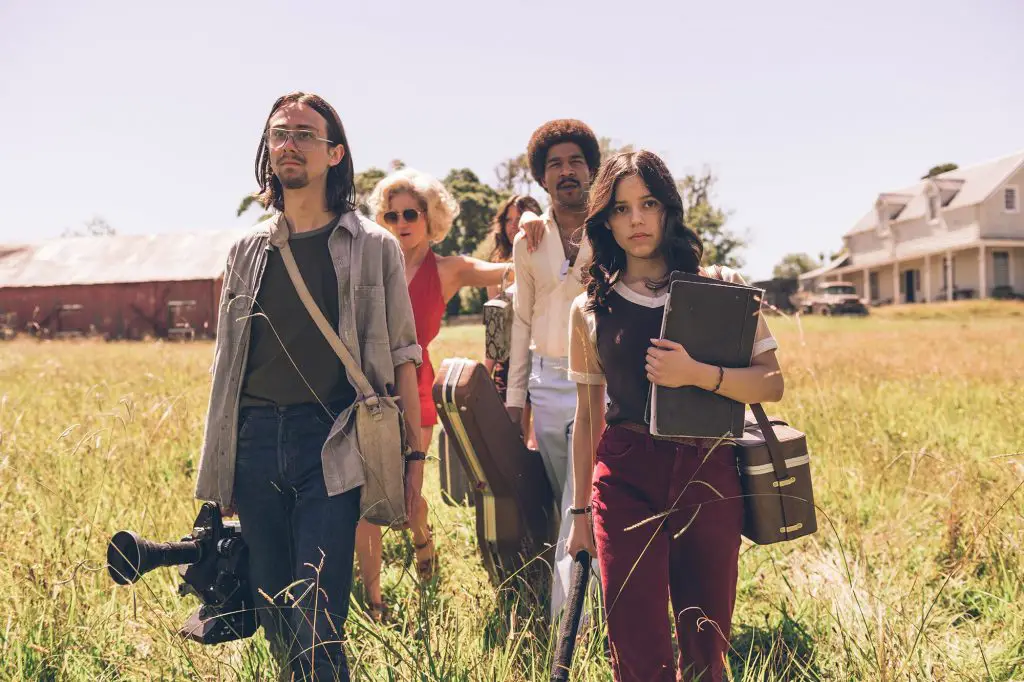 They're a ragtag bunch, easy to root for, their various backstories etched out in the naturalistic interactions that take place in the van en route to their final destination, an isolated farmhouse on the land of a mysterious elderly couple. Wayne and his cohorts clearly aren't welcome, even before their hosts realize what the group is really up to, but they haven't exactly been lured there either, so when the body parts start flying it's pretty shocking. West also plays with our expectations of who's an obvious survivor. He starts the action in media res, with a police investigation of a gruesome crime scene already underway. This should rob X of at least some suspense, but it actually makes the film harder to pin down.
TCM looms large over the events of X, but West leans into such comparisons rather than fleeing from them, or worse, overcompensating. The cinematography, by West's regular collaborator Eliot Rockett, is grainy and sun-drenched, evoking the feeling of watching a movie made in the seventies without it ever feeling like pastiche. The styling, hair and makeup are all spot-on recreations too, from Bobby-Lynne's bottle-blonde bob to Wayne's massive cowboy hat. Meanwhile, each member of the crew adopts their own take on a southern drawl, with Snow, in particular, drawing out each vowel to wonderful effect. This is a great sounding movie, as well as a good-looking one, the bone crunches landing with just as much impact as the witty repartee.
Although the trailer, as most modern teasers do, unfortunately spoils many of the film's darkest treats, West still has plenty of shocks up his sleeve. The first kill doesn't come until almost two-thirds of the way through X, but it's drawn out and gnarly, the filmmaker gleefully earning that hard-R rating. We're so used to modern horror movies pulling back after the first stab, but West goes for the jugular in more ways than one. Likewise, there's a basement reveal that's up there with the best, or rather worst, of what the Sawyer family compound had to offer. It's all magnificently twisted, right down to how West makes us empathize with the movie's ostensible villain.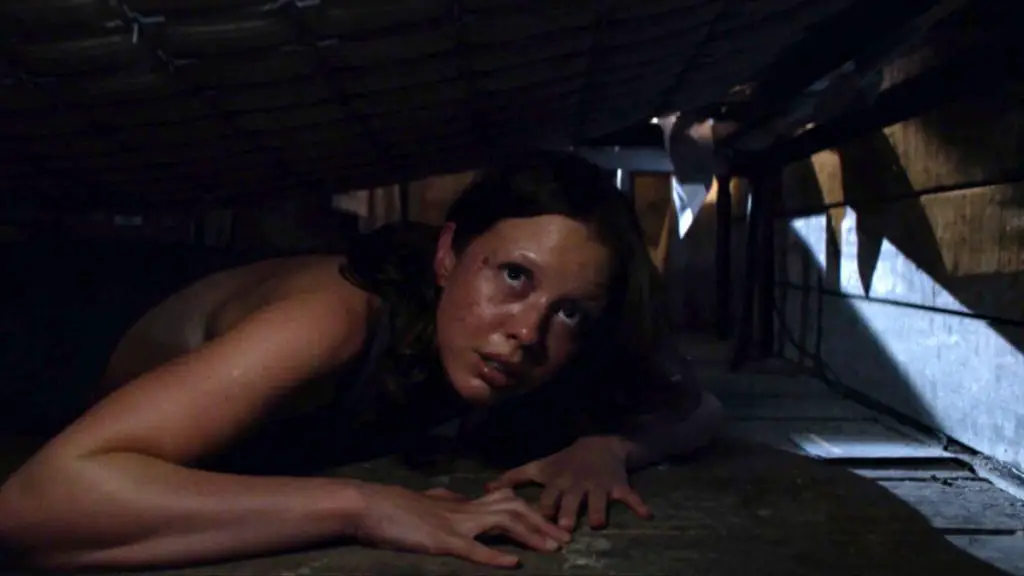 As for the aforementioned alligator, well, the creature – which looks great, likely thanks to top-notch CGI though the seams are impossible to spot – is involved in one of the most frightening sequences of the entire film, stalking a completely unaware character who's enjoying a relaxing skinny dip. Mixing sub-genres in this manner shouldn't work, but West has such a tight grip on the southern-fried flavor of this material, and guides the action with such a sure hand, that it all slots effortlessly together to create a scary story that could only be set in Texas. Moreover, the porno element provides a further voyeuristic edge to the proceedings that complements the film's trashy aesthetic. Elsewhere, the wild preacher's sermons that play out on televisions in the background throughout add a further element of watching something dangerous, even if the tie-in related to same is a little too neat.
West's trademark slow build lends itself incredibly well to a story like this, where we start at the end and have to work our way back. He wrong-foots the audience at every turn, making it consistently difficult to guess where the film is headed, even though we know it's going to end in bloodshed. X is devilishly evocative as well as provocative, referencing classic horror just as often as more recent A24-style offerings (also the distributor here, naturally). And yet, it's also defiantly its own thing, imbued with just as much style as sleaze and powered by charismatic, utterly believable performances from the ensemble cast. A prequel is already on the way, but it's almost a shame to delve further into something that feels like such a special, and unique, one-off experience.
Still, spending time in this throwback world of exploitation-lite horror is an undeniably fun experience, so delving back in could be genius. Taken purely as it is, though, West blends old school homage with modern horror thrills to craft a blackly comic and surprisingly poignant tale loaded with scares and gut-churning gore. X deserves to be seen by as big an audience as possible, despite or perhaps because of that deliberately provocative, censor-baiting title.
WICKED RATING: 9/10
Director(s): Ti West
Writer(s): Ti West
Stars: Mia Goth, Brittany Snow, Jenna Ortega, Martin Henderson, Kid Cudi, Owen Campbell
Release date: March 18, 2022
Language: English
Run Time: 105 minutes