Haunter has a mysterious atmosphere that grabbed me right away. The film is based in the mid-1980's where it follows a teenager named Lisa on the day before her birthday. She goes through her daily routine but is beginning to get an overwhelming case of deja vu. It seems that time is standing still for Lisa and her family. Every day she is woken up by her mother who asks her to take care of the laundry, then she is terrorized by her younger brother while her father is in the garage fixing their broken down car.
Soon enough, Lisa figures out why she and her family are trapped inside their house and their lives are stuck on repeat. However, she breaks the routine one day and because of that a creepy man known as The Pale Man arrives. This mysterious figure warns Lisa that if she keeps trying to break the routine and question what happened to them, he will harm her and her family. But of course, Lisa doesn't listen. She begins looking for clues to identify The Pale Man and to break the cycle. Haunter is a good old fashioned ghost story which I absolutely love.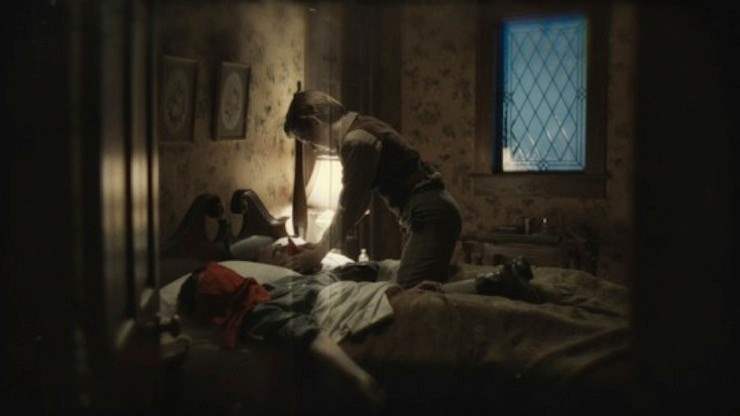 The acting in the film is well done,
Stephen McHattie
is excellent as The Pale Man! He definitely did a great job being creepy. Abigail Breslin is likable and believable as Lisa. Vincenzo Natali (
Cube
) is at the helm and does a good job building atmosphere. Brian King (
Night Train
) delivers a competent script that has plenty of twists and turns along the way. The cinematography is a little dreary but it matches the fogginess   that Lisa feels from repeating the same menial tasks day after day.
My only complaint about the film is that it kind of went in a direction I didn't see coming. And that was a bit frustrating because the first 30 minutes were going so well! After 30 minutes, the film jumps from the past to the future which wasn't a bad idea at first but things get a little dicey.
Overall, Haunter has a unique and creepy story line which is highly entertaining I absolutely recommend checking it out if you haven't had the chance to do so. It was released to VOD fairly unceremoniously and as such, you may have missed it. It's currently available to stream on Netflix.
WICKED RATING: [usr 6]
Director: Vincenzo Natali
Writer(s): Brian King
Stars:  Abigail Breslin, Peter Outerbridge
Year: 2013
Studio/ Production Co: Wild Bunch
Budget: Limited
Language: English
Length: 97 Minutes
Sub-Genre: Horror, Mystery, Thriller