The grindhouse era exploitation movie is a fascinating thing. The term exploitation film is both incredibly niche and at the same time all-encompassing. Under the umbrella of exploitation, you'll find horror, sci-fi, action and just about anything else you can think of. Usually, at least two genres will be combined into a single exploitation film.
Of course, the very term can turn someone off. After all, exploitation sounds so…exploitative. But at the same time, grindhouse cinema is representative of an era before political correctness was a major concern and it can be something of a nostalgic stroll down memory lane to revisit some of these titles from a time in history where almost nothing was off limits.
Because they were so cheap and could be made so quickly, there are hundreds of these features still being discovered to this day. These movies continue to be extremely influential, especially on filmmakers like Quentin Tarantino, Robert Rodriguez and Rob Zombie.
Some of the grindhouse flicks of yesteryear have stood the test of time and are still remembered fondly to this day. The features we are about to touch on weren't so lucky. The titles we'll be looking at are long forgotten and we think it's high time you remembered them. So, with that in mind, we are about to revisit a handful of grindhouse era exploitation flicks that need to be rediscovered.
The Mountain of the Cannibal God
Ruggero Deodato's Cannibal Holocaust is probably the best known of the cannibal exploitation movement, which is strange, considering it was also one of the last. The second most notorious entry in the sub-genre would likely be Cannibal Ferox, aka Make Them Die Slowly. Upon its release, Sergio Martino's Mountain of the Cannibal God just became another one of those pictures that fans might be aware of but usually have not seen. It follows a woman traveling to New Guinea to find her husband, an anthropologist who has mysteriously gone missing. Like Cannibal Holocaust, this is a hard watch, but it's interesting in spite of being hard to take. The most surprising thing about it is probably the appearance of Stacy Keach, a legitimately good actor. The obscene violence, in a strange twist on the way these things usually develop, was actually at the insistence of the distributor.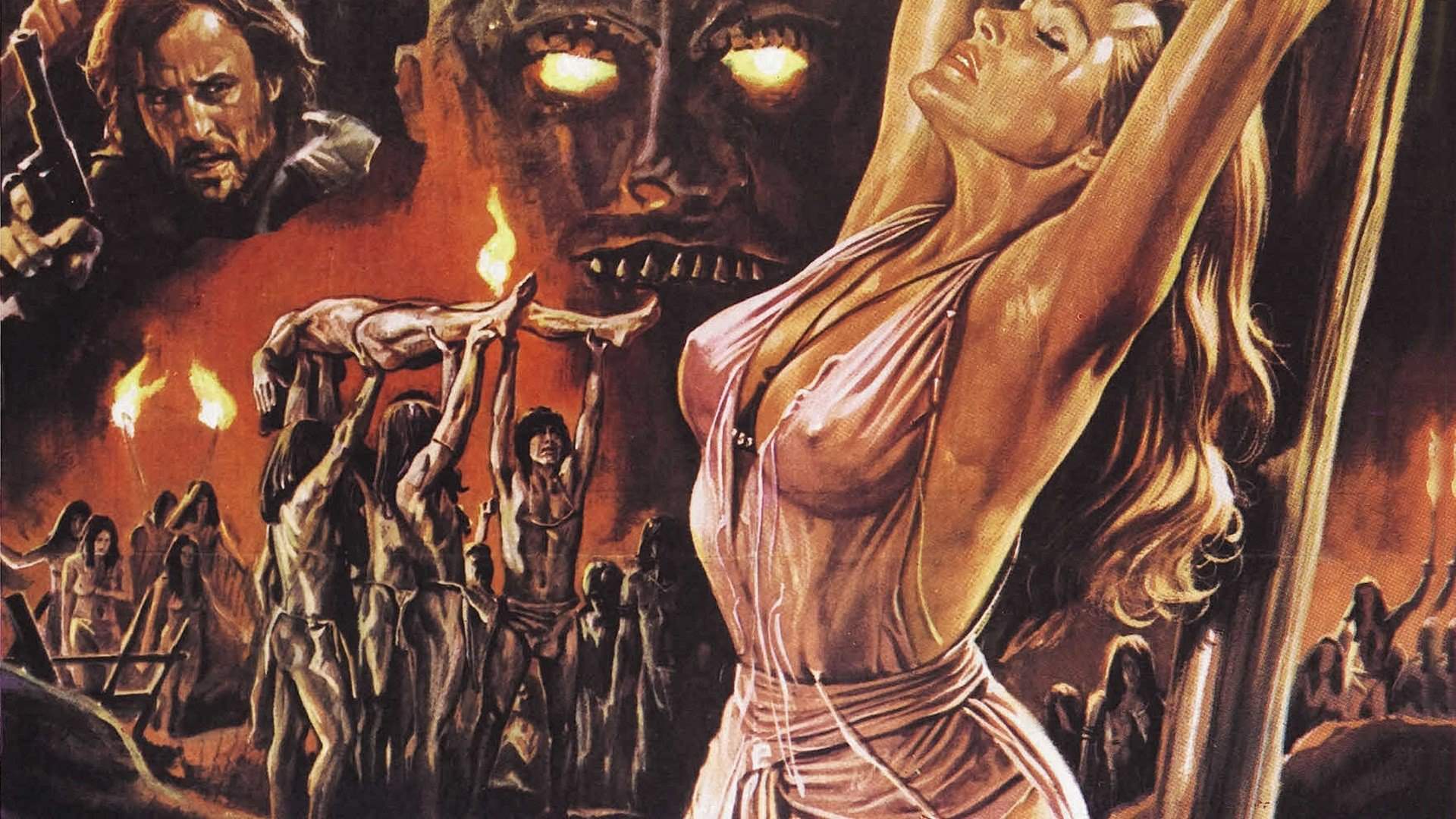 Switchblade Sisters
Switchblade Sisters is about a girl named Maggie who transfers to a new school that is split into a series of gangs. The Silver Daggers, is an all male gang. And the Dagger Debs is a female offshoot of the Silver Daggers. Maggie eventually forms a new, tough, all-girl gang known as The Jezebels, which was also the original title of the film. Switchblade Sisters has a great energy to it, the whole thing is a lot of fun for such a small little movie. Most people haven't even heard of this one, let alone seen it, but it's definitely worth a look.
One of the most overlooked sub-genres, sharksploitation surfaced—no pun intended—after the release of Jaws. Most of these films were Italian, and most of them were terrible. Cruel Jaws was probably the most infamous, lifting scenes directly from Jaws itself and actually labeling itself as Jaws 5. Great White is probably the best of the rip-offs by default. It's the most fun, it's one of the last movies starring the great Vic Morrow before his accidental death on the set of Twilight Zone: The Movie. The feature is cheap as hell, and the shark is both extremely fake and several times larger than any known species of great white. But that's all part of the fun. While it was banned in the US after a lawsuit claiming it plagiarized Jaws, the flick has popped up online in a limited release from RetroVision Entertainment.
Sort of a precursor to Species, only twenty years earlier, Invasion of the Bee Girls is about a new race of women (created by a mad scientist) who lure men to their deaths via deadly pheromones. It's as absurd as it sounds. That's usually the best sign for an exploitation movie. We follow special agent Neil Agar as he tries to solve the mysterious deaths in the small town of Peckham, California as he tries to determine why men young men are dying from sexual exhaustion. The whole thing is absolutely bonkers, but unbelievably it was written by Nicholas Meyer, who would go on to write major hits like Time After Time, Star Trek II: The Wrath of Khan (which he also directed), The Day After, Fatal Attraction and The Prince of Egypt.
One of the most insane biker movies as well as one of the most insane werewolf movies you could ever hope to find, Werewolves on Wheels pretty much has it all. There are, of course, bikers. But there are  also Satanic cults, tragically cheap effects and no real climax to speak of. Here, the bike leader's girlfriend is turned into a werewolf by the Satanic cult and then proceeds to kill of the rest of the gang whenever they stop for the night. When she and her turned boyfriend are eventually found out, they're killed pretty much on the spot. There's no set up, no real confrontation, things just sort of mosey along and keep on rolling, much like the werewolves on wheels themselves.