In this issue, the season does the unthinkable by finally getting out of the Safe Zone—but in typical Buffy fashion, it doesn't come without a huge cost. Be warned, there's no way to discuss this issue without digging into spoiler territory. Having said that, here's the main conflict of issue #7:
There's a way out of the Safe Zone, and it's just as terrible as you would expect from the kind of people who would make something like a supernatural internment camp to begin with. To get out of the Zone, you have to give up whatever supernatural energy you have inside of you. They spin this, of course, as "the thing that makes you a threat."
For Buffy and Willow, that means completely changing their lifestyle, giving up the thing that makes them special. Buffy's proven time and again in the comics that she does not want to give up her power the way that she did in the early years of the show. For Willow, it arguably means even more. In season nine, she did take a huge loss to her power and had to really fight to get it back.


Now she has a whole coven depending on her, she has people who look up to her and who she's trying to protect. It's almost shocking to see Willow telling people to give up their power so that they can be free. But Rebekah Isaacs completely conveys the clear pain that Willow is going through when she's telling them that.
For Spike, though, something like this means death. With all of that supernatural energy removed, Spike's just a corpse. There are several different kinds of demons that would not survive if they couldn't be supernatural because their anatomy just wouldn't work. The government insists that they're "working on a solution" for that, but that's all we get. I have no doubt that that will come into play later.
Another character who makes an unexpected appearance in this issue is Riley, along with his wife Sam. His conversation with Buffy is interesting because Riley is obviously siding with the government again. He's doing what he's told. He's raising questions, but he believes he's seeing the big picture and is trying to help. This is so frustrating, even if it's completely in character for him. So that's actually a nice touch, narratively.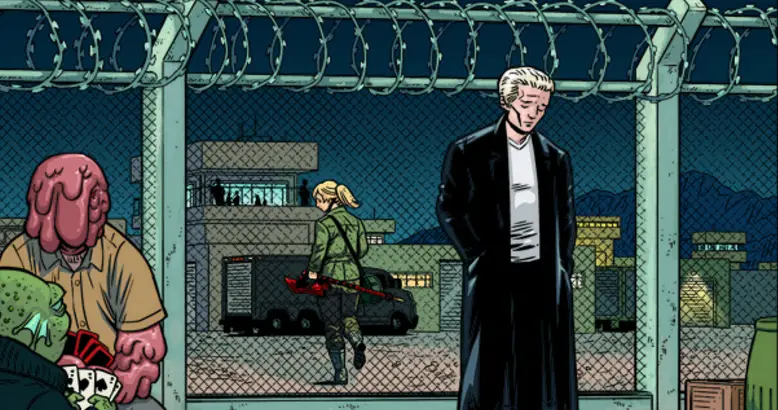 There's a great mix to the way the story is being handled in general, in that the plot is definitely starting to heat up, but things are still unfolding gradually. I'll be interested to catch up with characters like Dawn, Xander and Giles again because we haven't seen them in a few issues. They obviously haven't gotten much focus when the action's been contained to the inside.
After undergoing some major changes in this issue, I'm excited—and nervous—to see how things will go for Buffy and Willow on the outside.
WICKED RATING: 7/10