As a huge fan of crossovers, especially between properties you would not necessarily expect to cross over, I loved this book. It's a collection of several miniseries from the 1990s that crossed over members of the Justice League with classic Dark Horse properties. Many of these were series I was aware of at the time but never managed to collect, while others were books I had no idea even existed until now. Both are a great treat to finally see together in a single 300+ page collection.
The size is certainly bigger than expected for something like this, but not daunting by any means. These are small stories that go by quickly and I wouldn't recommend reading the whole thing all at once. Each story is fun to pick up and read on its own, though the similar structures of the various crossovers do get repetitive if you attempt to sit down and read the whole thing at once.
Not all of the stories in this volume are necessarily well written, but that's keeping in mind that the styles of comics have changed drastically since the early '90s. They're not so much badly written as they are dated, and some of them actually hold up pretty well.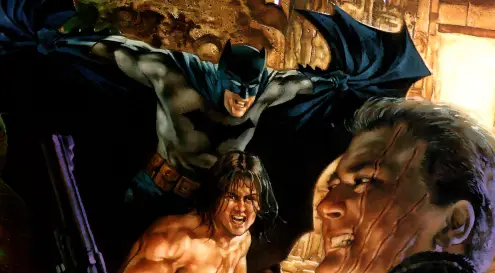 The first crossover in the collection,
Justice League vs. Predator,
is interesting because it starts off like any old
Justice League
story. Even the overall structure is still the same basic story of this team of superheroes going up against an alien horde. The difference, of course, is that this is a horde of Predators. Visually, it's a terrific thing to be able to see. It makes at least some degree of sense on a story level as well. It's hard to consider this an even match, because the Justice League have some heavy hitters. But the Predators have given Batman and Superman a run for their money individually in earlier comics, which this crossover makes sure to bring up. Still, while it's a fun one, it's hard to sell the stakes of a matchup like this.
Green Lantern vs. Aliens on the other hand, is a crossover that makes perfect sense. The mythos of Green Lantern is primarily set in deep space, it's a cosmic property, most of the Lanterns are aliens and they're always combatting new alien threats. It seems natural for them to come face-to-face with the xenomorphs. What makes this interesting as an Aliens story is that it's the only time you'll see the heroes not wanting to use lethal means against the aliens. They at least try and look for other ways to solve the problem first. Of the stories in this collection, this one is probably my favorite. It actually says something about the title character and feels the most organic.

The surprise of the batch is Batman/Tarzan: Claws of the Cat-Woman. It's an absurd mash-up. Everything about it seems silly. But at the very least, the set-up proves to be kind of neat. It's a 1940s Indiana Jones styled adventure story and the setting allows it to take Batman back to his roots in a pretty cool way.
Overall, this is a strong collection. None of the stories gathered here hit the DC/Dark Horse greatness of Batman vs. Predator, but some of them are still really good. If you love crossovers, this definitely comes recommended. If you don't love crossovers, nothing in here is probably going to be the thing that changes your mind.
WICKED RATING: 7/10