Last month, I had the occasion to attend Universal Orlando's Halloween Horror Nights. This event has been around since 1991 and is a yearly tradition for Universal Studios. The horror destination has nine haunted houses, five creature-filled scare zones, two outrageous live shows and so much more. Halloween Horror Nights is a must for die-hard fans of the horror genre and casual enthusiasts alike.
After receiving my press credentials, I was led through the park to a welcoming media event, alongside a group of fellow journalists. Keep reading for a rundown on what to expect from this years Halloween Horror Nights!
Haunted House: Dead Waters
This voodoo themed house is set in the Louisiana bayou in a partially sunken home. The house itself is extremely disturbing and complicated. The boat, surrounded by bog weeds, has rotten zombies on the prowl.
Haunted House: The Fallen
This theme explores a battle between Heaven's fallen angels and Hell's ascended demons. The house was filled with gore, skulls and plenty of horrific sights. It was the first time in Halloween Horror Nights history that a house featured real stunts. The demons from Hell sailed in the air screaming, inspiring fear in the hearts of visitors.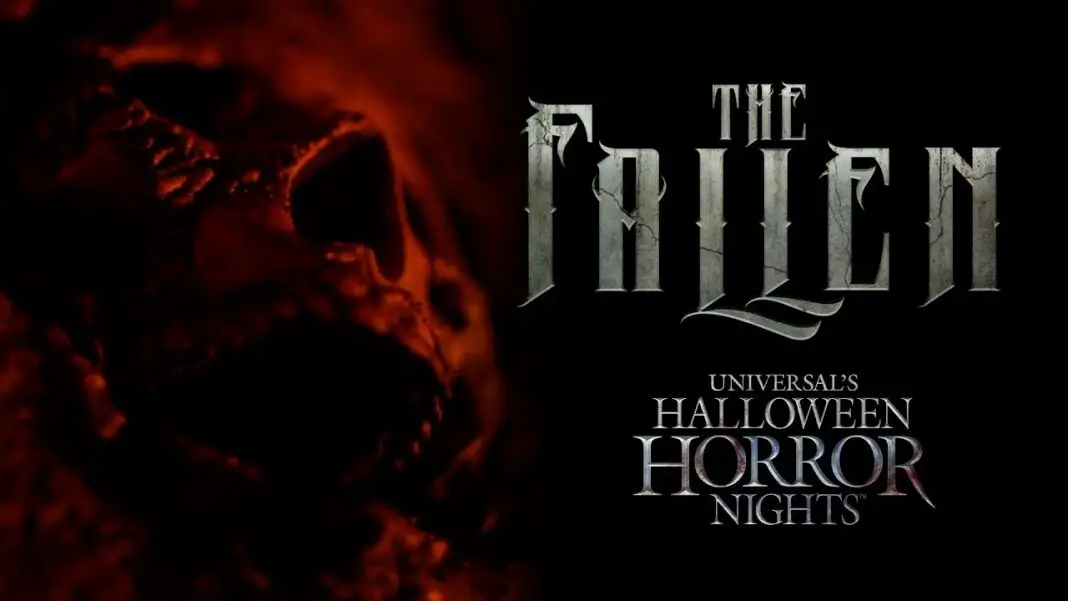 Scare Zone: The Purge
Based on Blumhouse's horror franchise The Purge, we witness citizens dressed up in original characters' costumes! The purgers were scaring guests through intimidation and hasty movements. There were even purgers riding on motorcycles, followed by a white truck honking its horn and causing general chaos.
Scare Zone: Invasion!
This attraction is based in the mid 1950s with its cheesy yet adorable science fiction style. Be prepared to witness aliens armed with lasers guns. Although this scare zone isn't necessarily alarming, it's lively and overall enjoyable.
Live Show: Bill and Ted's Excellent Halloween Adventure 2017: The Farewell Tour
After 26 years, this year will be the end of Bill and Ted's adventure. Bill and Ted are playing at a festival when the Grim Reaper receives a text from his boss, Satan, saying every single person in the audience must die because there is nothing rectifiable in pop culture. This show is beyond impeccable and includes sexy dancers, political humor, giant fidget spinners and so much more.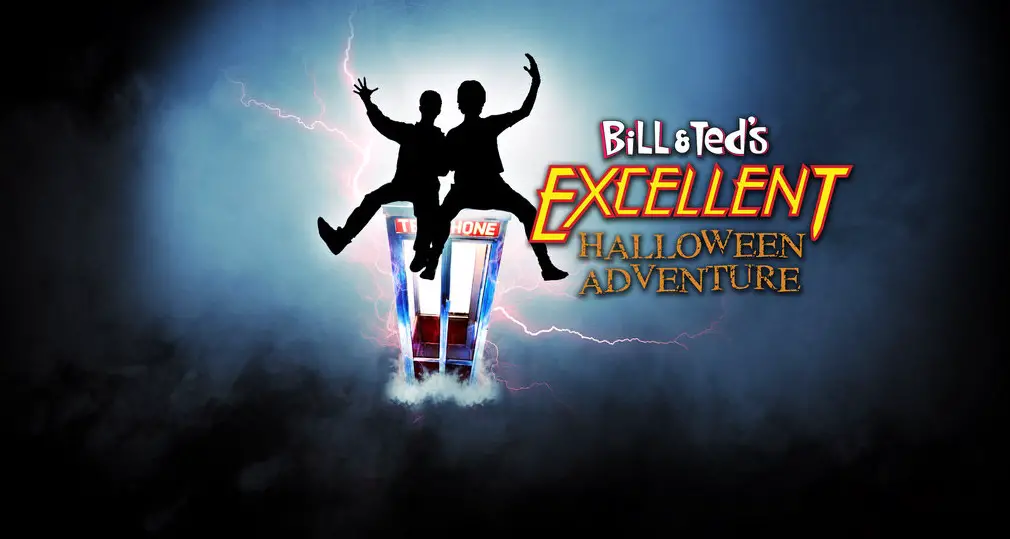 Haunted House: Horrors of Blumhouse
Lovers of Insidious, Sinister and The Purge will enjoy seeing familiar characters from the Horrors of Blumhouse. Unfortunately, as much as I was looking forward to this house, I was let down because it wasn't all that memorable. However, the long line did pay off in that we got a glimpse of Insidious: The Last Key.
Haunted House: The Hive
This crumbling house on 19 Hemingway Lane is filled with bloodthirsty vampires who are awake and thirsty. This attraction gets even more spooky as you get closer the end.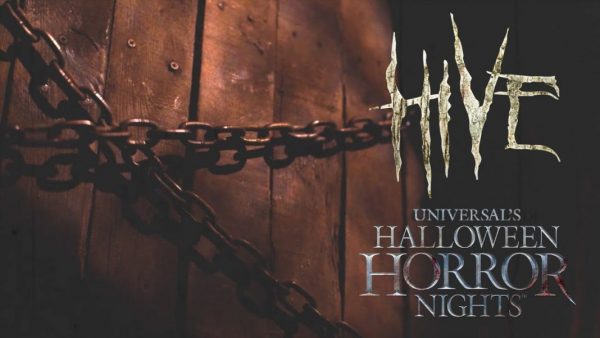 Haunted House: Ash vs Evil Dead
As a lover of the STARZ series, I absolutely adored this house. There are a couple of highlighted scenes from the series that are sure to delight Evil Dead fans. You even get a chance to stand next to Ash as he massacres Deadites.
Haunted House: Scarecrow: The Reaping 
The Reaping is set in a farmhouse in the middle of a creepy cornfield. We walked through dank rooms while scarecrows jumped out at us from behind the walls. This particular house reminded me of the 1984 cult classic Children of the Corn. The line for this one was a bit long; however, it's definitely worth the wait!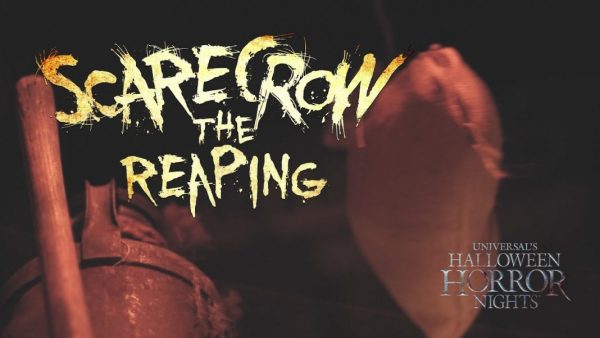 Haunted House: Saw: The Games of Jigsaw
Fans of the Saw franchise will fall in love with this attraction. The house is filled with screams from victims with buckets on their heads who are being pulled towards buzz saws. This house really got me pumped for the upcoming film Jigsaw and it made me want to play the game one more time.
Scare Zone: Trick 'r Treat
Trick 'r Treat is one of my all-time favorite anthologies. And this attraction did not disappoint. Upon entering this scare zone, we walked down a strip through a canopy of trees. The street was lit with an orange hue and lined with carved pumpkins. Attendees will come across Sam, trick or treating in his dingy, orange pajamas. You will also witness Principal Wilkins and Charlie, sitting outside on the stairs before Charlie vomits uncontrollably (just as he did in the film because Principal Wilkins poisoned him). Lovers of the Halloween season will enjoy this scare zone because it truly oozes Halloween.
Haunted House: American Horror Story
The aesthetics of this house are absolutely amazing. Guests will enjoy how creative and imaginative this attraction is. There are elements from three seasons; Asylum (season 2), Coven (season 3) and Roanoke (season 6). I'm a huge fan of American Horror Story and I was completely blown away by this house. I definitely plan on revisiting this it next year.
Haunted House: The Shining
Based on Stanley Kubrick's The Shining, this house feels ripped right from the film. The house pays tribute to the most iconic scenes from the infamous carpet pattern to the stretched out hallway. Also included are the snowy maze, the infamous Gold Room, and the bathroom scene featuring Wendy and Jack. Regardless of whether you're a fan of the film, this house is definitely worth the visit.
As a whole, Halloween Horror Nights 2017 was an entertaining event filled with the old and new horror. For anyone living in the Orlando or Los Angeles areas (or planning to visit before Halloween) I cannot recommend HHN 2017 enough!