The first installation of the highly anticipated Fear Street trilogy has arrived and fans, old and new, were quick to spot nods to some of their favorite horror movies. Fear Street Part 1: 1994 follows a circle of teenage friends who accidentally stumble across the ancient evil responsible for a series of brutal murders that have plagued the town of Shadyside for over 300 years.
Regardless of how well you took to the film, from recreating iconic scenes to eye catching background props, there's no denying Fear Street Part 1: 1994 is tailor made to make its viewers nostalgic for a simpler time. A time where video rental shops were still a thing, making mixtapes for your significant other was something you did and bodies piling up meant just another day in Shadyside.
If you're done with your viewing of Fear Street Part 1: 1994, keep going for a glimpse at the Easter Eggs you may have missed. If you haven't bookmark this page and take a look when you've seen the flick. Consider this your major spoiler warning.
B. Dalton Books
Before we get to the bloodshed, we are introduced to our first victim, Heather, who is a diligent employee of the local B. Dalton Books. Shadyside's B. Dalton, a once popular but now defunct bookstore chain, is home to appealing titles such as Robert Lawrence's (the name behind R.L. Stine's initials) The Wrong Number, The Creepwalker, The First Evil, and Surprise Party; The Wrong Number and Surprise Party are real instillations of the Fear Street series. Surprise Party also features a character named Deena, most likely a nod to the movie's main character Deena Johnson.
In another part of the store  we see Heather stocking shelves with the works of prolific romances novelist Jackie Collins. Collins, who's work was often described as "raunchy, brash, and suspenseful" (The New York Times), was incredibly popular in the late 80's to early 90's. She released only one book in 1994, the latest addition to her Hollywood series entitled Hollywood Kids.
Elsewhere you can also spot the works of fantasy writer Terry Brooks and Stephen King's original version of Insomnia, yet another 1994 release.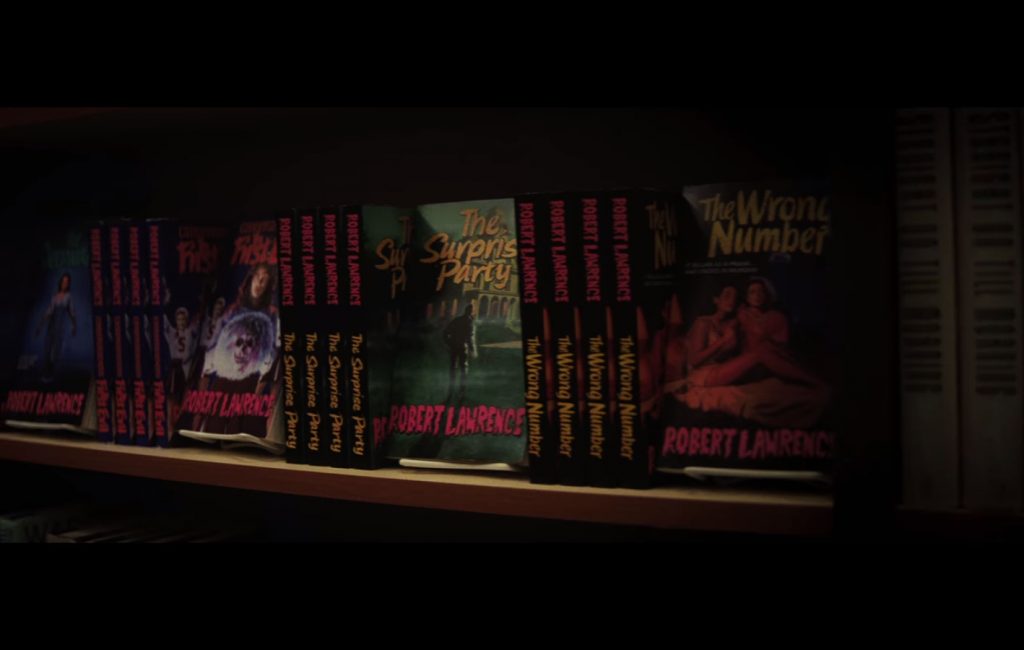 Halloween Night 2 Cover
Another nod to the Fear Street series is the film's skull mask wearing killer(s). The costume comes right off the cover of R.L. Stine's 1993 book Halloween Nights 2.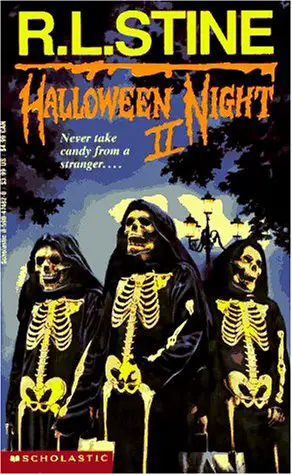 Scream Opening
Heather's death is an almost perfect recreation of Casey Becker's murder in Scream. The music is identical, the fatal stab coming from behind in slow motion and Heather mustering up the strength to pull Ryan's mask off. The key differences being that Scream did not allow us to see the killer's face and Heather did not participate in any movie trivia.

"Smile, you son of a b*tch!"
Jaws gets a nod when Simon repeats Brody's iconic line "Smile, you son of a b*tch!"
"It's happening again."
Another iconic line is borrowed from Twin Peaks when Sheriff Nick Goode visits a mysterious, seemingly abandoned house then slides a note through the letterbox that simply reads. "It's happening again." The words perfectly mirror those of Twin Peaks' The Giant.