The bloodshed continues in the second installation of the Fear Street trilogy, Fear Street Part 2: 1978. Picture it; Shadyside, 1978. School's out for summer and the activities at Camp Nightwing are about to begin. But when another Shadysider is possessed with the urge to kill, the fun in the sun becomes a gruesome fight for survival.
All three films come from filmmaker Leigh Janiak who, in an interview with Comic Book.com, detailed how, with each film unfolding in a different time period, she aimed to honor iconic horror films from those eras, "…I was so excited to pay homage to some of the great eras of horror movies…For 1994, Scream stood above all rest — it's peak '90s horror and, I think, one of the most brilliant movies ever made, period. Then for 1978, I got to look at the heyday of slasher films — Friday the 13th, Halloween, Nightmare on Elm Street. For 1666…I found the best inspiration for me lay in the beautiful world made rotten of Terence Malick's The New World."
Once you're done with your viewing of Fear Street Part 2: 1978, keep going for a glimpse at some Easter Eggs you may have missed. If you haven't bookmark this page and take a look when you've seen the flick. Consider this your major spoiler warning.
The Exorcist
William Friedkin's The Exorcist makes a blink-and you'll-miss-it-appearance in the form of graffiti early on in the film. When the area around Ziggy's bed is defaced by Sunnyvale campers writing the phrases "Ziggy is a witch b*tch" and "Ziggy sucks c*cks in hell." In The Exorcist, a possessed Regan informs Father Karras his mother "sucks c*cks in hell" in the middle of her exorcism.
Stephen King References
Author Stephen King is referenced several times throughout Part 2. By 1978, King had published several short stories in various magazines and was the author of five incredibly popular books (Carrie, Salem's Lot, The Shining, Rage and The Stand), one of which- Carrie– was adapted into a movie in 1976. Ziggy and Nick find common ground when they realize they're both fans of King's work; Nick mentions his favorite is Salem's Lot.
King is given another nod when, in an effort to get back at Sheila, Nick and Ziggy set up a trap for her in the bathroom. While Ziggy wanted to dump red paint on her, right out of the prom scene in Carrie, Nick suggests they use a bucket of bugs instead.
Part 2 then gets the Jack Torrence treatment when camp counselor Tommy goes on his killing spree and attempts to break down the bathroom door with an axe, identical to The Shining's "Here's Johnny!" scene.

Ziggy Berman and Major Tom
David Bowie is given a couple of nods. The most obvious being Ziggy Berman's name, a direct reference to Bowie's stage alter ego Ziggy Stardust; Ziggy's name is also a bit of foreshadowing to a big plot twist at the movie's end. Bowie's song "Space Oddity" is referenced when C. Berman mentions her dog's name is Major Tom.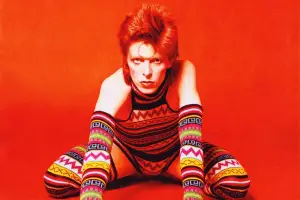 Halloween Parallels
The Milkman Killer and Billy Barker's appearances give major Michael Myers vibes; both of their dark outfits and seemingly white masks resemble the Halloween villain. In a flashback we see young Billy Barker murder his brother, much like young Michael Myers murdering his older sister, then a specific shot shows The Milkman, wielding a large knife, stalking almost leisurely towards Cindy and Ziggy.
Friday the 13th 
Arguably the most obvious homage is paid to the camp slasher franchise Friday the 13th. Fear Street Part 2 takes place at a summer camp complete with a counselor named Alice, the same name as Friday the 13th's final girl, and a burlap sack wearing killer on the loose.