Welcome back to Dollar Double Feature, Christmas horror edition. A digital throwback to bargain theaters, and the idiosyncratic slate of second run fare that often played them. Because even the surliest of staffers would have likely been owner mandated to create a ticket buying reason for the season, this installment is a retro double bill of offbeat holiday horror. When you've already watched the sleighs of slaying Santas and Jack Frost nipping at a hapless victims' nose, try this duo of divergent takes on the concept of Christmas carnage.


1977's Rabid, David Cronenberg's second feature length effort, is somewhat of a conceptual sequel to 1976's sex and death classic Shivers. Instead of the claustrophobic test tube of an urban luxury apartment building, Rabid lets its sexually charged contagion loose in the wide open spaces of rural Canada. Rose (adult film star Marilyn Chambers) and her boyfriend Hart (Frank Moore) are on a motorcycle ride in the countryside when a stalled car in the road causes a horrific crash. Too far from a traditional hospital, Rose is taken to the cosmetic clinic of Dr. Keloid (Howard Ryshpan). He performs an experimental surgery that saves Rose's life, but also leaves her with an insatiable thirst for human blood.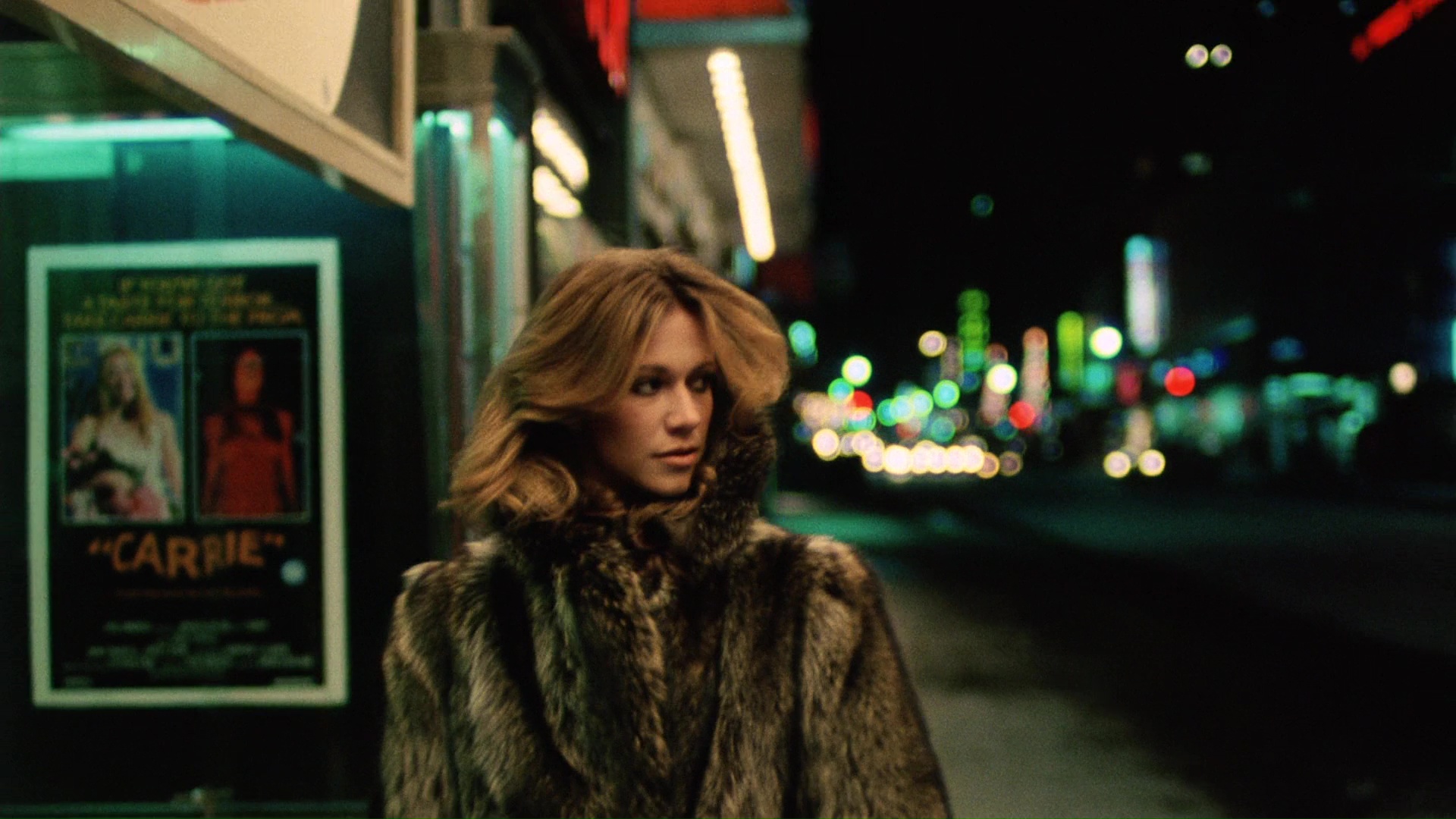 This being a Cronenberg film, Rose's blood lust is slaked via a Rorschach test of a new orifice under her armpit, that contains a disturbingly fleshy stinger. Terrified of the changes to her body, she escapes the hospital and begins hitchhiking her way back to Montreal and Hart, unknowingly leaving a trail of rabid zombie victims in her wake. As the contagion spreads, the city falls under martial law as government officials frantically search for Patient Zero.
While the wide focus means all of the plot's more procedural style moving parts don't quite gel as well as
Shivers
or
Scanners
,
Rabid
packs a queasy, nihilistic punch for its reduction of zombie and vampire lore to their most basic form, unquenchable appetite. The hilariously named Dr. Keloid opens his clinic in the middle of nowhere to satisfy his clients' constant quest for youth and beauty, and lets his technology outstrip his ethics with the experimental procedure he performs on Rose.
Rose, forced by her new biology to feed, finds herself manipulating the desires of others to suit her own growing needs. Be it a lecherous cattle farmer, a sketchy patron in an adult theater or a gleefully gory outbreak in the midst of the cheerful consumerism of a mall during the holiday season, the chaos comes on the heels of everyone's intense yearning for something they don't have. Rose is insatiable in a very specific and violent sense, but Rabid compounds both the horror and the tragedy by making her, in the broad sense, no different than anyone else.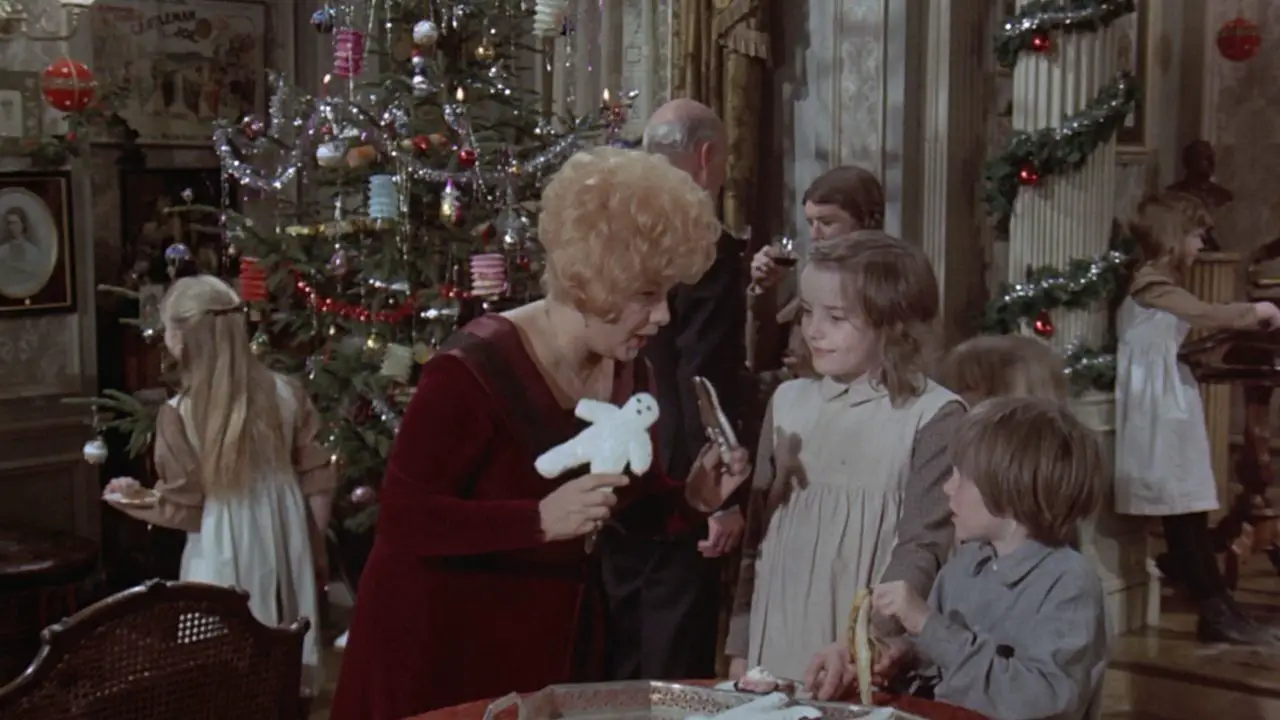 1972 British/American Christmas horror co-production Whoever Slew Auntie Roo? is tonally and aesthetically about as far from the clinical, cerebral vibes of David Cronenberg as one could possibly get. However, if there is one horror subgenre that understands desire and the constant nagging ache of need, hagsploitation is it. The grand dames that litter the landscape are just as voracious as any zombie or vampire. It's just that their thirst lies in the constant perverse preservation of the past rather than a constant stream of fresh meat.

Auntie Roo (Shelly Winters) is an American former showgirl, alone in a massive British mansion after the death of her husband, and the subsequent tragic loss of her daughter. Each year, she attempts to bring some Christmas cheer into the empty house by inviting 10 of the most well behaved children from the local orphanage for a two day holiday extravaganza of sweets, treats and toys. Christopher (Mark Lester) and Katy (Chloe Franks) weren't well behaved enough to be invited, and sneak in when the orphanage's driver isn't looking. Rather than throw them out, Auntie Roo invites them stay. Fascinated by Katy's resemblance to her deceased daughter, she "adopts" Katy by kidnapping her, leaving Christopher to save them both himself and his sister.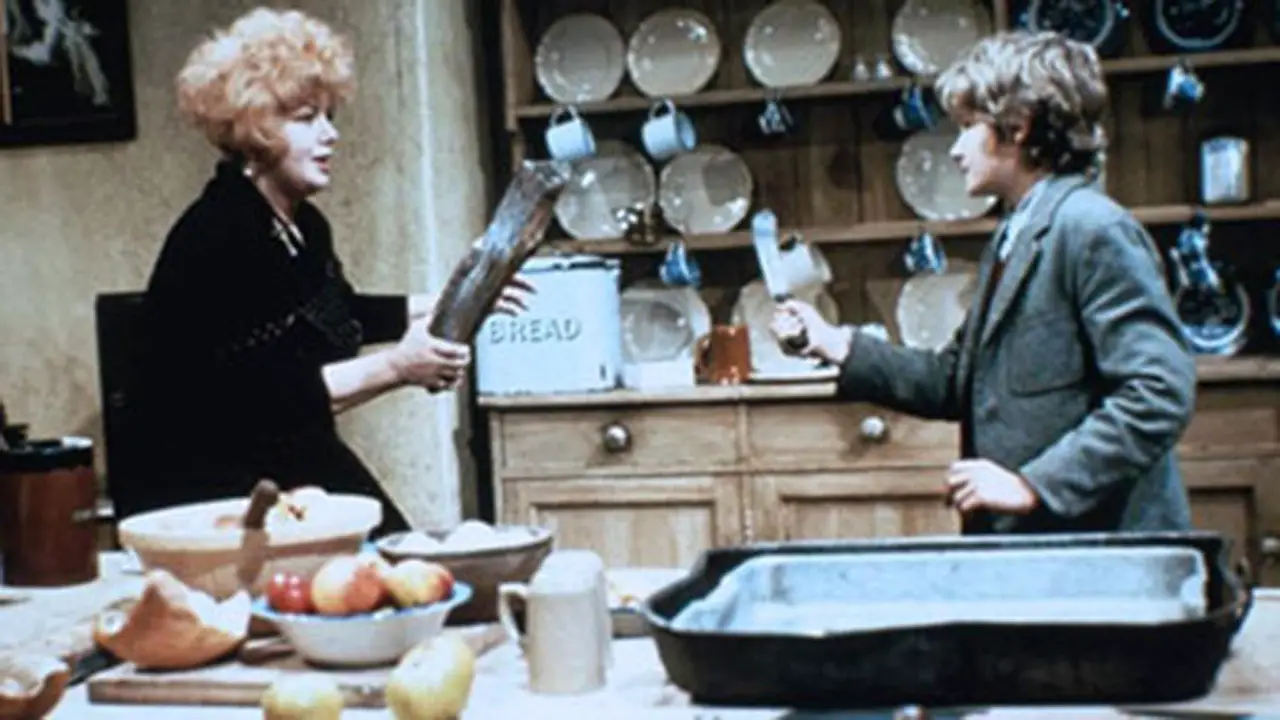 Blowsy overacting was a late career specialty of Shelly Winters, and its her camply committed performance as Auntie Roo that holds the film together. Whoever Slew Auntie Roo? puts a Christmas horror overlay on some of the psycho biddy canon's greatest hits, before swerving abruptly into a comparatively modern update on classic fairytale "Hansel And Gretel". The constant tonal shifts put the pressure on Winters to deliver a coherent characterization across a wide amount of territory.

The first third of the film she's a wounded and kindly widow, her loneliness and grief making her an easy target for grift by charlatan mediums and household help alike. The appearance of Katy cracks that carefully curated veneer, and soon she is telling the children about "spirit mirrors" during the bedtime story for the party guests, and inviting them to relive her on stage glory days with a live performance. It's a credit to Winters' performance that by the time the story takes a swerve toward mummified corpses lying in nursery beds, climatic meat clever chases and suspicions of fairy tale cannibalism, the character's mental breakdown makes sense, ably papering some glaring holes in the plot.
Who Slew Auntie Roo? isn't a horror film in the most traditional of senses, and the mansion where the bulk of the action is both set dressed and shot as colorfully and cheerfully as any other period piece traditional Christmas special, and the score is full of mischievous fantasy fare flourishes. There's no gore to be found, and the pacing is measured in between Auntie Roo's gloriously arch breakdowns. Yet, what could have been a simple exercise in kiddie horror goes gloriously, suggestively dark in its final minutes, leaving us to wonder if perhaps our seemingly sympathetic little moppets are something far worse than Auntie Roo could ever hope to be. 
Rabid's Rose loses herself in an unquenchable quest for more, unable to stop herself, and in sucking the literal lifeblood out of others, draining her own essential humanity in the process. Auntie Roo, on the other hand, is so tightly wound up in the grief of her past, she loses everything else she had left. If this particular pairing of Christmas horror entries is any indication, perhaps the only way to have a truly happy holiday is gratitude for whatever one has in the present, appreciating health, hearth and family while and when you can. Seems a rather obvious reminder, but certainly worth buying for a dollar.