Writing about Better Watch Out (formerly Safe Neighbourhood, the previous title referenced in the film by one significant, yet seemingly throwaway line) is borderline impossible. This nifty little festive treat, from Undocumented director Chris Peckover, is one of the biggest surprises of the year.
But to say too much about it would be to spoil its many horrible delights.
Beginning with the hinting, possible prescient image of a snowman's head being bashed in, the flick narrows its focus to heroine Ashley (The Visit's Olivia DeJonge, affecting a spot-on American twang once again) who's settling in for a babysitting job with Levi Miller's Luke, who is clearly infatuated with her.
Before the two get comfy for the night, there's a nice moment with the brilliant Patrick Warburton, surveying a Christmas tree with barely-concealed disgust as only he can, and a not-so-nice moment in Luke's bedroom with best bud Garrett (Ed Oxenbould, who starred in The Visit alongside DeJonge).
From the outset, danger is very subtly implied, whether it's the sudden appearance of a gigantic spider or a shot of a swing slowly moving by itself in the backyard, though there's no breeze present. Peckover keeps his cards close to his chest in these introductory moments, to skin-crawling effect.
As Ashley freaks out over a horror movie, a shadow appears at the window that only we, as the audience, can see. Soon the Internet and phone lines are down (a nice modern spin on the typical slasher trope) and the two kids find themselves fending off some pretty scary-looking intruders.
It's a very simple concept that works perfectly well in its own right but, happily, Peckover turns it on its head right when we're settling in for the night. Luke's perving over Ashley is initially played for laughs (she pushes him over to protect him, he enjoys it a bit too much) but soon the cracks start to show.
This is super inventive, clever, creepy and surprisingly fresh stuff. Better Watch Out might seem like just another slasher/home invasion offering but it's ruthlessly unpredictable, particularly when it comes to Luke's smarmy kid who's all too aware of the privileges afforded to hime coming from a  white, middle class family.
Miller is brilliant in the role, showcasing a maturity actors twice his age often can't muster, a ghastly Young Sheldon of sorts (barf). DeJonge is the ideal foil, too, a tough, resourceful Final Girl who's been written off too many times thanks to her classically good looks and sweet temperament.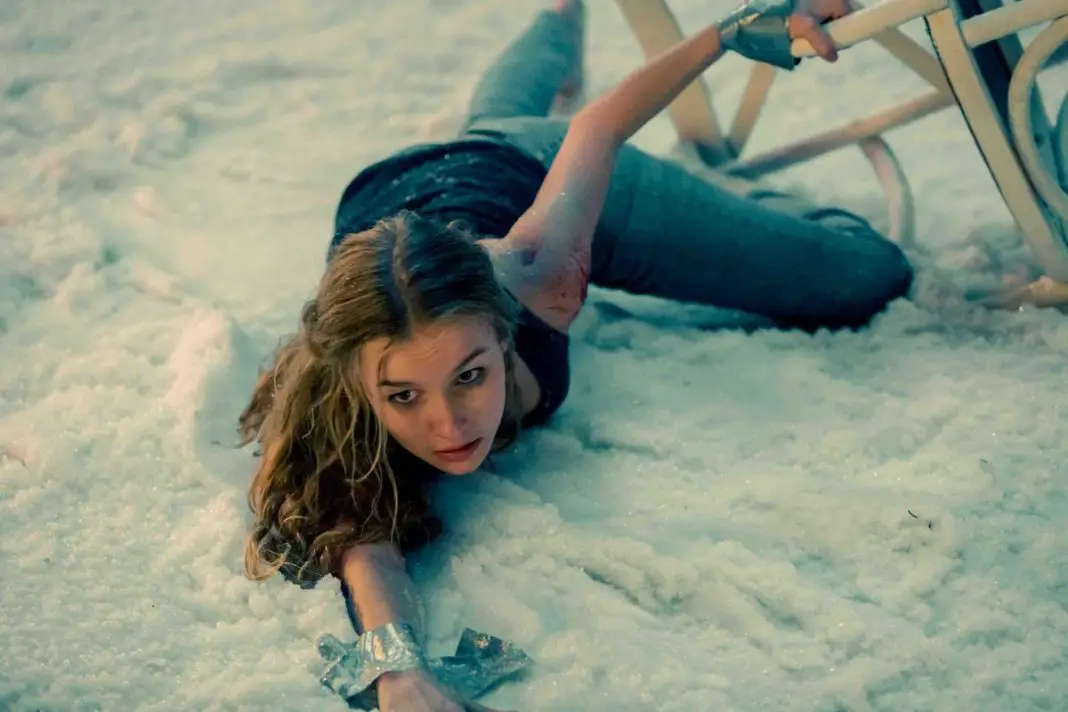 When it comes to violence,
Better Watch Out
doesn't overdo it or overplay its hand. Peckover and comedian Zack Kahn, with whom he co-wrote the script, are confident enough in their well-considered premise to let it run and keep things in check. Mindless torture cinema, this is not.
That's not to say the kills aren't impressive, however, with one shot of blood and yellow paint mixing together like some sort of horrible expressionist work leaving a particular mark. Elsewhere, a character is restrained using fairy lights, finally fulfilling the promise of Black X-Mas's infamously misleading trailer.
A reference to "the Wingards next door" is cute without being forced, while the tightrope-walk of an ending is expertly carried off. Simply put, and without giving too much away, Better Watch Out is a festive treat all year round. And you'd better watch it.
WICKED RATING: 9/10
Director(s): Chris Peckover
Writer(s): Chris Peckover, Zack Kahn
Stars: Olivia DeJonge, Levi Miller, Patrick Warburton, Dacre Montgomery
Release: October 6, 2017
Studio/ Production Co: Storm Vision Entertainment
Language: English
Length: 85 minutes
Sub-Genre: Christmas horror