Hocus Pocus is the greatest Halloween movie of all time. It might also actually be the greatest movie of all time, but that vote hasn't taken place yet and only my vote counts anyway so whatever.
Sure, John Carpenter's Halloween is both set on and named after the spookiest holiday, and it involves significantly more scares, but the festive feeling of Kenny Ortega's 1993 masterpiece is unparalleled (if you're one of those weirdos who prefers Halloweentown, well, you're wrong).
Hocus Pocus has some horror bonafides of its own, to be fair, given the picture was co-written by none other than Mick Garris. The Horror Icon's involvement would certainly explain the Disney movie's darker moments, in particular the visceral hanging of the witches right off the bat (a moment consistently cut for TV broadcasts in the U.K.), the made-from-human-skin spell-book, etc.
The flick just turned 30, which means we got plenty of brilliant behind-the-scenes info from cast-members to obsess over. For example, Kathy Najimy modelled Mary's hair on the top of a pumpkin, while her sneering mouth was meant to look like a bloodhound.
Likewise, Doug Jones's role as strangely attractive (on purpose, as per Ortega's instructions — so relax if you fancy him) zombie Billy Butcherson was expanded on the strength of his brilliant, hilarious performance.
According to Najimy, the story was originally more witch-centric but Disney execs got cold feet about Hocus Pocus not appealing to the all-important family market, and decided to make it more about the kids instead. It doesn't matter either way, because nobody is stealing the Sanderson sisters' spotlight. I mean, Bette Midler performing "I Put A Spell On You" as a way to entrance the gullible, witch-hating denizens of Salem? Come on.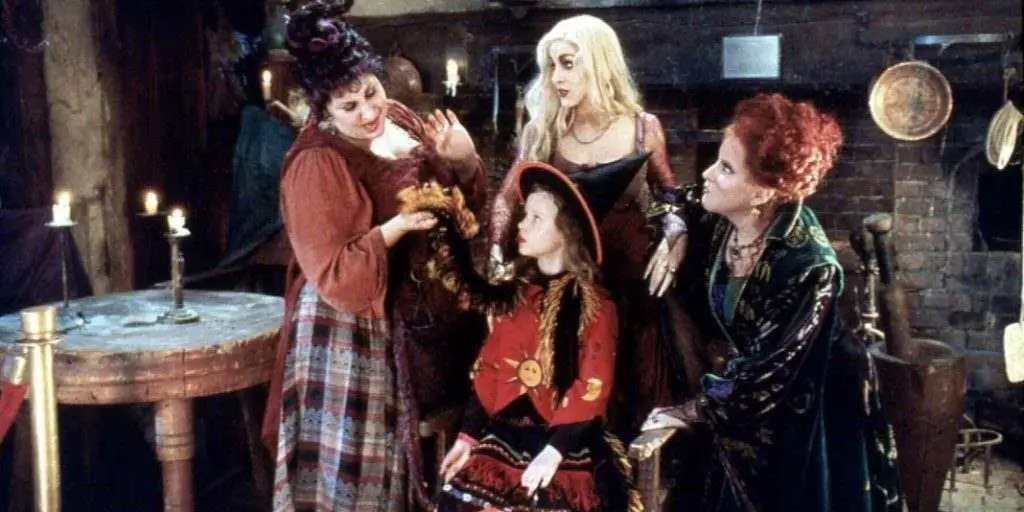 I grew up in Europe, so our idea of Halloween is more based in ancient traditions than the more fun, over the top U.S. take on the holiday. Hocus Pocus offers a real glimpse at a proper American Halloween, from the schoolteacher telling scary stories (and then spooking students with a streamer) while wearing a witch's hat, to the amazing decorations on virtually every house in Max and Dani's neighbourhood (no joke, I would die to go into Allison's posh, candy-filled pad and eat that witch lollipop).
Halloween features some festive decorations too, but it's mostly jack-o-lanterns and a couple costumes (one of which is young Michael's, right at the outset). It's not that it doesn't feel Halloween-y, because it totally does, and there's something super creepy about the worst possible thing happening on the freakiest night of the year, but there's no way Carpenter's movie–or any other movie, for that matter–even comes close to evoking the Halloween spirit as effectively as Hocus Pocus does.
Every single moment of the flick is Halloween inflected, from the setting, to the various townspeople the characters run into ("They thought I was a real cop!", "Teenagers again. I hate Halloween"), the parties they visit, the costumes, the candy. It's all super festive and spooky. Even if we found out this movie was shot in California in the dead of summer, it wouldn't matter.
By the same token, it feels like Halloween when you watch it, even if it's the middle of April (anybody reading from the U.K./Ireland knows Film4 has been known to air it throughout the year–though still not enough, if you ask me).
The other thing to remember about Hocus Pocus is that it's genuinely frightening at times. The opening sequence sees the life-force sucked out a little girl before her corpse is unceremoniously hidden beneath a shawl. The spell the witches put on Thackery is scary as all hell (strip him of his baby fat? shudder), as are Winnie's electrocution powers.
And the book, oh god the book, it haunted all of our collective nightmares, let's be honest here. It was a gift from the Devil himself.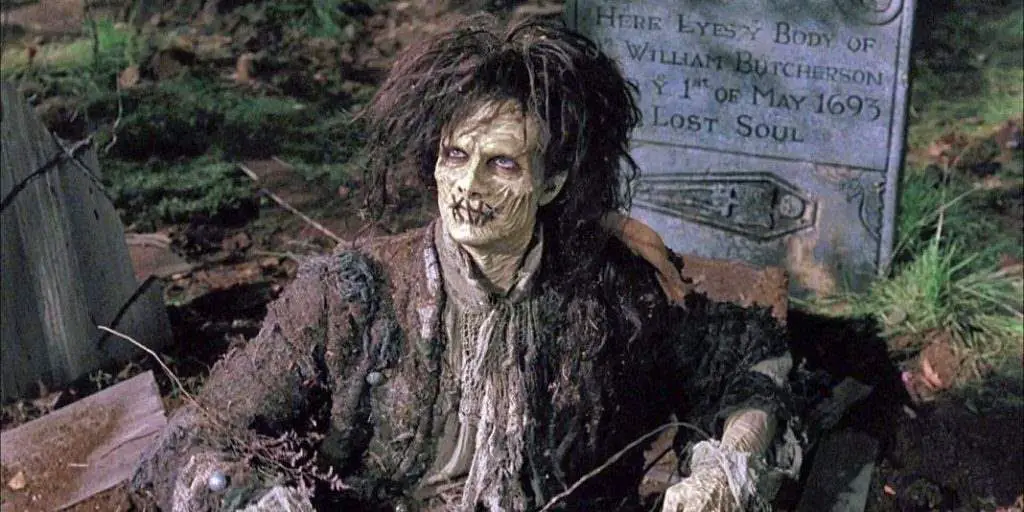 Think of Dani clapping her hands over her eyes when Max initially summons the witches. It's a moment that betrays how truly terrifying the situation the kids find themselves in is. Later, Max will sacrifice himself to save his little sister in a moment that belies his laid-back, Californian, tie-dyed point of view.
Winnie also uses her long-ass nail to sneak into his bedroom, evoking the Sandman episode of Are You Afraid Of The Dark? that I never quite recovered from. The kids even befriend a goddamn zombie whose head Max knocks off, and roam through the sewers with a talking cat who's killed right in front of them moments later.
It's kooky and fun, but like The Addams Family movies (also Halloween classics, in spite of the fact they're both set nowhere near the holiday), it's dark too. Don't forget, the final moment in Hocus Pocus finds the book awakening once more, signalling to the audience that the Sanderson sisters are not done with our world.
There are plenty of great Christmas movies to get us in the mood for Halloween's inferior cousin, but when it comes to the spookiest time of year, nothing beats Hocus Pocus.