It's finally August, which means the countdown to Frightfest 2018 is ON. In the weeks leading up to the festival, our intrepid reporter Joey Keogh will be taking a look at some of the most anticipated movies on this year's jam-packed schedule. With just hours until the festival kicks off proper, it's the teeniest killer in cinema's turn to shine with Puppet Master: The Littlest Reich.

Sometimes, the title says it all. As with Puppet Master: The Littlest Reich, which tells us virtually everything we need to know about the 105th (possibly an exaggeration) entry in the seemingly unstoppable Puppet Master series without giving us much of anything at all. The choice of the word "littlest" does it for me. Likewise, "Reich." During a time when actual SS troops are storming the streets, of course they'd put "Reich" in the title.
The flick was one of the biggest talking points of this year's super-cool Overlook Film Festival, and is easily the biggest draw on the 2018 Frightfest schedule (take from that what you will). It has acquired U.S. distro, so those hungry for some puppet horror will have the opportunity to check it out themselves in select locations a bit later this month. Needless to say that seeing it on the big screen, with an enthusiastic crowd, will definitely be…special.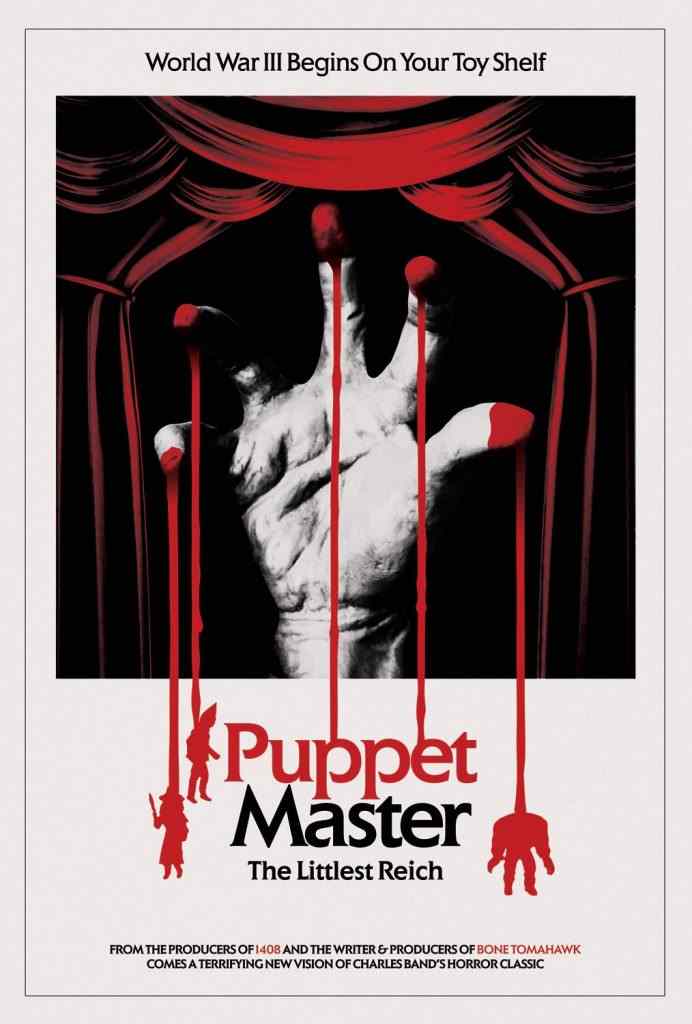 Although it's not shy about showing off its B-movie credentials, The Littlest Reich has some decent talent behind it, including a script by S. Craig Zahler, who directed the gory-as-all-hell Bone Tomahawk, as well as Vince Vaughn actioner Brawl in Cell Block 99, while series creator Charles Band takes an exec-producer credit after giving the project his blessing. The iconic Fabio Frizzi (Zombi 2, The Beyond) composed the score, while Horror Icon Barbara Crampton stars.
The full synopsis for the flick, via Frightfest, is as follows:
Those murderous marionettes are back to deliver slashings of bonkers gore and bad taste humour. Recently divorced and reeling, Edgar returns to his childhood home to regroup. Finding a nefarious-looking puppet in his deceased brother's room, he decides to sell the doll for quick cash at a small-town convention celebrating the 30th Anniversary of the infamous Andre Toulon murders. Girl-next-door Ashley and his comic book shop boss, Markowitz, join Edgar for the doomed road trip; where all hell breaks loose, a strange force animates other puppets at the convention and a bloody killing spree begins motivated by ancient evil.
Reviews are good, with BD's Megan Navarro saying the flick "delivers bonkers gore and offensive humor!" while our own Nat Brehmer described it as "equal parts gruesome and goofy," and The L.A. Times' Noel Murray posed the poetic rhetorical question, "It's got puppets, it's got gore. Who could ask for anything more?" As with most films of a similar ilk, if you're into it, you're into it. Otherwise, er, steer clear (critics are understandably divided between "this is amazing" and "this is ridiculous").
Check out the trailer for Puppet Master: The Littlest Reich below, and sound off in the comments about whether you think this is one step too far for the franchise, or more of that same ol' gory fun we're all used to. Stay tuned to the site for all the must-know Frightfest 2018 reviews and interviews from the festival.
Puppet Master: The Littlest Reich plays at Frightfest 2018 at 4.00/4.30PM on Friday, 24th August on the Main Screens. The full festival line-up of films is available on their official site, where all ticketing information can also be found. Wicked Horror will once again be there, to bring you all the must-read reviews and exclusive interviews from this year's festival. So stay tuned.