It's finally August, which means the countdown to Frightfest 2018 is ON. In the weeks leading up to the festival, our intrepid reporter Joey Keogh will be taking a look at some of the most anticipated movies on this year's jam-packed schedule. With one week to go, Upgrade is on the table.

The words "Cronenberg-esque" tend to strike fear into the hearts of horror fans. Just as unwarranted comparisons to Carpenter or Craven, the idea that something is in a league with the weirdo maestro is often a death knell rather than a recommendation. Not so with Upgrade, the latest feature from Leigh Whannell, the talented Australian film-maker still best known for having kick-started the seemingly unstoppable Saw series (it came back last year — never forget).
Whannell co-wrote that torture cinama classic (which, it has to be said, still cuts deep 14 years later) with one James Wan, who's currently hanging out under the sea with Aquaman. Although he starred in Wan's Insidious series as likeable Ghostbuster, and frequent comic relief, Specs, it wasn't until 2015's rather good Insidious: Chapter 3 that Whannell got the opportunity to step behind the camera. His involvement resulted in the strongest installment yet, with #4 suffering massively as a result of him stepping back into Specs again.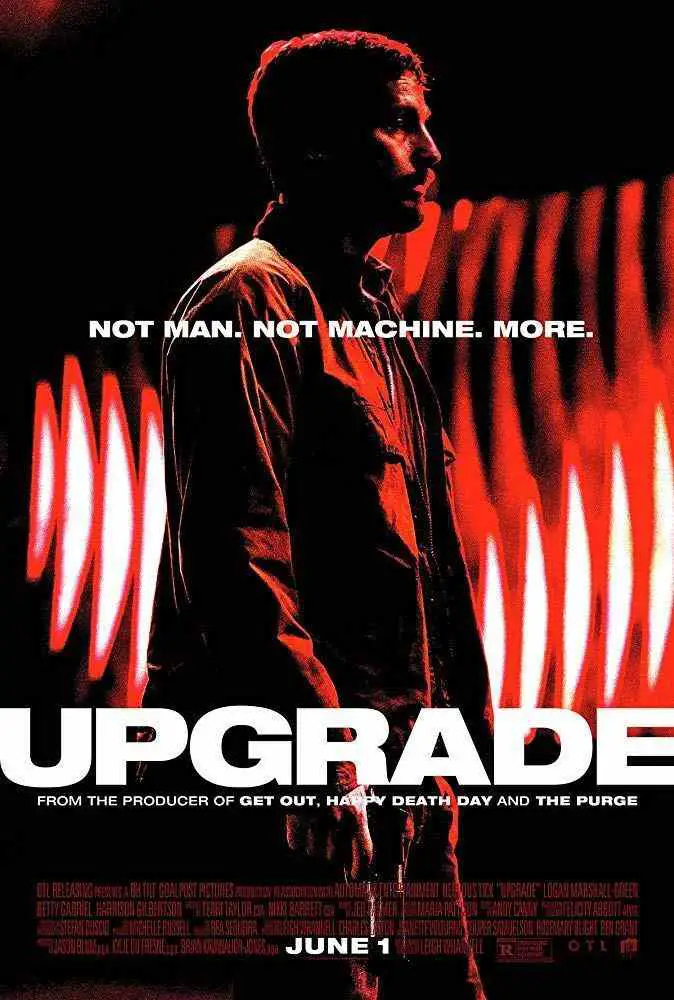 Now Whannell the director returns with something completely different in the form of Upgrade, a tense dystopian body horror thriller starring Logan Marshall Green that seems destined to finally establish him as a genre director in his own right. The trailer (watch it below) hints at a terrifying, well-established future world while the key promo image (check it out at the top of this article) is so enticing it makes me stop and fantasise about what this movie might be every time I spot it.
The full synopsis for the flick, via Frightfest, is as follows:
From Saw and Insidious creator Leigh Whannell, a fast-paced, inventive, sci-fi thrill-ride, swirling together Robocop, Death Wish, The Terminator, and numerous Cronenberg body horror influences. Set in the near future, technology controls nearly all aspects of life. But when self-identified technophobe Grey Trace is made quadriplegic in a car accident his world is turned upside down. His only hope for closure and possible revenge is an experimental computer chip implant called STEM that allows him to achieve miraculous feats of mind and strength. But then STEM starts to take full control of his body and the true nano nightmares begin.
Reviews have been incredibly positive, especially as it seems Whannell has been pushing this movie (rightly so) for years. Tribune Service News' Katie Walsh describes Upgrade as "a brutish, efficient and well-executed slice of cyberpunk action-horror with a silly streak," while Rolling Stone's David Fear warns "resistance is futile. High-grade grindhouse glee is your reward," and New York Magazine's Emily Yoshida pays it the ultimate compliment as a "great and grimy little screw-turner of sci-fi schlock, the kind that they truly don't make anymore, the kind that would make Carpenter and Cameron proud."
Check out the trailer for Upgrade below, and sound off in the comments about whether you think this is worthy of the Cronenbergian comparisons or is just another pretender to the throne. Stay tuned to the site for all the must-know Frightfest 2018 reviews and interviews from the festival.
Upgrade plays at Frightfest 2018 at 8.45/9.15 PM on Saturday, 25th August on the Main Screens. The full festival line-up of films is available on their official site, where all ticketing information can also be found. Wicked Horror will once again be there, to bring you all the must-read reviews and exclusive interviews from this year's festival. So stay tuned.