Some movies instantly connect. Some movies work their way into your rotation before the first viewing has even concluded (personal examples include but aren't limited to; Green Room, Tragedy Girls , (read our review)and Last Shift). And then there are movies like Fright Fest, or American Fright Fest to give it the title that actually appears in the film.
The thing played Frightfest under the first title, understandably so since that's also the name of the festival, but seems to also go by the second, which sticks it in the same universe as American Mary and American Satan. Nonetheless, it played at midnight, after a long day of movies and junk food, and to say it was the ideal slot for it would be a considerable understatement.
Director Ante Novakovic has eight credits to his name to date, though this is only his second feature after a movie called Leaves of the Tree, which boasts the following amazing tagline: "A dying man struggles to discover the secret of a mystical tree's healing leaves." It's rated PG because of course it is. Anyway, American Fright Fest is an interesting sophomore feature to say the very least.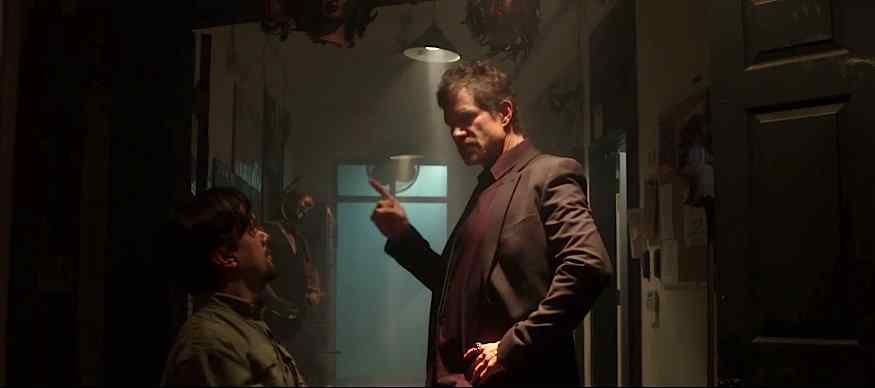 Let's start with its biggest star, Dylan Walsh, who does his slimy saddo bit from
Nip/Tuck
as horror super director Spencer Crowe, the maestro behind such hit movies as
Dead Bitch
and
Skull Hunter
. As the film begins, he's at the top of his game, then disgraced due to a not-at-all concealed cocaine addiction. Or something. It's not clear whether he's still in the good graces or not, but no matter.
Soon, Crowe is hired to put on the scariest Halloween Haunt ever, in a disused mental asylum of all places, in order to attract tourists to some random town (this flick looks like it was shot in Siberia, though IMDb claims Pennsylvania). But wait, what's this? A busload of mental patients from another local asylum have got free and are running riot. Surely they won't blend in with the haunters and cause mayhem?
There are moments of self-awareness in American Fright Fest, such as when Crowe gives notes to an actress about how cleavage offers the audience a reason to empathise with her character. One inmate is literally gussied up like Hannibal Lecter. One dude calls another "Flower" and he corrects him that it's actually Fowler, as though that's a sick burn.
The mask the killer wears is pretty horrifying, and the body count is massive once he lets loose on the unsuspecting patrons of the haunt, but the principal cast is missing for a good 20 minutes of the movie so it's hard to judge who we're supposed to care about dying. When one character asks "Who's this guy?" he seems to be speaking for the audience themselves. It isn't a great look.
Crowe spends much of his time in a control room that reminded me of that awful Ed Furlong movie about the reality show (it's called Cruel World, it's from 2005, do not watch it under any circumstances). He seems to be doing a weird Jason Bateman impression here, which begs the question — why didn't they just cast Eric Roberts? Could they not get him? Did they even try? In what world would Roberts turn this guff down?
There's one particular moment when Crowe is listening to this weird, experimental, instrumental jazz music in his car that sums up the whole movie. It just makes no sense, like the subplot about shady business dealings in the town, or the inmate who killed his parents but maybe didn't and his sort-of brother who might have done it or possibly not.
Suffice to say, American Fright Fest is completely incoherent. It's splashy, trashy, nonsensical, but kind of impossible to hate purely because it has the gall to even exist. It's the ideal midnight movie if you've had a few brewskies. I'm sure there's a drinking game in there somewhere, like maybe take a drink every time Crowe snorts coke — except that would kill you because it's literally every second he's onscreen. So, yeah, that kind of movie.
WICKED RATING: 3/10
Director(s): Ante Novakovic
Writer(s): Robert Gillings
Stars: Dylan Walsh, Madison McKinley, Romeo Miller, Mercy Malick
Year: 2018
Release date: 2018 (TBC)
Studio/ Production Co: Aldamisa Entertainment
Language: English
Length: 90 minutes
Sub-Genre: Slasher