Horror is evolving as a genre. Although your local multiplex is still loaded with the usual contenders, look a bit closer and you'll find the latest drama, thriller, or crime offering is closer to horror than you might expect. In this bi-weekly series, Joey Keogh presents a film not generally classified as horror and argues why it exhibits the qualities of a great flight flick, and therefore deserves the attention of fans as an example of Not Quite Horror. This week, it's the Coens' masterful No Country For Old Men.
Back in 2008, there were two movies battling it out for Best Picture. Paul Thomas Anderson's There Will Be Blood might have beaten the similarly slow-burn No Country For Old Men, but the Coen brothers masterpiece is, in many ways, the more resonant film. And, what most people forget is that it netted a gong for the main reason it still hits just as hard today; Javier Bardem's supporting turn as sociopathic killing machine Anton Chigurh.
Chigurh is, in many ways, a standout in a sea (or, rather, desert) of standouts, more than holding his own opposite heavy hitters like Tommy Lee Jones and future Coen collaborator Josh Brolin. Bardem, mainly known as a dishy, dreamboat, hides his features under one of the most infamously terrible hairdos in cinema–a bowl-cut that would make even Dumb and Dumber's Lloyd Christmas shudder.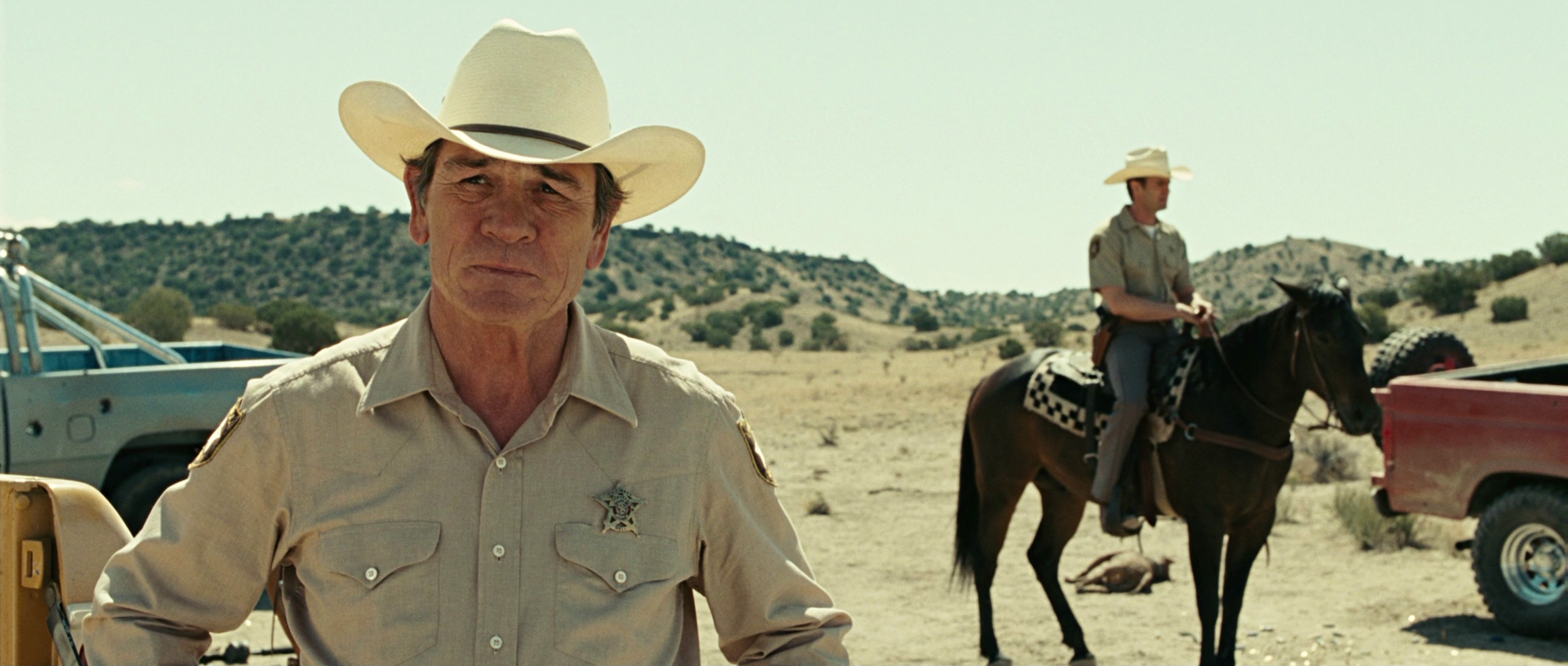 Far from letting the piece wear him, though, Bardem disappears into the character. His ruthless contract killer is instantly, horrifyingly believable, from the way he offs people without a moment's pause, to how he forces everybody he comes into contact with to lean in to hear him better. Bardem delivers his lines in a slow, deliberate drawl, matching the pace of the movie itself, which slips by so languidly it's often a crawl.
The cinematography, by the incomparable Roger Deakins, matches it well, capturing the sun-parched, bleached-out Texas landscapes perfectly. When the action moves indoors, however, and the blood starts to flow, all the colours seem to rush to the surface, like we've been lying upside down for too long. Think of the moment Chigurh shoots a man on a desolate dirt road, versus when he strangles a cop in one long, blood-curdling shot.
No Country For Old Men is one of those movies that doesn't feel too threatening until it's too late, because it introduces its Big Bad right off the bat, making him part of the furniture. We know Josh Brolin's greedy protagonist is doomed long before Woody Harrelson shows up to tell him so. We know Tommy Lee Jones probably will be bored stupid once he retires, no matter how much he claims to hate how depressingly and difficult his job is.
The most frightening element of the movie comes with the knowledge that Chigurh is going to be the only character who emerges unscathed, a cockroach after the apocalypse. Over the course of 124 mins of nail-biting tension, he never so much as bats an eyelid, while everyone else around him seems to be sweating profusely. Hell, there's never even a hair out of place, even when he's limping.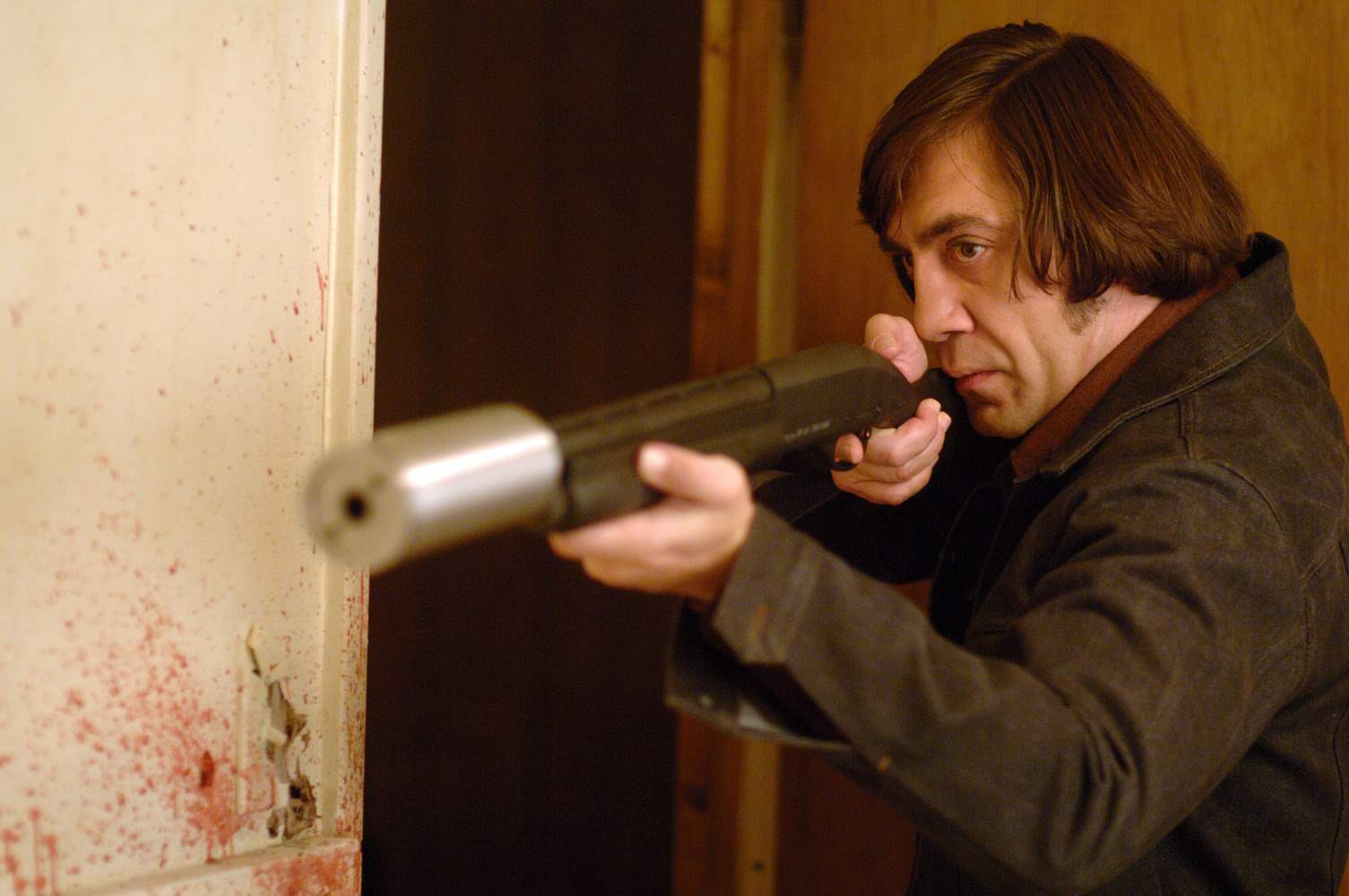 He's one of the all-time movie villains, a perfectly composed, no-nonsense contract killer who, much like Christopher Nolan's take on Two-Face (but with far worse styling), flips a coin to decide some poor, unlucky sod's fate. A man who slings a broken arm with a young boy's shirt rather than get the required medical attention, because doing so will only slow him down.
In their recently-published Greatest Villains Of All Time list, movie magazine Empire put Chigurh at number 7. Total Film previously put him at number 4. PTA's tale of an oil prospector may have its own juicy Not Quite Horror credentials, it may boast a horrifying villain, or rather antihero of its own in Daniel Plainview (#31, according to TF) and it may even be the flick fans remember most favourably, particularly given its Best Picture win.
But, with No Country For Old Men, the Coens made an indelible mark on the movie landscape with the creation of one of the greatest, and most terrifying, villains of all time. If anything, Bardem's victory at the Oscars was superfluous. Anton Chigurh cannot, and should not, be beaten.