Stephen King's work has always been deeply connected. And while some of the film adaptations have made a few references here and there, the features made by hardcore fans definitely made homages where they could. Of them, The Night Flier might stand out the most. Director Mark Pavia surprised everyone with not only a solid indie film that was totally respectful of the source material, but one that showed a deep reverence for King's whole body of work. The tabloid nature of the plot allowed for literally dozens of Easter Eggs and all of them make sense. None of them feel forced.
I think The Night Flier has got to be one of the most unexpected, pleasantly surprising Stephen King adaptations of the '90s. The decade gave us a lot of hit-or-miss TV movies and miniseries, as well as a few straight-to-video flicks and unrelated sequels. Some of them were very good, but the problem was that you never knew exactly what you were going to get.
As a kid, the only thing I really knew about Night Flier was that it had a great VHS cover revealing a great monster. While I love every sub-genre of horror to some degree, vampires have always been my monster of choice. As much as I remember seeing that cover in the video store, I don't remember watching it at the time. In fact, as much as I tried to see every King adaptation that I could, I basically forgot about Night Flier until I got deep into King's fiction and read the short story for the first time.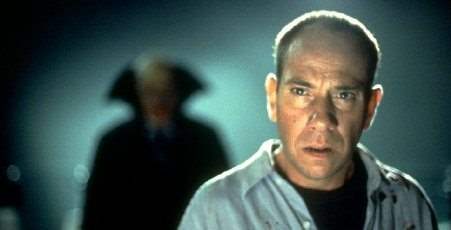 After that, I sought the movie out. I knew it was low budget going into it, but I forgot that almost immediately. Budget doesn't matter because the film smartly sticks to a limited scope, instead focusing on character.
I honestly think this is one of the best performances of Miguel Ferrer's career. And his body of work was astonishing, it's such a shame that he is no longer with us. This is Ferrer's Pumpkinhead and I mean that in the best possible way. Pumpkinhead was a starring role for Lance Henriksen who was almost always cast in a supporting part, and even though it was a monster movie, it allowed for an astonishingly layered lead performance. Ferrer gets to do something similar in The Night Flier.
Richard Dees is not a nice character. He's not a likeable character, but that doesn't mean that he's not interesting. Far from it. In terms of connection to other King works, Dees as a character—as well as the tabloid Inside View—originally hail from The Dead Zone.
The central concept is both goofy and genius in a way that could only come from the mind of Stephen King. Nobody can turn high camp into high art like he can. A vampire with a pilot license lands on small airstrips to feed and gas up before taking to the sky again. The plane looks like a bat. It's pure comic book stuff. But Stephen King sells it in the story and Pavia nails that in the adaptation process.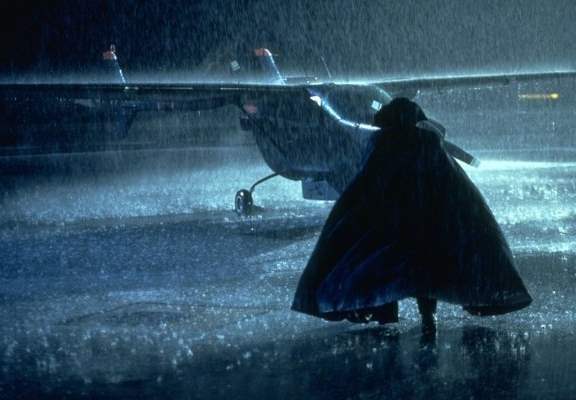 The reason such a ridiculous premise works so well on screen is because Dees is so unwilling to believe it. His whole worldview is structured around never believing a single goddamn word that he writes. This vampire, Dwight Renfield, cannot possibly exist. But the closer he comes and the more he uncovers, the more he begins to doubt his own belief system.
There's a great sense of irony to that. Dees has resigned himself to the tabloid life and made peace with it, accepted himself as a piece of trash and in doing so sought to be king of the trash heap. This story is the most absurdly fake headline he's ever chased, but when that shift happens and he uncovers the possibility that it might be real, then this of all stories might be his way to prove himself as a real journalist. It's a fascinating transition and an incredible character arc. Frustratingly, it's not something that the movie often gets credit for.
The best change to the original story is the addition of a partner—in this case, rival—for Dees. Someone who is actually a sympathetic major character, but who wisely doesn't take over the role of protagonist. After all, protagonists don't have to be likable as long as there's someone around them who is.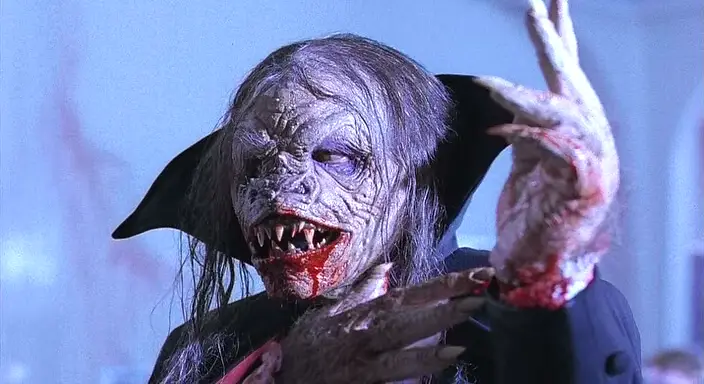 In some ways, The Night Flier is an incredibly simple story that comes to an incredibly simple conclusion, but it is the best version of itself that I think it could be, and sometimes there's no better sign of success than that. When Dees finally comes face to face with Renfield, the moment is so worth it.
I wish that the effects weren't spoiled on the VHS/DVD cover because it would be amazing to get that vampire at the end without having any idea what it actually looks like. And the creature himself is just the tip of the iceberg. The unexpected climax pushes us into almost Fulci-esque territory, and I love that.
The Night Flier is still out there. It's out of print, but I was able to score a used DVD for a very reasonable price a while back. You just have to keep an eye out for it. Luckily, with more and more horror flicks of its era being uncovered and given the special edition treatment, Night Flier can eventually look forward to the same.
Be sure to follow us on social media: Twitter and Facebook.