Welcome to Script to Pieces, a recurring feature at Wicked Horror where we look at the best, most interesting and at times most unbelievable horror movies that never happened. Sometimes these will be productions that never came together at all, other times, they will be original incarnations that were completely different from what we wound up with. Each should be fascinating in its own way, because the stories of movies that never see the light of day can sometimes be even more interesting than the stories of those that do.
I'll make it no secret that Waxwork is one of my favorite horror movies. There's something endlessly charming about it. It's funny, but it's got a ton of heart, some impressive gore, creatures created by Hellraiser's Bob Keen. A great cast including David Warner, Patrick Macnee, Deborah Foreman and Zach Galligan. There's just so much to love about it.
I don't love the sequel, Waxwork II: Lost in Time, as much. But I do appreciate it. We get a Frankenstein sequence that feels like it belonged somewhere in the first film and got deleted, which s great. We've got an awesome battle between Buck Flower and a severed hand, and we've got Bruce Campbell in an homage to The Haunting that quickly turns into an homage to Evil Dead.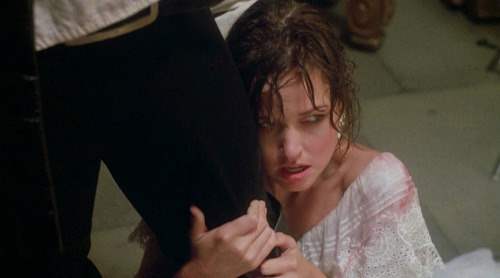 I think it's great that the second film just takes the whole idea to weirder and weirder territory. That's what I think every good sequel should do. Ultimately, though, I don't think it's as well-crafted as the first and I think replacing Deborah Foreman ruined that continuity with the original, which is a shame as this sequel picks up right after.
But I loved the open-endedness of Waxwork II and thought it was clearly setting up a sequel that never followed. Turns out, I was right.
Director Anthony Hickox had originally intended to follow Waxwork 1 & 2 with a third entry titled Waxwork III: Through the Gates of Time. A title that definitely makes sense, given that the sequel ends with Mark being committed to his new role as time warrior and Sarah giving up her life in the present to return to join him in the past.
The proposed sequel would have taken things in a very Army of Darkness direction, with Mark and Sarah ending up in the kingdom of King Arthur and aiding Merlin the Magician in battle against a witch named Modor so that they could return to their present time.
It sounds like the third entry would definitely have pushed even further into fantasy from horror than the second film had, and also sounds as though it would have been even more ambitious—which is probably a major reason as to why it never got made.
The original Waxwork barely did enough bank for a sequel, so it's surprising that Waxwork II was way, way wider in scope and even more surprising that they actually managed to pull that off. I'll always commend that sequel for the fact that it feels much bigger than it actually is.
But the third entry sounded even bigger and I think that probably broke them. It's hard to see how Hickox and crew would have been able to pull this off on probably a smaller budget.
This also would have been released post-Army of Darkness which probably would have hindered it, as the plot sounds very familiar. Plus, Army of Darkness was considered a bit of a failure when it was first released, which would have meant that Vestron would not exactly be rushing to put out something similar.
The proposed plot of Waxwork III also doesn't make much sense given the way the second film ended. Mark had committed to live out his days as a time warrior and Sarah gave up a life in the present to be with him. She even had that great "I'm going back" line to bring that sequel to a close.
A third film being about them trying to return to the present seems to undermine all of that. But I'll still admit I would have loved to see a third Waxwork in some form or another. We don't even know for sure if plotline is actually what the third film would have been or if it would have changed, or if that plot was ever even considered. It sounds reasonably legit. Both Galligan and Hickox have said several times that there were a few attempts to put together another Waxwork in the '90s, but they never came to pass.