Nerd Block is a subscription mystery box that delivers geeky collectibles right to your door each month. You can choose whatever theme box you are into–there's the Classic Block, Arcade Block, Sci-Fi Block, Horror Block, Comic Block, and even a Boys Jr. and Girls Jr. Block for younger kids. The sets always includes a t-shirt, along with 4-6 other collectibles that are often exclusive to Nerd Block subscribers. Today I am unboxing the November 2016 Horror Block.
Christmas comes early for Horror Block subscribers! The November 2016 block, which is a big step up from last month's, is stuffed with fun and festive holiday horror goodies for the season. So let's open it up and see what's inside!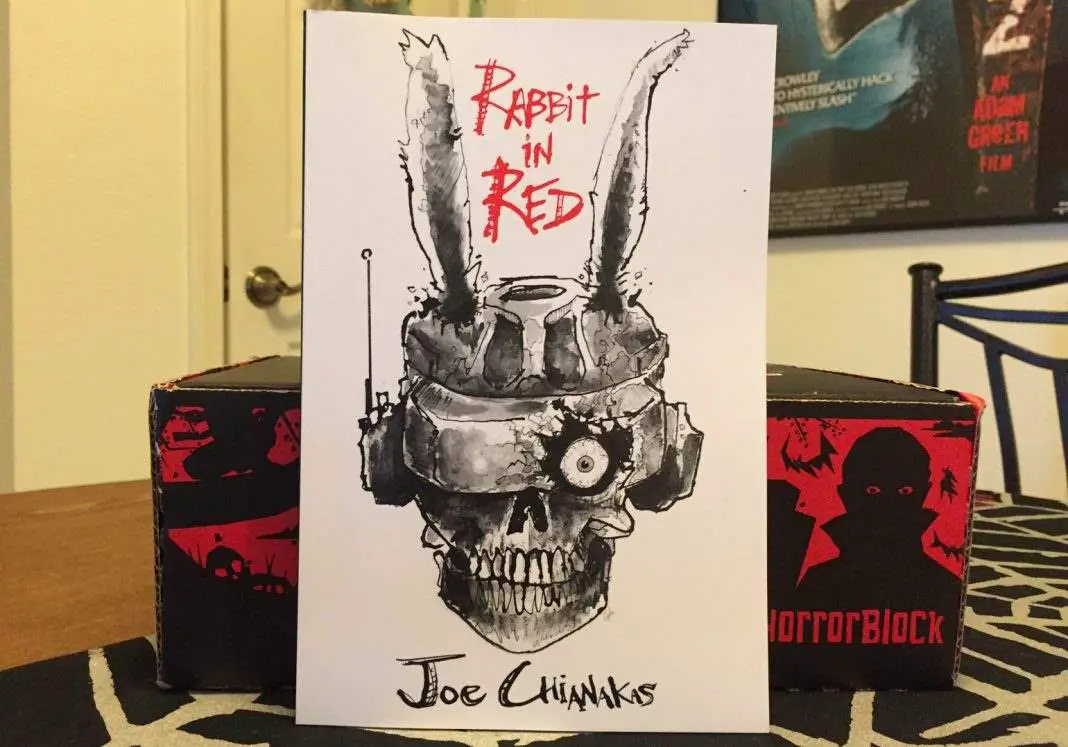 Probably the biggest surprise of the block was this item–a book! Horror fans really owe it to themselves to venture into the world of books, because there are a ton of great authors out there right now churning out some amazing stories in the genre. I'm excited that the medium is given a nod here from Horror Block. The book is Rabbit in Red by author Joe Chianakas, and is the first in a trilogy–Burn the Rabbit is out now, and Bury the Rabbit will be available in the fall of 2017. This variant cover by artist Camron Johnson is exclusive to Horror Block.
Synopsis (from the back cover): Bill Wise has blood in his past, so he turns to horror films to wipe it clean. Jaime Stein has felt the betrayal of death, so she too takes refuge in the on-screen deaths of others. Now Bill, Jaime, and seventeen other horror-loving teens have gathered at Rabbit in Red Studios, the brainchild of eccentric horror producer Jay "JB" Bell, for the terror-filled, blood-drenched contest of their lives."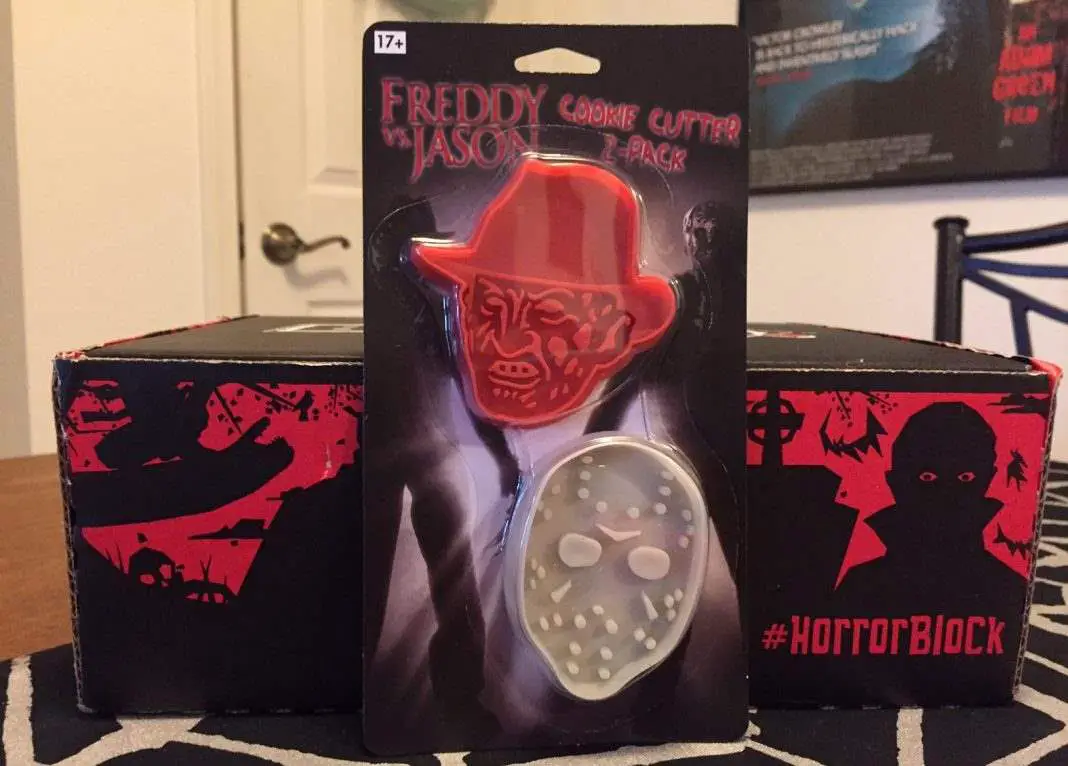 Christmas is a time for making all kinds of sweet treats, and Horror Block is hear to help with these great cookie cutters. Inspired by Freddy vs. Jason, this item contains pretty detailed cutters of Freddy's head and Jason's hockey mask, both about two inches tall. They'll be small cookies, but they'll be delicious, I'm sure. The package also has two recipes on the back: "Scared Sweet Cookies" (sugar cookies) and "Blood Red Royal Icing."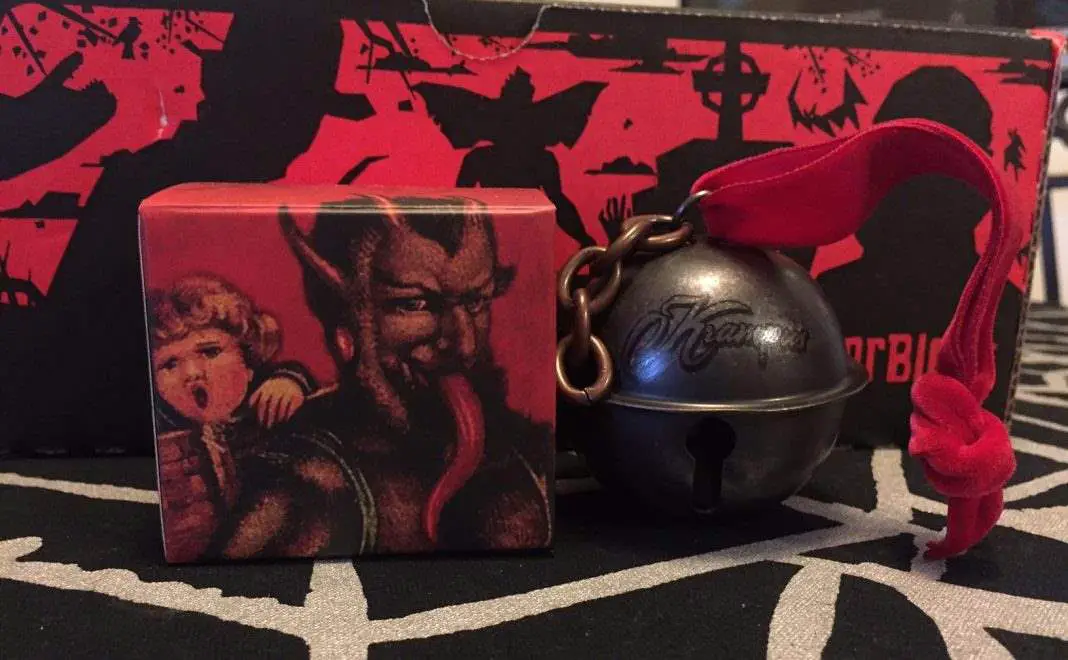 A movie that has probably been added to your rotation of holiday viewing is last year's Krampus from director Michael Dougherty. It was an instant Christmas horror classic that brought to life the demon of Austrian myth who punished children who misbehaved, or those that had lost their Christmas spirit. Now, I'll be sure to never lose mine with this awesome Krampus bell tree ornament. There's a little piece of chain hanging of the top, along with a red ribbon for hanging purposes, and the word "Krampus" scrawled across the front.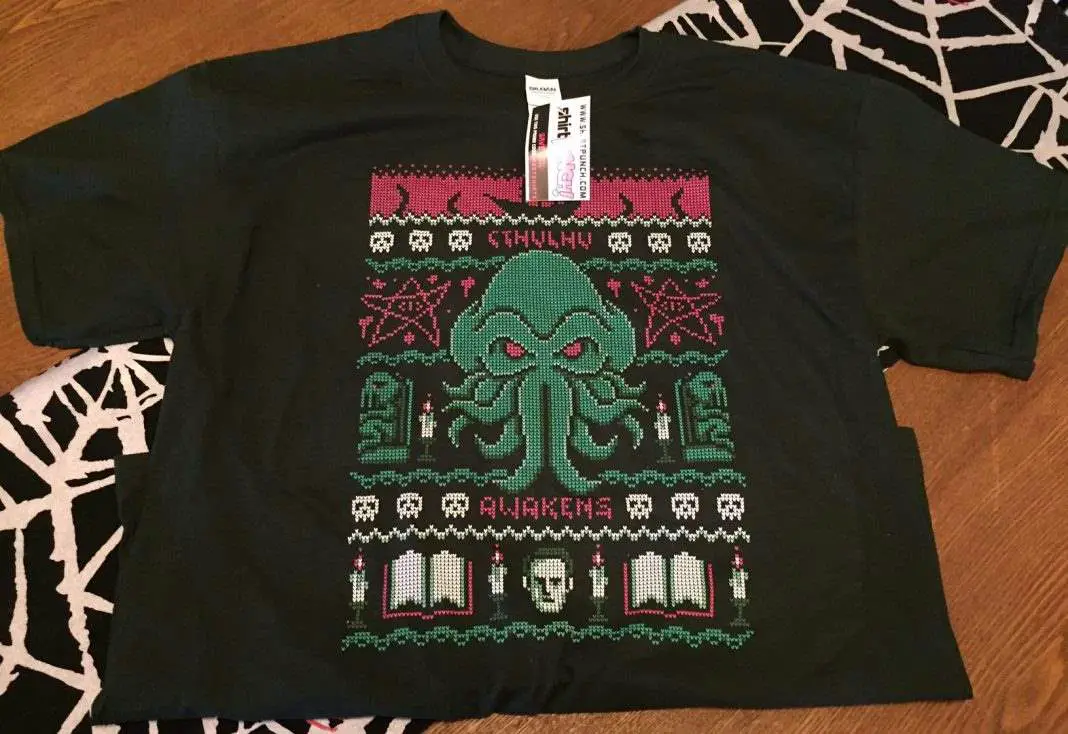 I spoke earlier about the importance of reading horror books–and am reminded yet again that I still have not read any HP Lovecraft, one of the most influential horror authors ever. It'll happen soon, I promise. I was reminded because the t-shirt for November's block was this "Cthulhu Awakens" design from ShirtPunch. The popular "ugly Christmas sweater" style seems to have been the inspiration for this design, and I like that the shirt itself is a dark hunter green instead of black.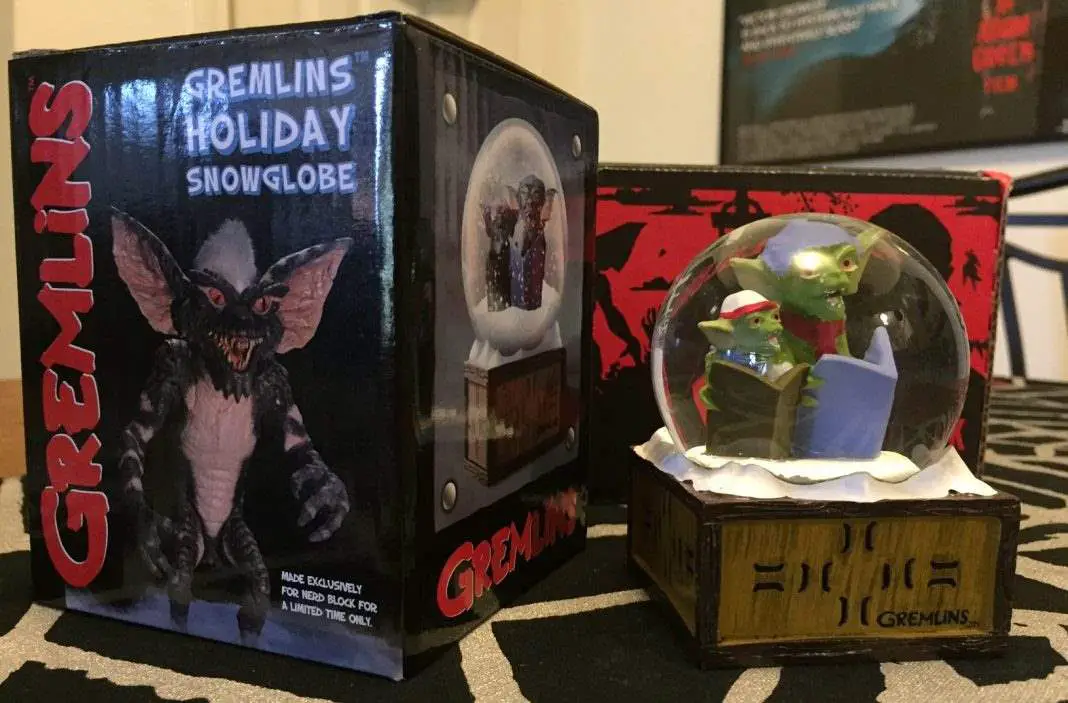 Now we have another popular Christmas-y item from an equally popular Christmas horror movie. The last exclusive item of the box is this great Gremlins snow globe! It's about three inches tall with two gremlins reading books or singing Christmas carols on the inside, and the base has the same symbols on it as the box in which Gizmo was transported in the film. While I love the idea of the item, I have to admit being a little disappointed by the look of the gremlins. The picture on the box shows them looking more closely to what they did in the movie, but in person, the gremlins are a weird neon green with almost no detail work to their faces or bodies. Still, it'll make for a perfect display item. Wait a minute, aren't the gremlins getting wet inside that snow globe?! That can't be good!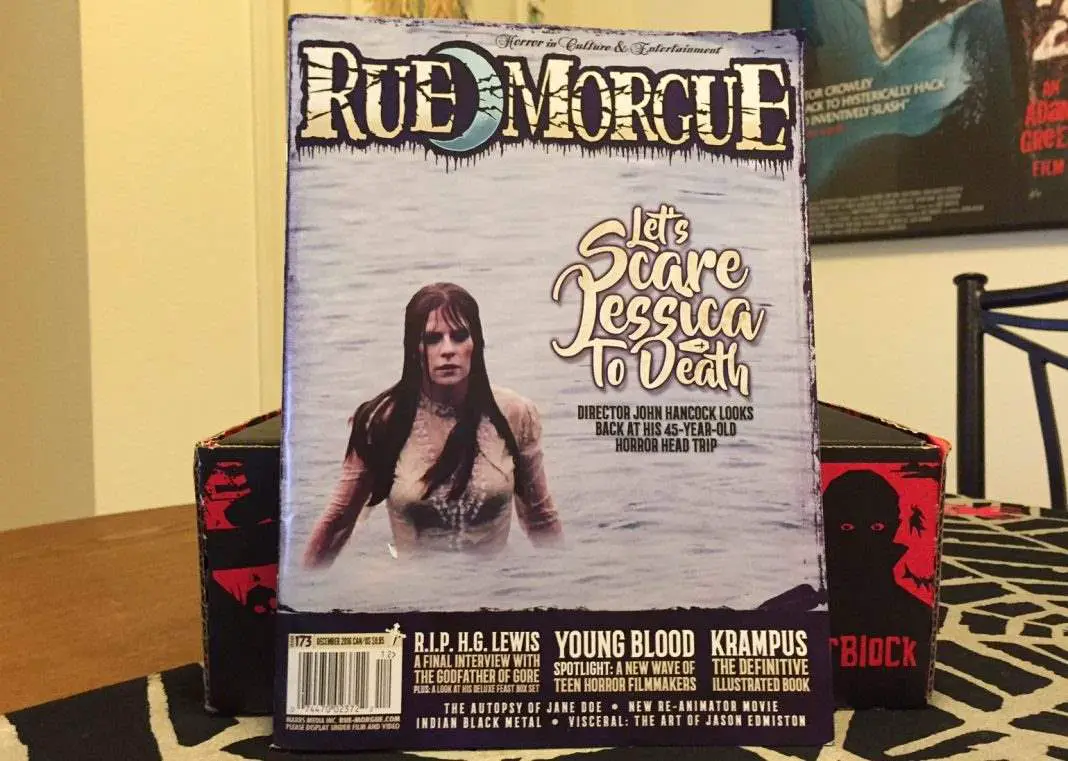 Last is the monthly issue of Rue Morgue magazine–issue #173 for December 2016. The cover story is a retrospective and interview with the director John Hancock of Let's Scare Jessica to Death for the film's 45th anniversary. Another must-read inside this issue is an interview with late director Herschell Gordon Lewis, who spoke to Rue Morgue just weeks before his death for the Arrow Video release of a 14-film box set of his movies. There is also an interesting look at the rise of teenage directors in the horror genre; a short interview with Andre Ovredal, director of Trollhunter and The Autopsy of Jane Doe; and much more.
I loved the November 2016 Horror Block. It was especially smart to put all the Christmas-related items in this box as opposed to December's because then we wouldn't have gotten them until after the holiday. That box looks like it is going to be totally different, with four exclusives from titles like Friday the 13th, Army of Darkness, and American Horror Story (the teaser for that is that it is a "freakish" item, so possibly something from Freak Show?). Stay tuned here to find out what those items are! If you like what you saw here, head on over to Nerd Block to start your subscription today!