While we know Kat Von D as one of the most recognized faces in the tattoo and makeup world, the musician side has always been brewing. Classically trained since the age of 5, Kat has spend her entire life crafting a love for multiple genres of music and collaborating with artists such as Gunship, IAMX and others, before recently releasing her quite spectacular debut album, Love Made Me Do It. The record, a synth wave extravaganza of dark pop, is quite the record, with a full band that includes Gregg Foreman AKA Mr. Pharmacist (Cat Power, The Gossip), Sammi Doll (IAMX), Dave Parley (Prayers)and Brynn Route (contortionist) and features guest appearances from Dave Growl, Linda Perry, Ladyhawke and others. 
We've partnered up with Von D to give away 5 (!) pairs of tickets to four shows on the West Coast leg of her upcoming tour, as well as 5 signed copies of the limited red variant vinyl LP of Love Made Me Do It. Instead of just doing a traditional giveaway, we thought it would be fun to play a little trivia scavenger hunt, featuring five questions that each person entering the contest must find the answers to. Nothing crazy difficult, it'll just take a small amount of searching on your part, google will be your guide. Info and rules can be found below the music videos for singles, "Exorcism," "Fear You," and "I Am Nothing" below. 

QUESTION 1: Gunship's Dan Haigh mixed "Love Made Me Do It." Which "Master of Horror" appears on Gunship's 2015 track, "Tech Noir"?
QUESTION 2: Part of Kat Von D's band, Sammi Doll (Synth) and Von D previously collaborated on an album by which band?
QUESTION 3: Cholo Goth duo Prayers is also playing each of the West Coast dates of Kat Von D's upcoming tour dates. Which Chilean HOLY MOUNTAIN filmmaker does Prayers frontman Leafar Sayer cite as a major inspiration?
QUESTION 4: "Protected" features a guest appearance by goth rock legend Peter Murphy of Bauhaus. Which '80s erotic vampire film does the Bauhaus classic, "Bela Lugosi's Dead" appear on/in?
QUESTION 5: A writing session with which Grammy-winning songwriter inspired Von D to then continue writing alone at her piano, invoking the raw emotion found within "Love Made Me Do It"?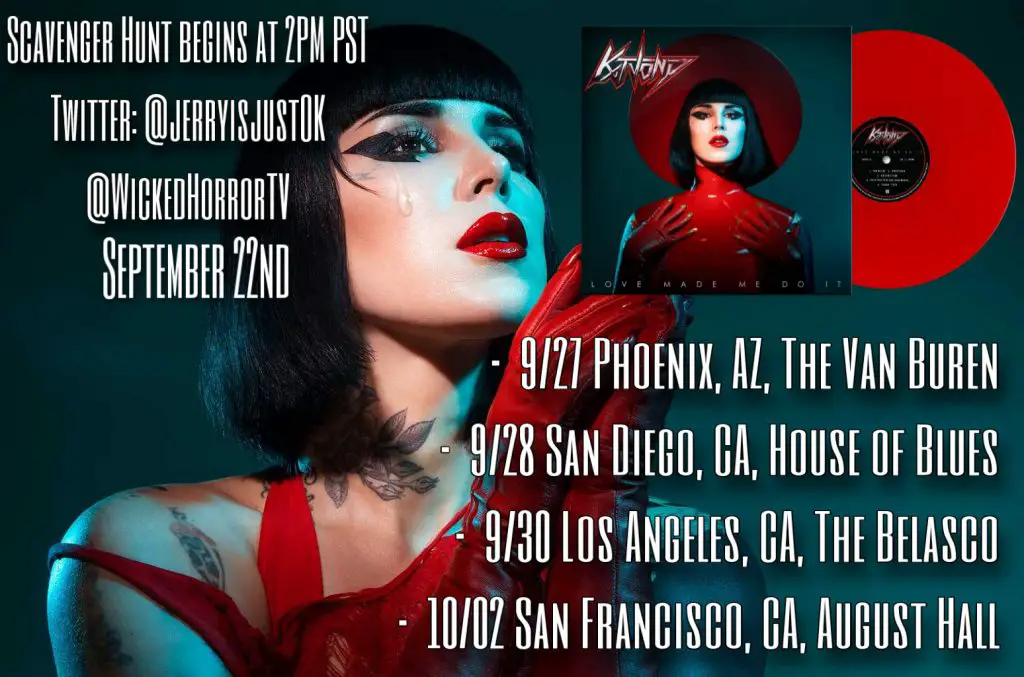 TO ENTER:
1.) Find the answers to each question.
2.) E-mail us at Dexahliaprod@gmail.com with KAT VON D in the subject and your name, which tour date you want to enter for and the trivia answers in the body. 
It's as simple as that! 5 winners will be chosen and notified on Friday, September 24th at 9am PST. Good luck and have fun!