Buckle up, readers! It's giveaway time at Wicked Horror and this time we've teamed up with Universal Pictures Home Entertainment for the October 2 Blu-ray release of Death Race: Beyond Anarchy. Read on to find out the details of the contest and how to enter!
Death Race: Beyond Anarchy is the fourth film in this high-octane series and stars Zach McGowan, Danny Glover, Danny Trejo, and Fred Koehler. Synopsis: "Danny Trejo returns as the ruthless bookie, Goldberg, in the wildest, bloodiest Death Race ever. After a failed attack on inmate and legendary driver, Frankenstein, Black Ops specialist Connor Gibson (McGowan) infiltrates a super-maximum federal prison with one goal – enter the immoral and illegal Death Race and take Frankenstein down. Connor enlists the help of Baltimore Bob (Glover) and Lists (Koehler),a nd unexpectedly falls in love with bartending beauty, Jane (Christine Marzano). Connor will have to fight for more than his life in this brutal world of no guards, no rules, no track, and no fear."
This "unrated and unhinged" Blu-ray contains a commentary from director/writer Don Michael Paul and star Zach McGowan; "Inside the Anarchy," a feature with the filmmakers and cast on how this installment of the series stands out from the rest; "Time Served: Lists and Goldberg," a talk with Koehler and Trejo on their return to the franchise and their characters; and "On the Streets of Death Race: Beyond Anarchy," where Paul and the cast discuss the stunt work of the film.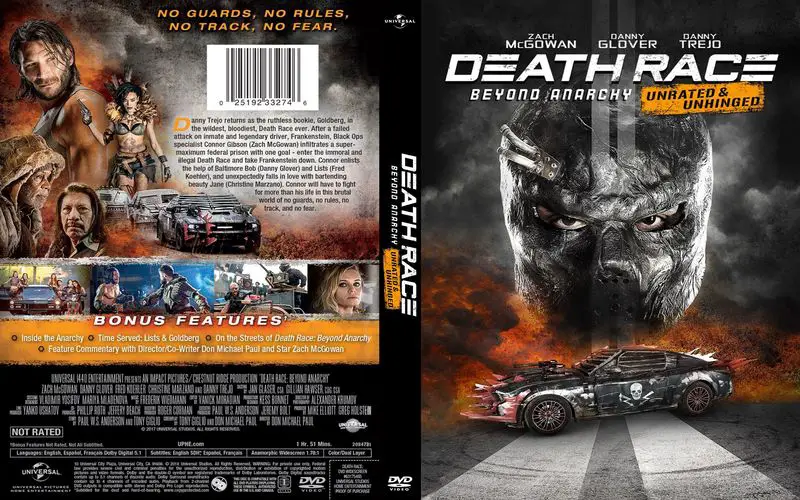 One grand prize winner of this giveaway contest will receive the complete Death Race series collection on DVD, which includes Death Race (2008), Death Race 2 (2010), Death Race 3: Inferno (2013), and Death Race: Beyond Anarchy (2018). In addition, four runner-up winners will each receive a copy of Beyond Anarchy on Blu-ray.
Entering the contest is easy! Simply send an email to Wicked Horror contributor Michele Eggen at seeno_evil63@yahoo.com, and put "Death Race Giveaway" in the subject line. Include your FULL NAME and a VALID MAILNG ADDRESS (no P.O. boxes) in the body of the email. You have from now until midnight on October 1 to enter. The five winners will be selected at random and you will receive an email if you have won. Please note that this contest is only open to our readers in the US and Canada.
So get those emails in now and you could soon be enjoying the "grittiest and bloodiest" installment of this franchise yet!