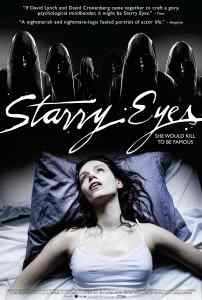 The indie horror-thriller 
Starry Eyes 
debuted three new stills and an official poster today. We have your first look at the photos and the theatrical art after the jump. Come inside and take a look.
The film stars Alex Essoe, Noah Segan, Pat Healy, Amanda Fuller, Shane Coffer, Fabianne Therese. It is written and directed by Kevin Kolsch and Dennis Widmyer. It has already been gaining a lot of positive buzz from advance festival screenings.
Starry Eyes follows Sarah Walker, an aspiring actress in Los Angles as she tries to make ends meet working a dead end job. She regularly attends casting calls and auditions but has yet to experience a big break. But finally her luck starts to change. Sarah goes on an audition that leads to several call backs and she is eventually offered the part. This all seems like good news but it turns out that the role may cost her more than she has bargained for.
The film will be released by MPI via various VOD content providers and in select theaters beginning November 14, 2014. Check out the photos below. Newly debuted theatrical art is featured to the left. Click any of the images to see full resolution.