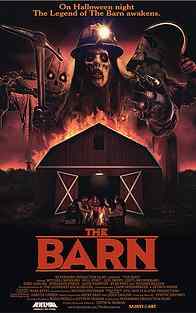 The 1980s throwback 
The Barn 
has debuted a trailer that showcases just how serious director Justin M. Seaman is about recapturing the gory excess of the '80s
slasher film
.
The picture features a cast or relative newcomers, including Mitchell Musolino, Will Stout, Lexi Dripps, Cortland Woodard, Nikki Darling, and Nickolaus Joshua.
The script was penned by Maggi Mizell Michael Prutzman Mark J. Reyes Justin M. Seaman. Maggi Mizell & Justin Seaman also served as producers on the project.
Its Halloween 1989, best friends Sam and Josh are trying to enjoy what's left of their final Devil's Night before graduating high school. But trouble arises when the two pals and a group of friends take a detour on their way to a rock concert, finding an old abandoned barn and awakening the evil inside. Now it's up to Sam and Josh to find a way to protect their friends and defeat the creatures that lurk within "The Barn".