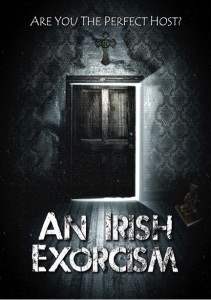 An Irish Exorcism 
has been dated for a DVD and VOD release next month. We have the street date and more for you after the break.
This upcoming found footage style possession film is directed by Eric Courtney and written by Martin Robinson. It stars newcomer Aislinn Ni Uallachain, Brian Fortune (Game of Thrones), Dillon White, and Paddy C. Courtney.
An Irish Exorcism is slated for a simultaneous VOD and DVD release on May 12, 2015.
"Lorraine, an anthropology student in her final year of college who decides to film her thesis project – on the subject of exorcism within the Catholic Church. Recording interviews with priests from the local diocese, she stumbles upon Father Byrne (Brian Fortune, Game of Thrones, Vikings), an older priest who is helping a young woman whose 13-year-old daughter is apparently possessed by a demonic force. Lorraine's curiosity leads her and her camera operator, Cathal (Dillon White), down a dark path toward the terrifying truth. Things go from strange to worse as all involved become entangled into a frightful journey to save an innocent girl's life – and maybe their own. Director Courtney says of the film's genesis, "Ireland's identity as being a country steeped in Catholicism and religion" made it the ideal setting for a story about exorcism."