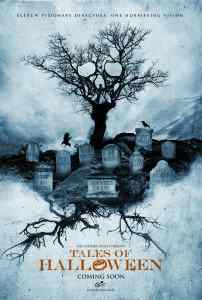 Tales of Halloween
, a title that we have been eagerly following, has made a series of major announcements today. We are pleased to share the full cast lineup, cameos, and vignette titles. Head inside for all the details.
Tales of Halloween is set to consist of a series of ten vignettes, helmed by eleven different directors (one vignette is a collaborative effort between two directors). 
The directors attached to film have dubbed themselves The October Society. The feature will include a series of integrated tales, all which pertain to Halloween.
The directors who have signed onto the project are Lucky McKee (The Woods) Darren Lynn Bousman (Saw II, III & IV), Axelle Carolyn (Soulmate), Adam Gierasch (Night of the Demons), Andrew Kasch (Never Sleep Again: The Elm Street Legacy), Neil Marshall (The Descent), Mike Mendez (Big Ass Spider!), Dave Parker (The Hills Run Red), Ryan Schifrin (Abominable), John Skipp (Stay at Home Dad), and Paul Solet (Grace). Kasch and Skipp will be collaborating to co-direct one of the vignettes.
The film is being produced by Mike Mendez and actress/director Axelle Carolyn.  Axelle Carolyn is responsible for the concept and for bringing the group of filmmakers together. Carolyn said the following in regard to the group of directors involved: "This anthology movie is unique in that that the directors aren't a randomly assembled bunch who've never met; they're close friends who are working closely together as a team to deliver something truly special."
Tales of Halloween will include the following ten vignettes:
"TRICK" Directed by Adam Gierasch
"BAD SEED" Directed by Neil Marshall
"GRIMM GRINNING GHOST" Directed by Axelle Carolyn
"THE WEAK AND THE WICKED" Directed by Paul Solet
"FRIDAY THE 31st" Directed by Mike Mendez
"THE RANSOM OF RUSTY REX" Directed by Ryan Schifrin
"THIS MEANS WAR" Directed by Andrew Kasch and John Skipp
"THE NIGHT BILLY RAISED HELL" Directed by Darren Lynn Bousman
"SWEET TOOTH" Directed by Dave Parker
"DING DONG" Directed by Lucky McKee
The core cast includes Pat Healy, Barry Bostwick, Noah Segan, Booboo Stewart, Greg Grunberg, Clare Kramer, Alex Essoe, Lin Shaye, Dana Gould, James Duval, Elissa Dowling, Grace Phipps, Pollyana McIntosh, Marc Senter, Tiffany Shepis, John F. Beach, Trent Haaga, Casey Ruggieri, Kristina Klebe, Cerina Vincent, John Savage, Keir Gilchrist, Nick Principe, Amanda Moyer, Jennifer Wenger, Sam Witwer, Jose Pablo Cantillo, Ben Woolf, Caroline Williams, Robert Rusler, Cameron Easton, Austin Falk, Madison Iseman, Daniel Dimaggio, Natalie Castillo, Ben Stillwell and Hunter Smit.
The film will also see cameo appearances from Joe Dante, John Landis, Adam Green, Adam Pascal, Adrianne Curry, Mick Garris, Lombardo Boyer, Graham Skipper, Stuart Gordon, Greg McLean, Spooky Dan Walker and Adrienne Barbeau.