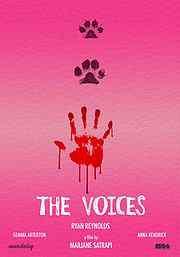 Check out a brand new trailer for the upcoming dark comedy 
The Voices
 below. It features star Reynolds and his chatty pets. I commented yesterday that there appeared to be a severed head on his coffee table in the
still
we shared with you. This trailer confirms that was most certainly a severed head. Will you be checking this one out when it hits VOD or plays in a city near you? Let us know in the comments space provided below!
The picture stars Ryan Reynolds, Anna Kendrick, and Gemma Arterton. The plot involves a talking cat, a talking dog, and a series of murders. It is being pitched as a very dark comedy but is probably more of a horror comedy. The project has received rave reviews from its run at the Sundance Film Festival as well as via its exhibition at The Toronto International Film Festival. The picture currently holds a 'fresh' rating on the aggregate film scoring site Rotten Tomatoes. As of publication, The Voices is sitting at a score of 88%.
The Voices is written by Michael R. Perry and directed by Marjane Satrapi. It is slated to make its commercial debut February 6 from LionsGate Entertainment. Stay tuned for our forthcoming review of this Not Quite Horror title. It will be live on the site the week of February 2! We will also have interviews with select cast and crew TBA.