Jerry is a likable guy trying to find his place in the world. He has a new job at a factory and a major crush on a pretty young woman in accounting. He has his whole life in front of him and the world is his oyster. His only problem is that he suffers from schizophrenia and when unmedicated, his cat coerces him into committing terrible, murderous acts.
Ryan Reynolds is great as Jerry. He is awkward to the extent that he is almost unrecognizable in the first act. Jerry comes out of his shell as the film progresses but it's impressive to see Reynolds play against type so effectively. Jerry has some excellent dialogue throughout the course of the film and Reynolds delivers it with an ease and versatility I didn't even realize he was capable of. What I found even more impressive is that he did the voices of his pets as well. It made sense for Reynolds to voice them, since they are a manifestation of Jerry's inner voices but I had no idea that was actually Reynolds doing the voice acting until I looked it up on IMDb.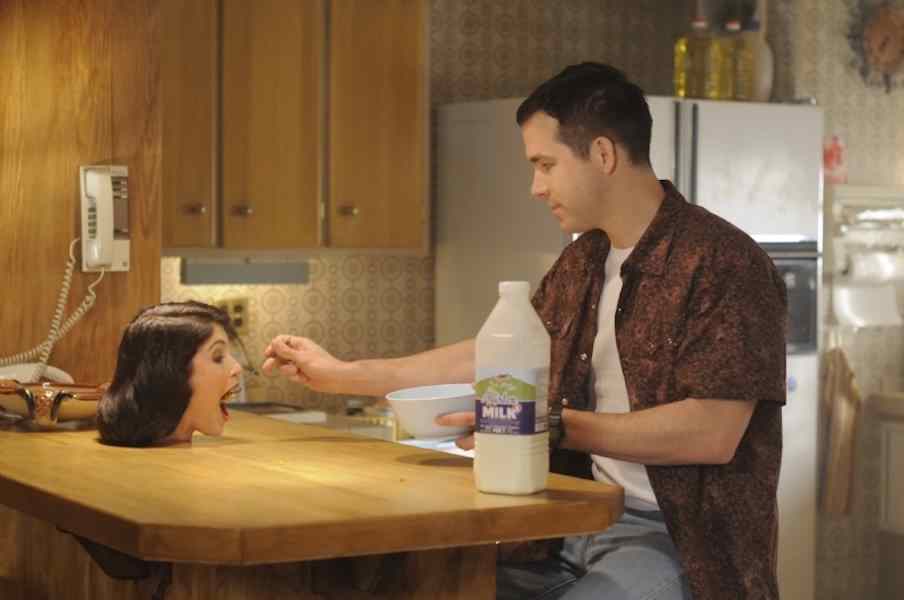 Jerry isn't the only one with noteworthy dialogue. His pets have some great one-liners as well. I was chuckling all throughout the film. Particularly noteworthy is when Jerry's cat, Mr. Whiskers, says "Put me the F**k down, you goddamned psycho. I'll s**t in your hand."
The Voices is more character driven that a lot of horror fare but that is part of what makes it so great. The audience gets to know Jerry and comes to like him. Even though he is homicidal and completely imbalanced, we identify with him and want to see him prosper.
The film is equal parts dark and funny. It's a horror comedy in the vein of Cheap Thrills but to appeal to a wider audience, LionsGate is marketing it as a crime-thriller-comedy. Regardless of the way it's being positioned, this is a horror film, through and through.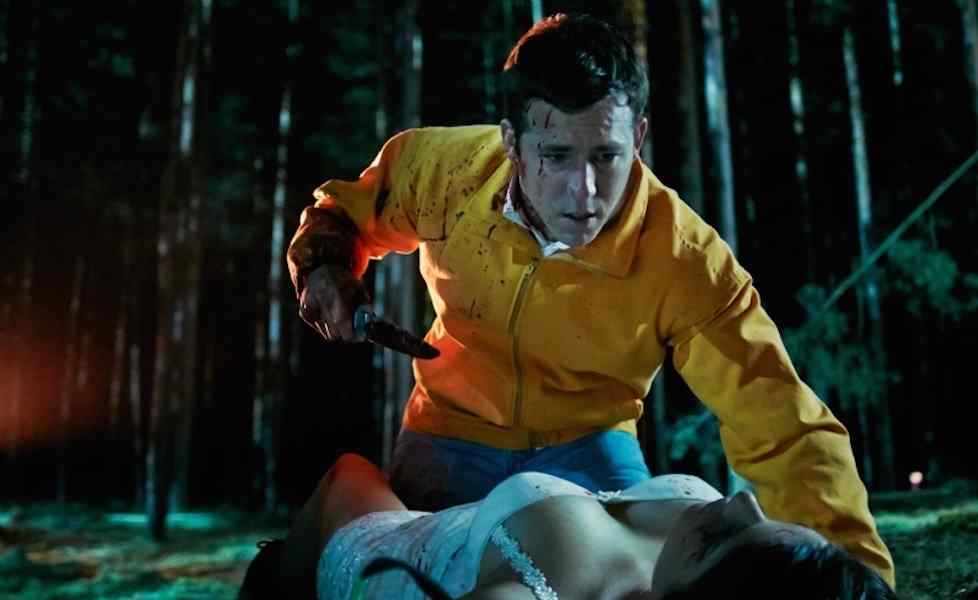 Further cementing The Voices as a horror-comedy as opposed to a crime-thriller-comedy are the FX. The violence is plentiful and it is well done. The effects work is achieved practically, which should prove a pleasant surprise to fans of old school gore. I was definitely pleased with the volume and the quality of onscreen carnage.
Marjane Satrapi proves that she's still got it as a director. She rose to prominence with the indie hit Persepolis and once again reminds audiences why she is one of the most promising indie directors working in Hollywood today. Her commentary on the human condition is poignant and timely. I am left eagerly anticipating whatever it is she does next. 
The core concept behind The Voices is simplistic, yet genius. Giving physical manifestation to the inner voices of a patient suffering from schizophrenia in itself isn't new or groundbreaking but making them house pets is a stroke of genius that is pulled off brilliantly. Moreover, making Jerry's inner voices a cat and a dog makes it easy for the audience to identify with him, even though he isn't a very good person. The credit for the core concept belongs to screenwriter Michael R. Perry. His script is inventive and darkly humorous.
The Voices is great, right down to the ending. The final scenes are every bit as good as the preceding sequences and just as darkly hilarious. It is one of the very first genre films to see release this year but it is helping get 2015 off to a great start.
The Blu-ray is loaded with an array of special features that provide great insight into the minds of the creative team behind the film as well as the on camera talent. It also provides an insightful look at the film's visual effects, an extended scenes reel, and much more.
I absolutely recommend checking this one out as soon as you possibly can. It will be available on DVD April 7, 2015.
WICKED RATING: 8/10
Director(s): Marjane Satrapi
Writer(s): Michael R. Perry
Stars: Ryan Reynolds, Gemma Arterton, Anna Kendrick
Release: April 7, 2015
Studio/ Production Co: LionsGate
Language: English
Length: 103 Minutes
Sub-Genre: Horror Comedy