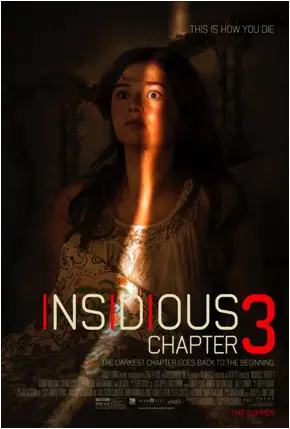 A Wondercon exclusive clip from
Insidious 3 
has just been released and we have your first look after the break. So come inside and take a look.
This excerpt provides a look at Elise channeling the spirits to help a young girl–who is the subject of a series of supernatural episodes–and then perhaps wishing she had not agreed to do so.
Insidious 3 marks James Wan's departure from the franchise. Wan's longtime collaborator Leigh Whannell has penned the script for this third installment and is also directing the entry.  Insidious: Chapter 3 is currently slated for a June 5, 2015 theatrical release.
The film also marks the departure of Patrick Wilson, Rose Byrne, and Ty Simpkins as the Lambert family. The upcoming third installment will introduce a primarily new cast of a new cast of characters, including Dermot Mulroney (Stoker) and Stefanie Scott (Jem and the Holograms). Lin Shaye will be staying on as paranormal investigator Elise Rainer.
The story arc of Insidious 3 will delve more into The Further. It will function as a prequel to the events of the first film with a father and daughter plagued by the terrors of The Further. Searching for answers, they enlist the services of a psychic named Elise.
The latest chapter in the Insidious franchise will be Leigh Whannell's feature film directorial debut. Considering that Whannell co-wrote the previous two installments, I wouldn't expect a particularly dramatic departure from what we saw in the first and second films.