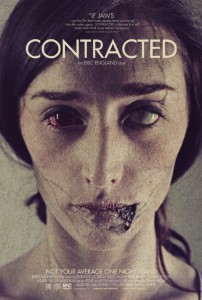 IFC Midnight has announced that they have signed on as a part of the currently in production follow up to 
Contracted.
 The film is currently titled 
Contracted: Phase II. 
The sequel will feature some of the original cast but will introduce a new creative team. Josh Forbes will be at the helm with Craig Walendziak penning the screenplay.
Alice MacDonald from Contracted is set to reprise here role as Alice. Also set to appear in the forthcoming follow up are Peter Cilella, Morgan Peter Brown, Marianna Palka, Anna Lore, Laurel Vail, and Suzanne Voss.
Contracted follows a young woman (Najarra Townsend) that picks up a sexually transmitted disease that slowly turns her into a zombie.
What we know about the follow up effort at this point is that Matt Mercer (Madison County) will play Riley, who is a fighting the clock as he attempts to uncover the source of what is now becoming an outbreak and simultaneously tries to figure out just what it is that he himself has contracted.
Not a lot else is known about the upcoming installment but stay tuned to the site in the days to come and we will keep you in the loop as soon as we know more in regards to this title!