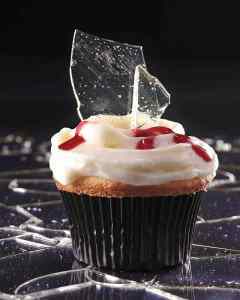 Creepy Confections is a recurring Wicked Horror segment where we showcase baked treats and the like that are likely to appeal to fans of the macabre. Have an idea for something we should feature in this segment? Let us know in the comments section below!
These Dexter inspired cupcake recipe actually comes from Martha Stewart. Apparently, she has a flare for the macabre. At any rate, read on for the required ingredients and instructions on how to put together.
DIRECTIONS
Preheat oven to 350 degrees. Make the cupcakes: Line cupcake tins with baking cups. Sift flour, baking powder, cinnamon, nutmeg, and 3/4 teaspoon salt into a medium bowl. Combine milk and vanilla in a measuring cup.
Beat butter with a mixer on medium-high speed until pale and fluffy. Reduce speed to medium, and gradually add granulated sugar in a slow, steady stream. Beat until pale and fluffy, about 3 minutes. Reduce speed to low, and add flour mixture in 3 additions, alternating with milk mixture, beginning and ending with flour.
In a clean bowl, whisk egg whites with a mixer on medium-high speed until stiff peaks form. Fold one-third of the whites into the cupcake batter. Fold in remaining egg whites in 2 batches.
Divide batter among baking cups, filling each halfway full. Bake until a toothpick inserted
into the center of each comes out clean and the tops spring back when lightly touched, 18 to
20 minutes. Let cool completely in tins set on wire racks.
Meanwhile, make the caramel: Bring granulated sugar and water to a boil in a small high-sided saucepan, stirring, until sugar dissolves. Reduce heat to medium-high, and cook until mixture just starts to turn pale gold around edges. Remove from heat, and immediately pour caramel onto a rimmed baking sheet. Working quickly, tilt pan to spread caramel to edges to make a very thin layer. Let cool to harden.
Make the frosting: Beat cream cheese and butter with a mixer on medium-high speed until pale
and fluffy. Gradually add confectioners' sugar and vanilla. Beat until creamy and spreadable.

Frost each cupcake using an offset spatula. Twist pan to release and break caramel in order for it to resemble broken glass. Place a shard or 2 of caramel "glass" in the center of each cupcake. Drizzle or pipe cherry preserves where caramel has entered the cupcake.
INGREDIENTS
FOR THE CUPCAKES
4 1/2 cups cake flour (not self-rising) 

2 tablespoons baking powder 

1/2 teaspoon ground cinnamon 

1/4 teaspoon freshly grated nutmeg 

Salt 

1 1/2 cups whole milk 

1 tablespoon pure vanilla extract 

2 sticks plus 2 tablespoons unsalted butter, room temperature 

2 1/4 cups granulated sugar 

7 large egg whites, room temperature 
FOR THE CARAMEL
1 1/2 cups granulated sugar 

3/4 cup water 
FOR THE FROSTING
1 pound cream cheese, room temperature 

2 sticks unsalted butter, room temperature 

6 cups confectioners' sugar 

1/2 teaspoon pure vanilla extract 

1 cup cherry preserves, strained, for garnish