Nerd Block is a subscription mystery box that delivers geeky collectibles right to your door each month. You can choose whatever theme box you are into–there's the Classic Block, Arcade Block, Sci-Fi Block, Horror Block, Comic Block, and even a Boys Jr. and Girls Jr. Block for younger kids. The sets always includes a t-shirt, along with 4-6 other collectibles that are often exclusive to Nerd Block subscribers. Today I am unboxing the October 2016 Horror Block.
With October being the most important month of the year for horror lovers, I expected the folks at Horror Block to go all-out with their box this month. Unfortunately, there is really nothing all that special about October's block, despite there being four exclusive items and one licensed item. Also, the item that Horror Block spoiled beforehand ended up having to be replaced at the last minute, due to an issue with getting it through Customs (they promised that this item would be coming in a later block).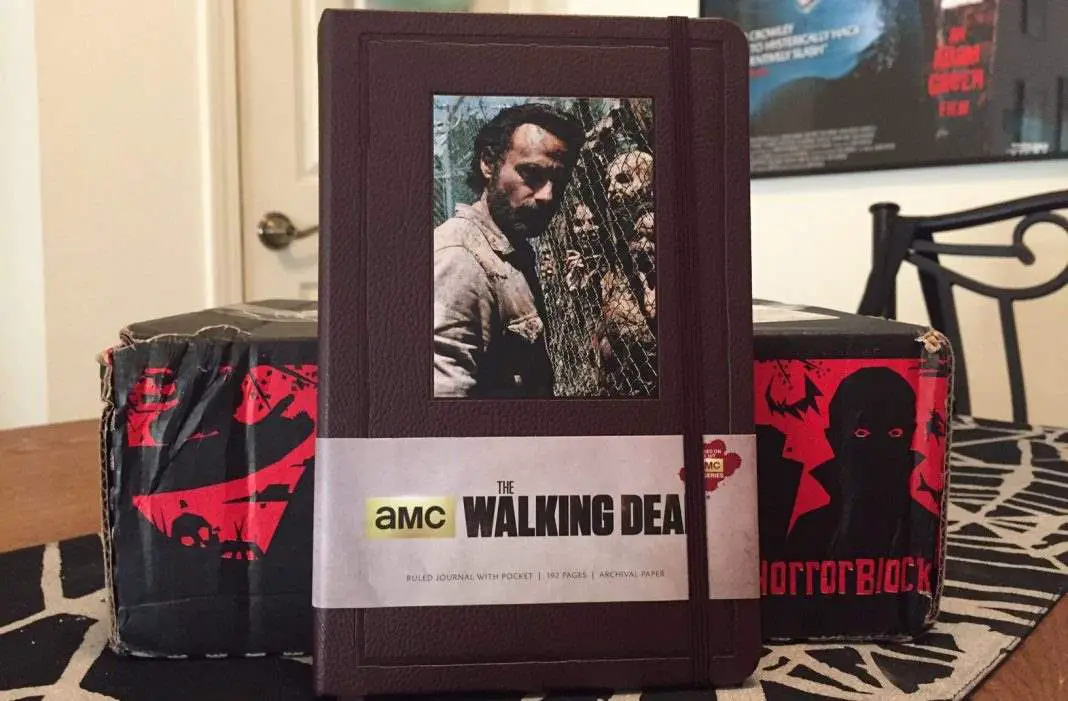 So the first item we are going to look at is this replacement item: a Walking Dead journal. The Walking Dead logo is debossed on the front cover, along with a full-color picture of the show's lead, Rick Grimes. On the back cover is another debossed image of Rick's sheriff badge. There are 192 pages, an attached ribbon bookmark, an elastic closure, and a paper pocket on the back cover. I like the quality of the item, but can't remember the last time I had use for a journal, so it's unlikely that I'll get much play out of this.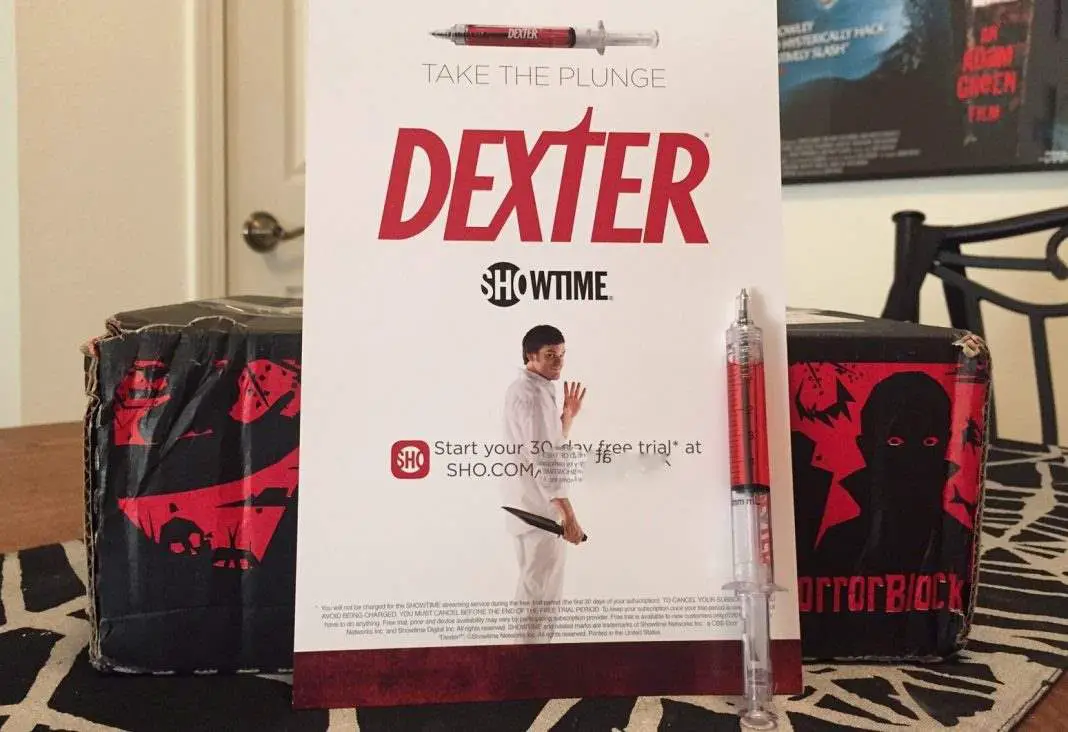 The next item in the block ends up inadvertently going along with the previous one. This exclusive is a pen in the shape of a syringe for the television show Dexter. There is red liquid in one part of the syringe, the actual ink is blue, and the Dexter logo appears on one side. The actual item is admittedly kind of lame, but it did come with an offer from Showtime for a free 30-day trial, which is much less lame.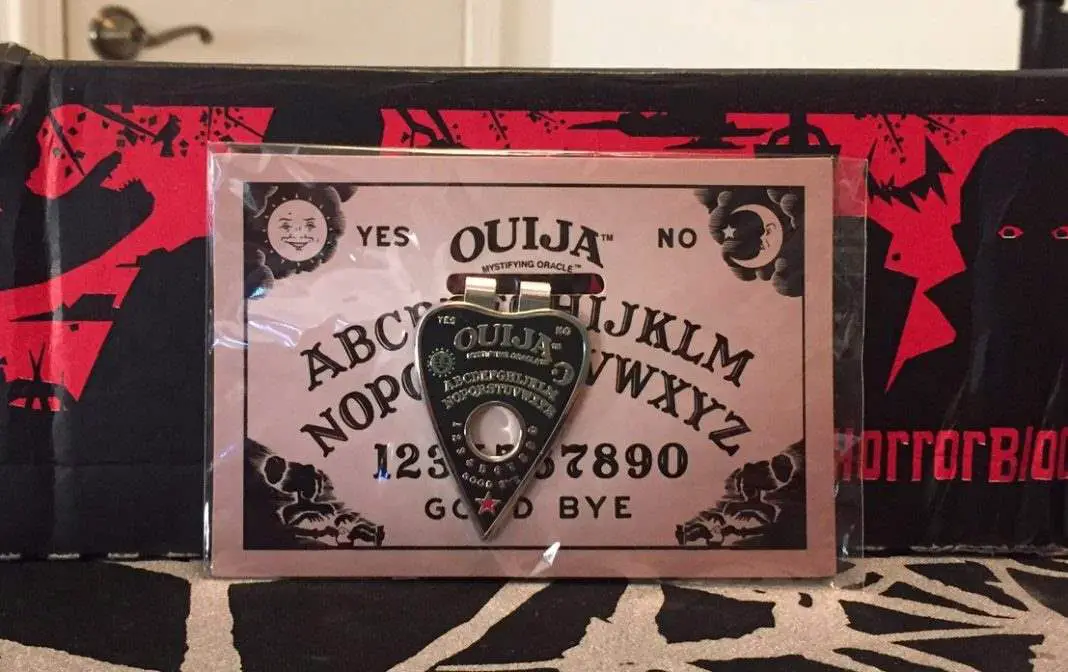 Next up is another Horror Block exclusive from the 2014 film Ouija. This is a money clip in the shape of the planchette from the Ouija board game. From Wax Off Design, this is made of nickel plated zinc and is about 2 inches long. The planchette is black with silver-embossed designs of all the stuff that is on the actual board, like the alphabet, numbers, and the words "yes" and "no." This is a company that Horror Block uses often for this kind of item and they are always of great quality–I just don't know how often I would actually use a money clip, so this is another kind of lackluster item for me.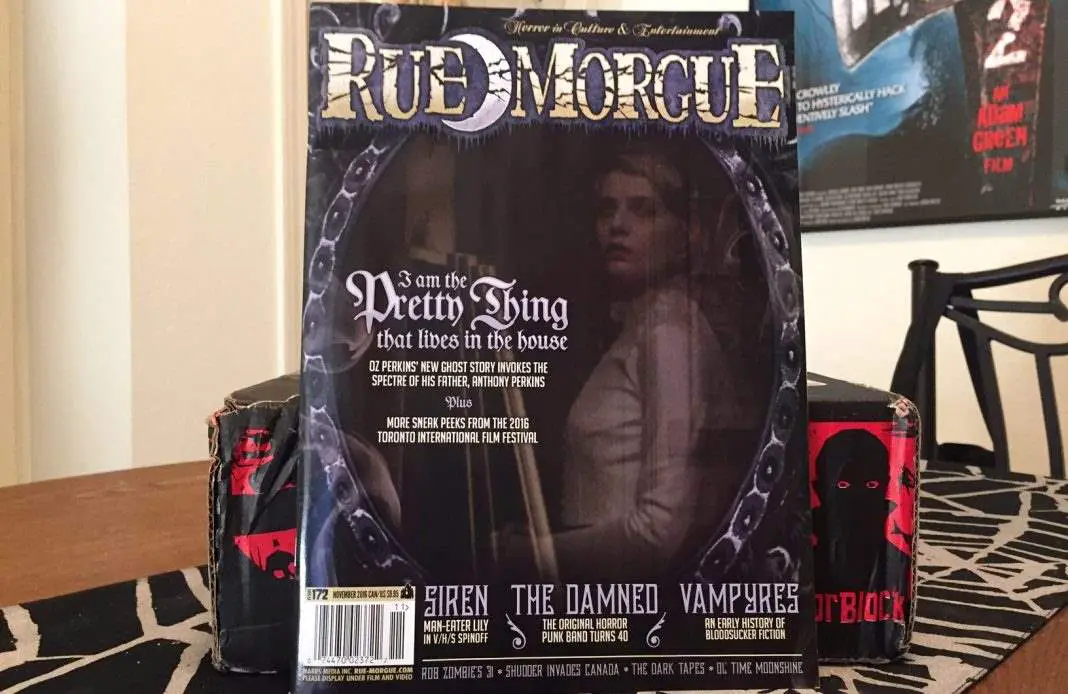 The item that I can always count on to be awesome is the latest issue of Rue Morgue magazine. This is issue #172 for November 2016, and the cover is a beautiful ghostly image from Osgood Perkins's new film, I Am the Pretty Thing That Lives in the House. The inside article features an interview with Perkins about the film (which is now available on Netflix Instant), as well as a look at other films from the Toronto International Film Festival. The magazine also has a look at the new film SiREN, the V/H/S spinoff; the horror punk band The Damned; and a mini-interview with Richard Brake from Rob Zombie's 31.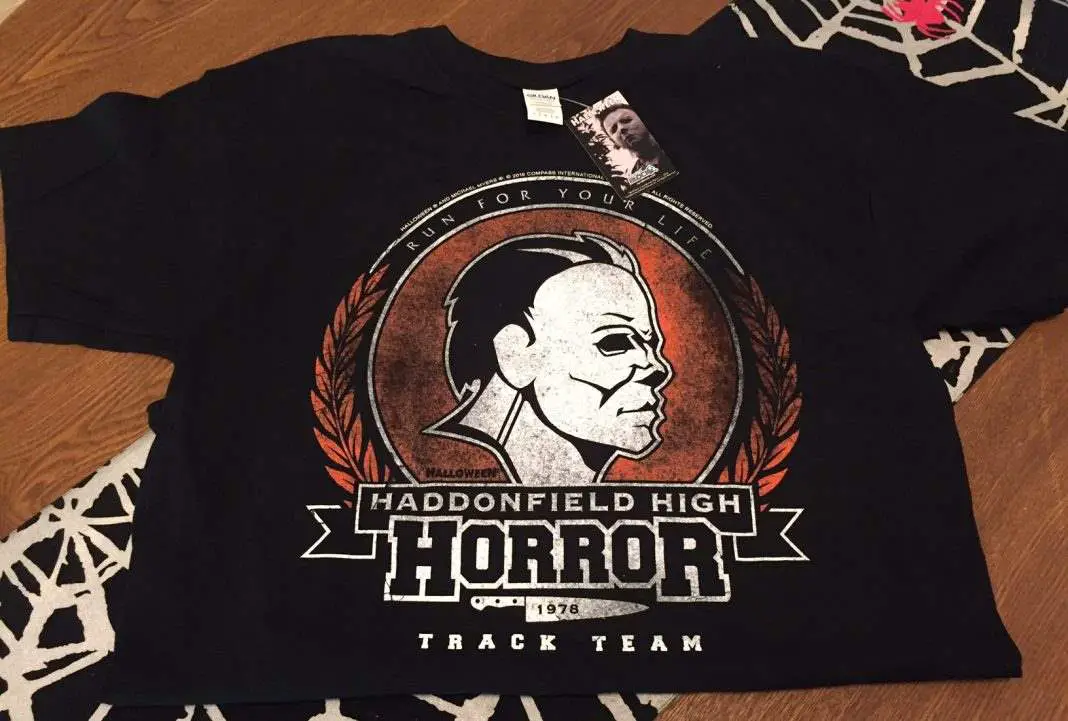 The only real Halloween-related item for the October block is the t-shirt. From ShirtPunch, this tee is from the classic Halloween, but done in the style of a high school sports team shirt. I actually like the modification of the mask to make it look like a logo, and the "Haddonfield High Horror" is a pretty cool name. Although, how good would a Michael Myers-inspired track team really be if the character never runs?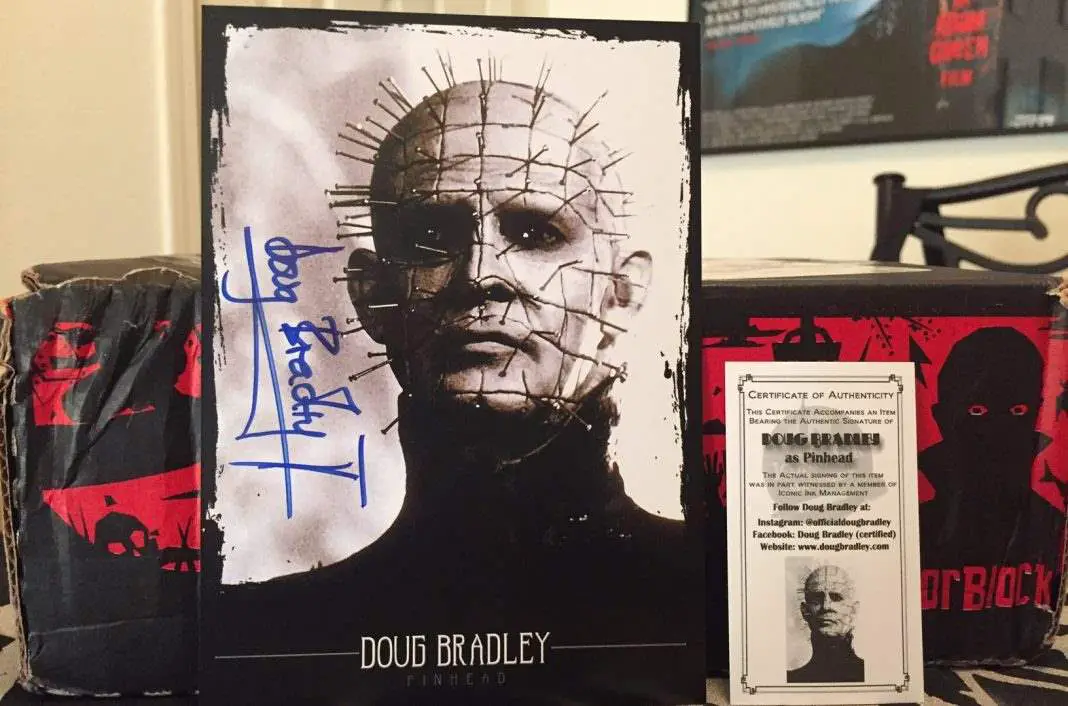 The last thing in this Horror Block is another type of item that I'm glad they are including more. This is a 6″ x 4″ image of Pinhead from Hellraiser autographed by Doug Bradley himself. I've had the pleasure of meeting Bradley in the past, so I actually already have his autograph, but I'm totally okay with having another one! I just love how he includes a drawing of a nail in his autograph to identify himself as Pinhead. The autograph also comes with a certificate of authenticity.
All in all, this block was 50-50. It had three great items (the magazine, t-shirt, and autograph) and three not-so-great items. There was nothing particularly special for the Halloween month–it would have been even better if all the items were from Halloween-inspired movies, for instances. Next month, though, we can expect five more exclusives from films like Gremlins, Krampus, and Freddy vs. Jason, so stay tuned to see what those are. If you like what you saw here, head on over to Nerd Block to start your subscription today!