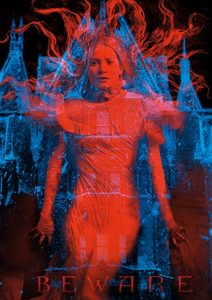 It's finally here: The full trailer for Guillermo del Toro's 
Crimson Peak. 
We have your first look at the newly debuted preview after the jump.
The trailer is dripping with del Toro's creepy signature style. The the film is clearly CGI heavy, but if you can look past that and enjoy the gorgeous aesthetic, this looks like it's going to be an epic experience.
The film will enjoy a theatrical release October 16th, 2015. Till then, scope the new trailer in the player below.
The film stars Mia Wasikowska, Jessica Chastain, Tom Hiddleston, Charlie Hunnam and Jim Beaver. Guillermo del Toro is at the helm and also co-penned the script with Matthew Robbins. Thomas Tull, Jon Jashni, Guillermo del Toro, and Callum Greene are producing. Jillian Share executive produces.
"When her heart is stolen by a seductive stranger, a young woman is swept away to a house atop a mountain of blood-red clay: a place filled with secrets that will haunt her forever.  Between desire and darkness, between mystery and madness, lies the truth behind Crimson Peak."