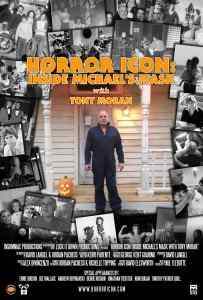 The documentary will focus on Tony Moran, who played Michael Myers in the final scene of the first 
Halloween
film, including the unmasked sequence
.
 Insomniac Productions and Lock it Down Productions have come together to produce the doc, which will tell Tony's story. The film will be released in October 2015.
The aim of the film is to provide a look at Tony's life, from convention appearances to his day-to-day business. The film will give fans a look at what it's like to be Tony Moran. The film is co-directed by David Langill and Jordan Pacheco.
The picture will feature special guest appearances by a variety of genre film celebrities, including Ernie Hudson (Ghostbusters), Dee Wallace (E.T. the Extra-Terrestrial), Andrew Bryniarski (The Texas Chainsaw Massacre), Debbie Rochon (Tromeo and Juliet), Jonathan Tiersten (Sleepaway Camp), John Dugan (The Texas Chain Saw Massacre), Timothy Patrick Quill (Army of Darkness), Vernon Wells (Mad Max 2: The Road Warrior) and more.
"I want to show Tony for who he is," explains Langill. "A father, a friend, an actor and a horror icon. Tony is a passionate man with a big heart and, like all of us, Tony has his ups and downs. Viewers get to see Tony as most have never seen him before." 
Pacheco adds, "This is a unique chance to see how a hit film can effect an actor years after its release, the relationships a life of acting and traveling doing conventions have made and what happens after the conventions doors close. Tony has lived an incredible life, and I'm grateful for the chance to share some of it with everyone."